Seneca Creek

Printer-friendly version

Send by email

PDF version
ShareThis
February 28
Sunday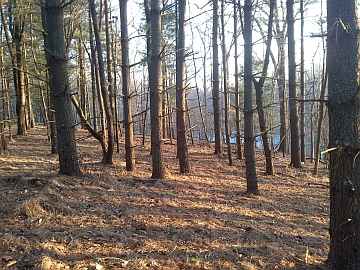 Orienteer on terrain that is still relatively new near the Clopper Lake section of Seneca Creek State Park (Gaithersburg, MD). There will be eight courses to choose from (2 beginner, 1 intermediate, and 5 advanced), and detailed park and course notes are now posted below, thanks to course setter Sam Listwak.
This Sunday event requires on-line pre-registration, and we plan to open registration at 6pm on Monday, Feb. 22. QOC's COVID risk reduction protocols, as also enumerated here, will be in effect. Please read these guidelines carefully, particularly keeping in mind the need for participants to bring their own water for all their hydration needs before, during, and after their runs/walks.
Registration will be at the Blue Jay Pavilion, towards the west end of the parking area shared with the Nuthatch Pavilion. Carpooling is encouraged. A park map is here; the Blue Jay Pavilion is way down in the lower left (southwest) edge. If we overflow the parking lot, we are allowed to park along the NW side of the road leading to it, i.e. the right hand side of the road as you drive in.
Any youth or large groups attending, although you will be pre-registering online, please contact the Event Director of your plans and numbers for her awareness.
Other points:
PROPERLY WORN MASKS ARE REQUIRED at all times when near registration and epunch areas and their volunteers.
Water will not provided in accordance with QOC COVID-19 risk reduction policies. BYOW.
We encourage everyone to download and use any or even all of the DC, Maryland and Virginia COVID exposure notification apps.
Pets are permitted in the park but must be on the leash at all times.
Contrary to what's stated below in the driving directions, we believe that at this time of year there is no fee to enter the park.
Port-a-johns will be on site.
The size of start teams (groups of individuals orienteering together with one e-punch) on a course must be no more than four (4) individuals (juniors and adults combined).
There is a disc golf course in this park (see the DNR map cited above for it's location).
There is no planned, on-site beginner instruction, but beginners are encouraged to watch relevant videos such as this one created by QOC's instructional guru David Onkst
NOTE: The Captcha function used to contact individuals (as named below) is under repair and is not working. To contact an event director, use the Contact Us form.
Location

Seneca Creek State Park, Clopper Lake, Blue Jay Pavilion, Gaithersburg, MD (Classic)

Registration
Registration for this event will open at 6pm on Monday Feb. 22 - via this link. Registration will close no later than 6pm Sat. Feb. 27 (the night before the event). New: Epunch/SI# is now required if you are using your own.
Who's registered? Check by clicking here. Sorting by column is possible too - just click on the column name.
Need to contact an event director? Use the Contact Us form.
Start Times
Participants will register in advance for a specified 15 or 45 minute check-in window (including map pick-up), starting at 9:45am until the final window from 1:15-1:30pm. Each window will be limited to 15 or 45 "starts" (solo individuals or groups).
Schedule
Sunday, February 28

| | |
| --- | --- |
| 10:00 am - 3:00 pm | Classic: |

Volunteers
Location Details

Classic
Seneca Creek State Park
Clopper Lake, Blue Jay Pavilion
Gaithersburg, MD
Google Map

From I-270, Gaithersburg, MD, take Exit 10 west on Rt 117/Diamond Ave. which becomes Clopper Rd. Go west about 2 miles and turn left into the park entrance. Proceed straight passing the first intersection and a parking area. If the event is being held during a time of year when it's collected, pay $3/pp or $5/pp (MD state, vs out-of-state) at the entrance gate, then bear right at the next intersection. You may see the lake on your left. After about 0.5 mile, just before the road crosses the dam, turn right onto the small road heading to the Blue Jay and Nut Hatch Pavilions. Both pavilions are in the woods south of their shared parking lot; Blue Jay is to the west. Please carpool if possible. If the lot is full, you may park on the NW shoulder of the road leading to the parking lot.

Course Details
Classic

| | | | |
| --- | --- | --- | --- |
| Course Name | Length (km) | Climb (m) | No. Controls |
| White | 2.2 | 30 | 9 |
| Yellow | 2.5 | 40 | 11 |
| Orange | 4.7 | 120 | 14 |
| Beige | 3.5 | 90 | 11 |
| Brown | 4.6 | 100 | 12 |
| Green | 5.5 | 160 | 13 |
| Red | 7.3 | 200 | 16 |
| Blue | 9.9 | 240 | 22 |

Course Notes
Classic

First, a few general comments about the map and park. The overall terrain is typical ridge and valley terrain with some scattered rock outcroppings. However, the park has several obstacles that influence course design: Seneca Creek, a lake and Great Seneca Highway. In addition, the park has multiple trail systems, roads, parking lots and a disk golf course. I would not consider this area to be highly technical or physical terrain, so efficiently executing your course will be a matter of route choice. Since the courses utilize sections of the park that have both multiple trail and roads present, this meet would provide a good opportunity for runners to try a more advanced course than they usually run. The courses were designed with subtle route choice options in mind and placed in portions of the park to enhance running speed. So for the competitive orienteers, small hesitations and route choices could determine finishing order.
Even at this time of the year while most of the nasty vegetation is suppressed, there still is considerable vegetation that will slow you down and it tends to be more extensive than what is mapped. Respect the Green. I have designed the courses to utilize the more open portions of the park, however when the vegetation comes into play there are clear trails through the worst offending areas and route choice options around others. Several of the courses will transverse Great Seneca Highway, either over or under, these crossings are indicate on the map. Several of the courses have control locations in the disc golf course, if the weather is nice there will be players on the course, watch out for flying discs. On some of the courses you will be required to cross some small streams. If we get any major rainfall prior to the meet, then these streams will be carrying more water than usual and you can expect to get your feet wet, but they still will be crossable. Under no circumstances on any course will you be required to cross Seneca Creek. In addition, if the weather stays dry the low lying marshy areas will be dry as well, otherwise, the marshy areas will be wet and annoying. I have used rootstocks as control location on several courses, the ones that I used will be large (1.0 m or greater), have dirt on their roots and be visible at running speed. There are a lot of older rootstocks mapped that have significantly decayed and should not be used for navigation purposes.
Now about the park. During the pandemic the park has seen greatly increased visitor numbers, if the weather is nice expect this to the case. Expect to encounter others, hikers, mountain bikers, etc. on the trails and along the roads. The courses are designed to avoid the most popular portion of the park, but there will still be others out there. Most courses will have park road crossings, be careful, look for cars and bicyclists.
There is no entrance fee charged at this time of the year.

Course specifics. There will be a separate Start/Finish for the White and Yellow courses from all the other courses. Map scale is 1:10,000 with 5m contours.
On the Yellow course, the first and last control is the same (a bridge), you will be required to punch that control twice. You will have controls in the Disc Golf course.
On the Orange course, your first leg will be a run along the road that leads to the parking lot used for this meet, be careful. You will have controls in the Disc Golf course.
On the Beige course, you will go through the Disc Golf course.
On the Brown course, you will go through the Disc Golf course.
On the Green course, depending on route choice you may go through the Disc Golf course.
On the Red course, depending on route choice you may go through the Disc Golf course.
On the Blue course, depending on route choice you may go through the Disc Golf course. This is the only course that crosses Riffle Ford Road (twice) which can have relatively high speed traffic, please be careful and look before crossing. Also, be careful if running along this road, fortunately, the road has wide shoulders at that point. There is one leg with a route choice that may tempt you to cross Seneca Creek as a route choice, but don't, since the route choice not involving crossing the creek is perfectly acceptable. Finally, there is a trail run through the nastiest portion of the green vegetation - use it.

Have fun and enjoy.

Entry Fees
Individual Entries

Note: juniors = under 21

| | | | | |
| --- | --- | --- | --- | --- |
| | Club Member, adult | Club Member, junior | Non-Member, adult | Non-Member, junior |
| | $10 | $5 | $20 | $5 |

Group Entries

Participants are welcome to orienteer together as a group (up to the maximum for that event; usually 4). Each member of a group is charged their individual rate as shown above, up to a group total of $30 (maximum), and each receives a map. A group receives one epunch. Individuals or groups desiring to compete on a second course after completing their first can do so for a reduced fee of $2/map subject to approval at the event by the Event Director.

Important Notes

If you wish to become a QOC member you should join online in advance via this webpage (which also explains the member benefits). Membership is completely optional.
Most of our events use an 'epunch' timing chip for electronic timing. Individuals or groups without their own epunch will be loaned one for that event. Loaned epunches that are lost incur a $40 replacement fee. Epunches (also known as SI-cards or finger sticks) can be purchased from online vendors as described here.
Former QOC members who have let their membership lapse pay non-member fees.
Compasses are available at no charge, but if lost incur a $15 replacement fee.
Please provide collateral (such as car keys) when borrowing a compass or epunch.
Please note that normally there are no refunds (unless we cancel the event).
Free beginner instruction is always available - just ask at the registration table. While COVID-19 policies are in effect, please check out instructional videos online such as those mentioned above in lieu of in-person/at-event instruction.