Intro to Orienteering - Pohick

Printer-friendly version

Send by email

PDF version
ShareThis
September 7
Saturday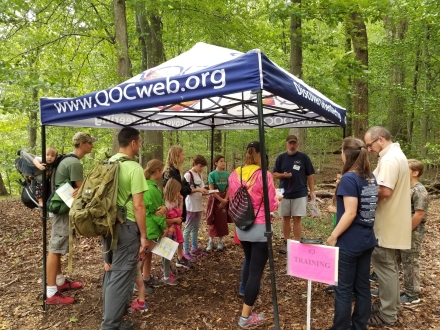 Quantico Orienteering Club invites all newcomers to join us for an "INTRODUCTION TO ORIENTEERING" as we gear up for our 2019-2020 season. As we have for the past few years, we are hosting two purely beginner-oriented events: this one at Pohick Bay Regional Park (VA) and another in Maryland taking place on Saturday, July 20 at Wheaton Regional Park, Wheaton, MD.
These will be FREE beginner-only orienteering events for all ages - from children to adults. For anyone who has ever wanted to try orienteering, or just wondered what it is, here's the chance to come out and give it a go. Those of you who are already seasoned orienteers, please feel free to invite your co-workers and friends out to experience that activity you're always telling them about.
Participants will learn the basics of orienteering from experienced instructors and then apply their newly acquired skills on a beginner level orienteering course (either a White or Yellow Course) that same day. Registration opens at 10:00 AM and instruction will be offered approximately every 20 minutes beginning at 10:20 AM and running through 12:00 PM. Participants can either orienteer solo or in small groups of their own choosing. All participants will have until 1:30 PM to complete their courses.
The only equipment you'll need to bring is your brain, some active clothing/sportswear, a comfortable pair of athletic shoes, and a watch. Compasses will be available, but please bring your own if you have one. Participants may also want to bring along extra water or beverages, though there will be plenty of water on the course and at the start/finish/instructional area. For your convenience, a Locator Map for this event is available.
Pre-registration was being offered for these events due to park permit participant limitations, and it is now CLOSED since we have reached our maximum permitted capacity. We look forward to seeing everyone who pre-registered at this fun event! Questions related to registration may be emailed to the event director using the link below.
Location

Pohick Bay Regional Park, Pavilion 3, Lorton, VA (Beginner)

Registration
This (free) event is now "sold out". Registration is now closed, since we have reached the maximum capacity allowed by our event permit. Day-of registration will not be available at the event. As always, beginner's are welcome at all QOC events and free introductory instruction is offered at each meet.
Start Times
Start any time between the specified times (see details above).
Schedule
Saturday, September 7

| | |
| --- | --- |
| 10:20 am - 1:30 pm | Beginner: |

Volunteers
Location Details

Beginner
Pohick Bay Regional Park
Pavilion 3
Lorton, VA
Google Map

From southbound I-95, take exit 163 (Lorton). Go left onto Lorton Rd at the end of exit ramp. Go under the 2nd overpass and turn right onto Lorton Market St (Z-pizza is in the shopping center on the left), then go about 1.5 miles to the traffic light at Route 1. Go straight through light (the road name changes to Gunston Rd) and go about 4 miles to the park entrance on left.
After passing through the gate, continue down the main park road to the end and park in the LARGE lots to the west (by the boat launches). Walk about ~125 meters to Shelter 3, which is on the east side of the main entrance road (look for the QOC banner).
Please note that a park entry fee must be paid to the attendant at the park gate. Those who live in the NOVA Parks jurisdiction (residents of Arlington, Fairfax and Loudoun Counties; Cities of Alexandria, Fairfax & Falls Church) are admitted free; please be prepared to show ID at gate. Those who live outside the jurisdiction will pay $4 per vehicle at the gate (the shelter-rental rate). PLEASE inform the attendant that they are there for the orienteering event at SHELTER 3.

Course Details
Beginner

| | | | |
| --- | --- | --- | --- |
| Course Name | Length (km) | Climb (m) | No. Controls |
| White | 3 | 60 | 14 |
| Yellow | 3.8 | 100 | 11 |

Course Notes
Beginner

White Course: All on trails. Best option for adults and families with no or limited orienteering/navigational experience.

Yellow Course: Longer, some off-trail controls but with linear features to follow. Good option for adults with older children and some navigation/orienteering experience, adventure racers and hikers.

Entry Fees

This event will be free of charge.
Electronic timing will be used. We will provide you with an electronic timing chip (aka e-stick, finger dibber, or SI-card) for free if you don't own one. Loaned e-sticks that are lost incur a $40 replacement fee.
Compasses are available at no charge, but if lost incur a $15 replacement fee.
Please provide collateral (driver's license or car keys) when borrowing a compass.
For additional safety, whistles are available for sale at $1/each.