Mason Neck

Printer-friendly version

Send by email

PDF version
ShareThis
May 31
Sunday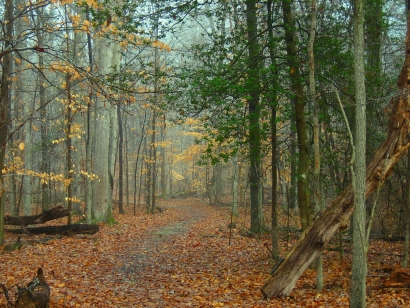 From being just down the road from Pohick Bay on May 10th, the terrain at Mason Neck is surprisingly different. For starters - instead of 5 meter contours, this map has 5 foot contours!
Surrounded by national wildlife refuges, this Virginia State Park overlooks Belmont Bay. As befits any shoreline park, Mason Neck has its share of steep re-entrants leading down to marshes and the tidal water. For the advanced courses, runners will be pleasantly surprised to find a map that is predominantly open, runnable woods, generally flat with subtle contour features. There are large areas not criss-crossed with trails.
Before you think you've arrived at orienteering nirvana lurking along the lower Potomac, there is some thicker green vegetation (we avoid the worst of it), areas without many point features, and areas where the point features are almost all rootstocks, mapped here with brown X's and usually short brown lines to indicate fallen tree-trunks, difficult to cross quickly. As usual with rootstocks, the mapper had to make a judgment call on which ones should be mapped. And, nature (ice storms and high winds) has a way of sprinkling around new, unmapped rootstocks. In general, you'll find the controls in areas where nature hasn't muddied the mapper's interpretation.
This, however, is not the map or the courses to leave your compass in the car for Orange or advanced courses. We've taken advantage of the terrain to force some compass and pace count work, sometimes without obvious handrails or collecting features to rely on. With the open woods, don't be surprised if you spot other controls tempting you--in areas the control density is high; be sure to check the control code to make sure you're at the control on the correct rootstock or in the correct re-entrant. Per OUSA course-setting guidelines, controls will be at least 75m apart (100m if on similar features that could be mistaken). Map scales are 1:5000 for white and yellow, and 1:10000 for all other courses.
Although there is an entrance fee for the park ($5 (in state) or $7 (out-of-state) per car), know that your contribution is helping keep this great, nearly flat orienteering venue from becoming another subdivision or a golf course, neither of which is nearly as good for orienteering as what Mason Neck State Park has preserved for us!
Training Session: Mihai Sirbu will be conducting an intermediate/advanced training session at this event; meet at 1:30pm at the registration area.
Bring a bike or canoe (see below) and enjoy the park after your run, or cool off in the renovated Nature Center. Event registration will be from 10:45am - 1:15pm, you can start your course anytime between 11am - 1:30pm, and courses close at 3pm.
Mason Neck State Park is also a great place for exploration on the water or by bike (a very smooth and family-friendly bike path runs through much of the park). Of note:
Bring your own canoe or kayak, or rent one. Rental rates are $10/hr for a kayak, $15/hr for a tandem kayak, and $12/hr for a canoe (all + tax).
A 2.5 hour guided kayak tour is conducted on Sunday mornings at 9am. Cost is $15 per person; reserve a spot by calling the park office at (703) 339-2385.
Bring your own bikes, or rent one. Rental rate is $5/hr.
There's a fine playground quite near our registration area.
Dogs are welcome in the park, but must be on a leash of length 6 feet or less at all times and "with a human on the other end", as a park ranger said.
Plan ahead - pre-registration is now open for next weekend's Jug Bay Party-O!
Any youth or large groups attending, please contact the Event Director so that we can coordinate pre-registration for your group; the group registration and waiver form is part of the information on our Group Leaders page.

Post-Race MeetUp Special! This year California Tortilla will host the Mason Neck Meet Post-Race MeetUp. Just show them your map and get 20% off your order. California Tortilla is well known for delicious fresh burritos, tacos, fajitas and quesadillas in a casual, fun atmosphere. As you leave Mason Neck State Park, they are located less than a mile from the intersection of Route 1 and Gunston Road in the Lorton Station Marketplace at 9447 Lorton Market Street.
Location

Mason Neck SP, Mason Neck SP, Lorton, VA (Classic)

Registration
No advance registration required for this event. Just show up and have fun!

But if you're in the mood to pre-register, head right on over to the Jug Bay webpage all about next week's (June 7) event, since it's free if you're a member who pre-registers!

Start Times
Start anytime between 11 - 1:30, and be back to download no later than 3pm.
Schedule
Sunday, May 31

| | |
| --- | --- |
| 11:00 am - 3:00 pm | Classic: |

Volunteers
Location Details

Classic
Mason Neck SP
Mason Neck SP
Lorton, VA
Google Map

From southbound I-95, take exit 163 (Lorton). Go left onto Lorton Rd at the end of exit ramp. Go under the 2nd overpass and turn right onto Lorton Market St (Z-pizza is in the shopping center on the left), then go about 1.5 miles to the traffic light at Route 1. Go straight through light (the road name changes to Gunston Rd) and go about 5 miles to the right turn on High Point Road (it's about 1.2 miles after the Pohick entrance). Once in the park ($7 in-state or $10 out-of-state entrance fee per vehicle on weekends), follow the signs towards the Visitor Center. The registration area will be to the left just before the Visitor Center; look for the banner.

Course Details
Classic

| | | | |
| --- | --- | --- | --- |
| Course Name | Length (km) | Climb (m) | No. Controls |
| White | 1.8 | 10 | 9 |
| Yellow | 2.4 | 20 | 8 |
| Orange | 4.7 | 40 | 9 |
| Brown | 4.7 | 35 | 8 |
| Green | 5.2 | 50 | 9 |
| Red | 6.6 | 45 | 10 |
| Blue | 8.4 | 60 | 19 |

Course Notes
Classic

With the leaves out and visibility reduced in the woods, I redesigned and shortened the courses from the original ones designed when the forest was quite bare and open. The terrain is generally still runnable and fast. I found that with the reduced visibility, the mapped rootstocks are much harder to identify at race speed, so I tried to avoid using them for control locations or as the only reasonable attackpoint. There is a lot of subtle terrain here, so having a good plan and paying attention to your compass and pace count is a good idea. In some areas, you are going to have a hard time re-locating if you "miss" the control. That said, you may find other courses' controls (hint: controls are always set on a mapped feature), and in some cases I've deliberately set the controls high and visible so that luck isn't a dominant factor. To reiterate, this is not the park or the courses to just launch in the general direction of your next control and hope to figure it out somewhere along the way--you'll just find a bunch of woods that all look the same.

I've found the mapped marshes to be very distinctive, whether wet or dry. The dot knolls and pits (dry or wet) are also very useful for navigation, as are the dry ditches. The rootstocks...not so much.

All courses have water points, and in anticipation of hot and humid weather, the advanced courses have quite a bit of water available.

Entry Fees
Individual Entries

Note: juniors = under 21

| | | | | |
| --- | --- | --- | --- | --- |
| | Club Member, adult | Club Member, junior | Non-Member, adult | Non-Member, junior |
| Epunch Owner | $5 | $5 | $10 | $5 |
| Epunch Borrower | $10 | $5 | $15 | $10 |

Team or Group Entries

Participants are welcome to compete together as a single team entry. Teams containing one or more nonmembers are charged the nonmember individual rate. Teams containing one or more adults are charged the adult individual rate. For teams to receive member or junior rates, all members of the team must be members or juniors, respectively. Each extra team map beyond the first is an additional $2. Individuals or teams desiring to compete on a second course can do so for a reduced fee of $2/map.

Important Notes

At the event, we can only accept payment in cash or check; online, you may use a credit card or PayPal account.
You may become a member at the event or by joining online via this webpage (which also explains the member benefits). Membership is completely optional.
Most of our events use an 'epunch' timing chip for electronic timing. Individuals or groups without their own epunch pay a higher entry fee (see above), which includes the loan of an epunch for that event. Loaned epunches that are lost incur a $40 replacement fee. Epunches (also known as SI-cards or finger sticks) are usually available for sale at each event as described here.
Compasses are available at no charge, but if lost incur a $15 replacement fee.
Please provide collateral (driver's license or car keys) when borrowing a compass or epunch.
For additional safety, whistles are available for sale at $1/each.
Free beginner instruction is always available - just ask at the registration table.