Great Falls

Printer-friendly version

Send by email

PDF version
ShareThis
November 24
Sunday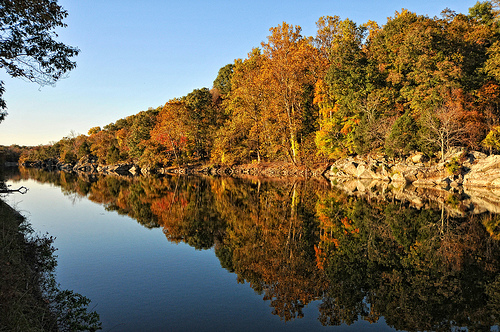 Update as of Nov. 22: This event is now sold out. If you were on the waitlist and have paid the PayPal invoice sent by the registrar, you are confirmed as an attendee (otherwise: not). We will not be offering day-of registration in any form though since we have reached our permit capacity. Feel free to email the registrar if you have any questions.
Course Information: Course stats are now posted below. Note that there are officially 3 approved courses (beginner, intermediate, and advanced). These courses are carefully designed to avoid areas that the National Park Service has designated as sensitive. In order to provide safety options for advanced orienteers that are likely to be unable to complete the full advanced course of 9.4km, we have designated two bypasses between certain controls on this (long) advanced course that also avoid sensitive areas. These two "bypass" options are named below and for pre-registration purposes as the 'short advanced' and 'medium advanced' courses. This also means that all orienteers on an advanced course have a certain number of controls in common at the very beginning and at the very end of their courses.
Want to see who's currently registered? Click here. Note: this list is not complete since it does not include all names from the waitlist or youth groups.
Have any questions? Just use our Contact Us form and ask away!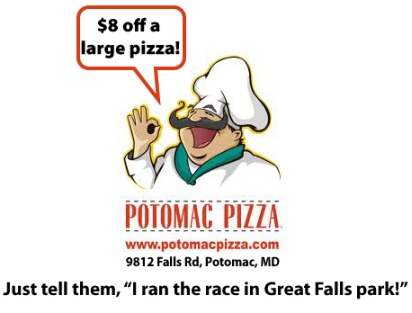 Back by Popular Demand: Post-Race Potomac Pizza Palooza! After your race, take advantage of a 1/2 price pizza deal at a nearby restaurant, Potomac Pizza. Normally $17 for a large cheese and tomato pizza, just wave your QOC map at Guillermo the friendly manager and you'll get this 8 slice pizza for just $9, and additional toppings are only $1 each. There's seating for everyone at this friendly local place with a full menu, free soda refills, and it's no problem to go "as you are" post-race. There's plenty of room to go over your map and routes and meet up with your fellow orienteers. The address is 9812 Falls Rd in Potomac; to get there, just take a left at the stop sign as you exit the park, and in less than 2 miles take a left just before River Road into the Potomac Promenade parking area. Directions are also shown in the Event Locator Map.
Location

C&O NHP (Great Falls MD), Great Falls Tavern, Potomac, MD (Classic Orienteering)

Registration
Registration is now closed - the event is sold out. Period. There is no day-of registration. For those who have registered and paid, a "one vehicle" emergency contact form/waiver is located here; print it and fill it out in the warmth of your vehicle (or home) to avoid standing in a cold cold line just to do the same thing.
Start Times
You may start your course at any time between 11am - 1:30pm [making sure to be back no later than 3pm.]
Schedule
Sunday, November 24

| | |
| --- | --- |
| 11:00 am - 3:00 pm | Classic Orienteering: |

Volunteers
Location Details

Classic Orienteering
C&O NHP (Great Falls MD)
Great Falls Tavern
Potomac, MD
Google Map

From I-495, Maryland: Take exit 41 (Carderock/Great Falls, MD), follow Clara Barton Parkway to the end. At the stop sign, turn left onto MacArthur Blvd. Follow MacArthur ~3.5 miles to the park entrance booth. MacArthur Blvd. ends at the park.

From I-495, Virginia: Cross into Maryland over the American Legion Bridge (beltway inner loop) and take exit 41 (Clara Barton Parkway) Westbound, staying left at the fork. Follow Clara Barton to the end. At the stop sign, turn left onto MacArthur Blvd. Follow MacArthur Blvd ~3.5 miles to the park entrance booth. MacArthur Blvd. ends at the park.

After paying the park entrance fee, park in the large lot to the right (north) of the roundabout, then walk south back past the roundabout and beyond the Tavern to find our registration area.

Printable detailed maps showing the parking/registration area and the route to the Pizza Palooza are available here.

Course Details
Classic Orienteering

| | | | |
| --- | --- | --- | --- |
| Course Name | Length (km) | Climb (m) | No. Controls |
| Beginner | 3 | 60 | 11 |
| Intermediate | 4.6 | 150 | 14 |
| Short Advanced | 3.7 | 140 | 8 |
| Medium Advanced | 6.4 | 240 | 16 |
| Long Advanced | 9.4 | 350 | 24 |

Course Notes
Classic Orienteering

This year's courses officially consist of 3 courses. The Beginner course is a true 'White' course that leads you along trails into the park. The Intermediate (orange level) course leads you along with definitive handrails and perhaps a short advanced level leg thrown in for some variety. The Advanced course(s) loop back near the finish to offer shorter options for those runners who do not feel up to completing the entire 9.4 km course. All versions of the Advanced course utilize subsets of the controls and legs contained in the complete Advanced course - the shorter versions just finish at shorter distances. Once again, the finish is located in a forested area and not next to the start. This is done to avoid an unnecessary downhill finish along a trail with less than optimal footing. Please remember to return to the start area to download after finishing.

Last year's advanced course employed butterfly loops to exploit interesting areas of the park; this year's courses are more of the standard variety with some short movement legs to avoid sensitive areas of the park. You may remember control locations that are being re-used in this year's course, and that is done to direct the courses around several of these sensitive areas that we must avoid when planning the courses.

The forest is now wide open with excellent visibility. Even those areas mapped as light green (generally young saplings) will annoy you only slightly as you run through them, but not really slow you down to any appreciable extent.

As always, have fun and enjoy the day.

Entry Fees
Individual Entries

Note: juniors = under 21

| | | | | |
| --- | --- | --- | --- | --- |
| | Club Member, adult | Club Member, junior | Non-Member, adult | Non-Member, junior |
| Epunch Owner | $5 | $5 | $10 | $5 |
| Epunch Borrower | $10 | $5 | $15 | $10 |

Team or Group Entries

Participants are welcome to compete together as a single team entry. Teams containing one or more nonmembers are charged the nonmember individual rate. Teams containing one or more adults are charged the adult individual rate. For teams to receive member or junior rates, all members of the team must be members or juniors, respectively. Each extra team map beyond the first is an additional $2. Individuals or teams desiring to compete on a second course can do so for a reduced fee of $2/map.

Important Notes

This event requires online payment as discussed above; you may use a credit card or PayPal account.
You may become a member by joining online via this webpage (which also explains the member benefits). Membership is completely optional.
Most of our events use an 'epunch' timing chip for electronic timing. Individuals or groups without their own epunch pay a higher entry fee (see above), which includes the loan of an epunch for that event. Loaned epunches that are lost incur a $40 replacement fee. Epunches (also known as SI-cards or finger sticks) are usually available for sale at the electronic timing station at each event or via SportIdent.us.
Compasses are available at no charge, but if lost incur a $15 replacement fee.
Please provide collateral (driver's license or car keys) when borrowing a compass or epunch.
For additional safety, whistles are available for sale at $1/each.
Free beginner instruction is always available - just ask at the registration table.