Rosaryville MTBO

Printer-friendly version

Send by email

PDF version
ShareThis
April 28
Saturday
Update: The meet registration area is in a covered pavilion with a couple of grills and picnic tables. Meet Directors John & Jody Landers will have the charcoal grills going by 12:30 and will supply a limited number of hot dogs and rolls for finishers. Participants are encouraged to bring a picnic lunch and something to grill for themselves.
Mountain bike orienteering will return to Rosaryville State Park for only the second time with, weather permitting, an event to be held in the morning before QOC's regular, bike-less orienteering event. Two courses will be offered of roughly similar length and difficulty to those offered at the same venue in May 2011, which can be viewed here - see preliminary (there may still be some tweaking of the course designs) course stats below. Timing will be done using electronic punching (explained here in the section "What is Epunching?"). In addition to the MTBO courses taken separately, an orienteering duathlon competion will be offered, with results computed by combining the times for MTBO courses and foot-orienteering courses as follows:
Men and Open Teams - Long MTBO/Blue Foot O
Women and Female/Mixed Teams - Long MTBO/Red Foot O
Men, Women and Teams - Short MTBO/Green Foot O
Men, Women and Teams - Short MTBO/Orange Foot O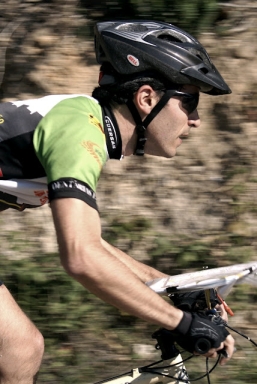 Participants may race solo or in groups. Participation will be capped at 100 start groups, i.e. each solo racer or group counts as one start group. Update: We're pleased to announce that pre-registration using our friendly Registration Form is available for use, so sign up now! Registration will close midnight Thursday April 26.
Background on Mountain Bike Orienteering
New to MTBO and curious what it's about? Wikipedia is helpful of course, as is the Orienteering USA web site. If you're more into video, YouTube has lots to offer including coverage of the 2009 World Championships Middle Distance Final and some headcam video from the 2010 Sprint Final. If you don't want to click through to any of those at the moment, suffice it to say that MTBO is navigational racing on mountain bikes, in which each participant is given a map showing a series of checkpoints to be found in a designated order in the shortest possible time, with the choice of route between checkpoints left up to the racer. Success therefore depends on raw speed, of course, but also on the ability to read the map, make good route choices and execute them efficiently.
Rules for this event:
Helmet use is mandatory.
Participants are required to stay within 10 feet of their bikes at all times while racing.
Participants are required to stay on trails, tracks, roads and fields. No short cuts through the forest.
Participants must yield to horses and pedestrians, in accordance with park rules.
Note: rain and therefore poor trail conditions may require the MTBO to be cancelled. The foot-O in the afternoon will take place rain or shine. MTBO entry fees paid online will be refunded in full in the event of cancellation.
Location

Rosaryville State Park, Pavilion parking area, Rosaryville, MD (Mountain Bike Orienteering)

Registration
Online pre-registration including payment is encouraged with discounted fees (see Entry Fees, below), though not required. Click here for our Registration Form. Registration will be capped at 100 participants. Online registration will be available until midnight Eastern Time on April 26th.
Start Times
You may start your course at any time during the start window listed below for your event, however participants are encouraged to plan on starting as early in the start window as possible in order to ensure they have time to complete the course before the course closure time at noon.
Schedule
Saturday, April 28

| | |
| --- | --- |
| 8:30 am - 10:00 am | Mountain Bike Orienteering: On-site registration (if cap not reached with online pre-registration) |
| 8:45 am - 10:15 am | Mountain Bike Orienteering: Start window for MTBO courses |
| 12:00 pm | Mountain Bike Orienteering: MTBO courses close. |

Volunteers
Location Details

Mountain Bike Orienteering, Mountain Bike Orienteering, Mountain Bike Orienteering
Rosaryville State Park
Pavilion parking area
Rosaryville, MD
Google Map

From I-495 exit 11A, head east on Rt 4 (Penn. Ave) for 3 miles. Turn right on Woodyard Rd/MD-223, then quickly move left to turn left on Marlboro Pike. After 2.8 miles, turn right on Crain Hwy/Rt-301 S, then take the first right on W. Marlton Ave into the Park. Follow O'signs within the park.

Park Entrance Fees: $3/vehicle in-state, $5 out-of-state; $10 small bus; $20 school/charter bus

Course Details
Mountain Bike Orienteering

| | | | |
| --- | --- | --- | --- |
| Course Name | Length (km) | Climb (m) | No. Controls |
| Short | 8.2 | 165 | 10 |
| Long | 12.8 | 335 | 15 |

Course Notes
Mountain Bike Orienteering

The park contains a veritable maze of trails, tracks, rides, fields and roads so the navigation will be challenging both in terms of seeing the best route on the map and executing it without making any wrong turns. Please remember when weighing which course to do that the stated course distances are as the crow flies between control points - since short cuts through the woods aren't permitted the actual cycling distance on the optimal route is probably at least a third longer.

Entry Fees

Online pre-registration: Adults - $6 members/$10 non-members Juniors (under 21) $4 members/$6 non-members

On-site registration: Adults $10 members/$15 non-members Juniors (under 21) $8 members/$10 non-members

Groups wanting more than one map will be charged $4 in addition to the base rate per additional map used.

Entry fees will be refunded in the event of cancellation due to inclement weather.