Great Falls MD

Printer-friendly version

Send by email

PDF version
ShareThis
November 18
Sunday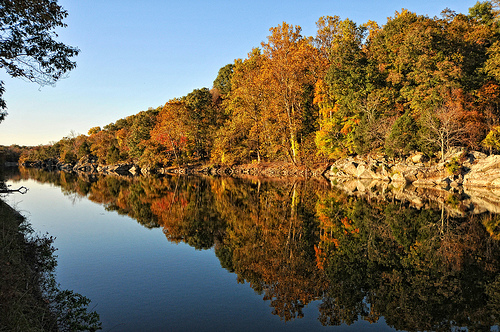 This event is SOLD OUT.
It's just about time for our classic annual run through the C&O National Historic Park, commonly known as Great Falls Park. Start times will be as usual (start anytime between 11am - 1:30pm), and be out of the woods by 3pm. Note that pre-registration is now open closed.
As in recent years, we are restricted to having 3 courses: Beginner, Intermediate, and Advanced. Course details are posted below - please read them! Please note that the Advanced course is relatively long (~8 km); if you do register for it, yet on event day are concerned about your ability to finish it, before you start the course please speak to the Event Directors (at the event) about potential alternatives.
Additionally:
Map scales are 1:7,500 for the beginner course and 1:10,000 for the intermediate and advanced courses;
An Event Locator Map is available here;
An online listing of registered participants (other than those in large youth groups) can be viewed anytime here.
NOTE: Online registration is now closed.
There will be no "walk up" registration on the day of the event during the normal registration time window. However, unregistered individuals wishing to go out on a course can place their names on a waitlist at the event, and we will release no-show slots between 1:15 - 1:30pm in order to the names on the waitlist (and invoice later by PayPal). [FYI, we anticipate very few no-shows.] Everyone must (still) be out of the woods no later than 3pm.
The check-in and start areas are co-located just a bit south of the Great Falls Tavern. Park in the large lot then walk south past the (heated) bathroom building and Tavern to find us. [Locator map is here.] The Tavern's Visitor Center and museum is open until 4:30pm, and there's no admission charge.
Dogs are welcome but must be on a leash 6 feet or less in length at all times, and they are not allowed on the Billy Goat Trail or the Falls Overlook Trail (none of the QOC courses involve going on these trails). This park is a trash-free park, which also means all (dog) waste must be picked up and packed out.
Starbucks Via coffee will be served at our post-race refreshment stand (along with hot chocolate and tea).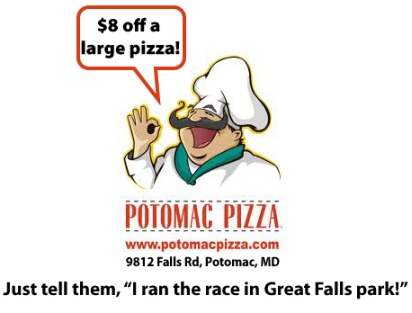 Back by Popular Demand: Post-Race Potomac Pizza Palooza! After your race, take advantage of a 1/2 price pizza deal at a nearby restaurant, Potomac Pizza. Normally $17 for a large cheese and tomato pizza, just wave your QOC map at Guillermo the friendly manager and you'll get this 8 slice pizza for just $9, and additional toppings are only $1 each. There's seating for everyone at this friendly local place with a full menu, free soda refills, and it's no problem to go "as you are" post-race. There's plenty of room to go over your map and routes and meet up with your fellow orienteers. The address is 9812 Falls Rd in Potomac; to get there, just take a left at the stop sign as you exit the park, and in less than 2 miles take a left just before River Road into the Potomac Promenade parking area. Directions are also shown in the Event Locator Map.
Location

C&O NHP (Great Falls MD), Great Falls Tavern, Potomac, MD (Classic Orienteering)

Registration
This event is currently sold out. Individuals and families/small groups may now register and pay online at https://orienteeringusa.org/eventregister/. Please make sure to complete the online liability waiver.
Youth groups (JROTC, etc): please do not use this form - use our group registration process instead.
Start Times
Preregistered participants may start (after checking in) anytime between 11am - 1:30pm, and must be back by 3pm. A list of all currently registered participants - other than those associated with large youth groups like JROTC groups - may be viewed online here.
Schedule
Sunday, November 18

| | |
| --- | --- |
| 11:00 am - 3:00 pm | Classic Orienteering: |

Volunteers
Location Details

Classic Orienteering
C&O NHP (Great Falls MD)
Great Falls Tavern
Potomac, MD
Google Map

From I-495, Maryland: Take exit 41 (Carderock/Great Falls, MD), follow Clara Barton Parkway to the end. At the stop sign, turn left onto MacArthur Blvd. Follow MacArthur ~3.5 miles to the park entrance booth. MacArthur Blvd. ends at the park.

From I-495, Virginia: Cross into Maryland over the American Legion Bridge (beltway inner loop) and take exit 41 (Clara Barton Parkway) Westbound, staying left at the fork. Follow Clara Barton to the end. At the stop sign, turn left onto MacArthur Blvd. Follow MacArthur Blvd ~3.5 miles to the park entrance booth. MacArthur Blvd. ends at the park.

After paying the park entrance fee, park in the large lot to the right (north) of the roundabout, then walk south back past the roundabout and beyond the Tavern to find our registration area.

Printable detailed maps showing the parking/registration area and the route to the Pizza Palooza are available here.

Course Details
Classic Orienteering

| | | | |
| --- | --- | --- | --- |
| Course Name | Length (km) | Climb (m) | No. Controls |
| Beginner | 3 | 50 | 12 |
| Intermediate | 5.1 | 150 | 13 |
| Medium Advanced | 5.5 | 240 | 21 |
| Advanced | 7.9 | 310 | 28 |

Course Notes
Classic Orienteering

In general: The forest is open and fast, and while some damage from recent storms is evident, it doesn't affect the courses. Course-specific comments follow.

Beginner Course: This course is designed to take you along trails into the wooded heart of the park and return you to the start along the C&O Canal. It is a bit longer than normal, but that is unavoidable due to nature of the trail system in the park. Control locations were chosen to give you an idea of the different type of features in an orienteering course.

Intermediate: This course is a standard orienteering course containing primarily advanced beginner to intermediate control placement with lots of trail options between control points. Only one leg later in the course could be considered an advanced leg. Please note that the course finish is located in a wooded area of the park and not at the Start area.

Advanced: This course was designed as a true advanced (Green-Red-Blue) course with a twist. There are two butterfly loops in the course in which the runner must punch the same central control three times (once entering the loop, once after the first branch of the loop and the finally after the second branch of the loop prior to exiting the entire butterfly loop). The rest of the course is a standard orienteering course. If you decide that this course is at the level of your technical ability and wish to run this advanced course but feel the overall distance is too much, talk to the Event Director prior to starting this course. Please note that the course finish is located in a wooded area of the park and not at the Start area.

Entry Fees
Individual Entries

Non-Member: $10/adult, $6/junior (under 21 years old)

Member: $6/adult, $4/junior (under 21 years old)

Team or Group Entries

Participants are welcome to compete together as a single team entry. Teams containing one or more nonmembers are charged the nonmember individual rate. Teams containing one or more adults are charged the adult individual rate. For teams to receive member or junior rates, all members of the team must be members or juniors, respectively. Each extra team map beyond the first is an additional $2. Individuals or teams desiring to compete on a second course can do so for a reduced fee of $2/map.

Important Notes

For this event, preregistration is online and you can use a credit card or PayPal account.
Most of our events use electronic timing. We will provide you with an electronic timing chip (aka e-stick, finger dibber, or SI-card) for free if you don't own one. Loaned e-sticks that are lost incur a $40 replacement fee.
Compasses are available at no charge, but if lost incur a $15 replacement fee.
Please provide collateral (driver's license or car keys) when borrowing a compass or e-punch.
For additional safety, whistles are available for sale at $1/each.
Free beginner instruction is always available - just ask at the registration table.