Pohick

Printer-friendly version

Send by email

PDF version
ShareThis
April 11
Sunday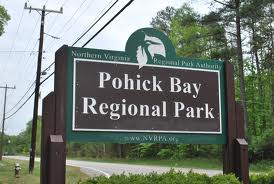 Pre-registration is required and will open on Monday, April 5 at 6pm.
Welcome back to Pohick Bay Regional Park and its compact mix of typical Northern Virginia, draw-and-reentrant terrain and extensive trail network. This season's Pohick Bay event returns to the main area of the park with check-in at Shelter 1 (see the locator map). Mark Thomsen and Paul Morris have prepared a full set of classic courses to choose from (details are below).
Those who live in the NOVA Parks jurisdiction--Arlington, Fairfax & Loudoun Counties; Cities of Alexandria, Fairfax & Falls Church--are exempt from paying the park entry fee, collected at the entrance. All other attendees should inform the attendant that they are at the park for the orienteering event at Shelter 1 and receive the discounted entry fee of $5 per vehicle.
As usual, everyone must be out of the woods and back at the registration/finish area by 3:00pm when we will begin picking up the controls. Courses are designed not to take runners through camping areas. Please bypass any occupied camping or pavilion sites you encounter. In addition, courses cross the main park road, so be aware of approaching traffic.
This Sunday event requires online pre-registration, and we will open registration at 6pm on Monday, April 5. QOC's COVID risk reduction protocols, as also enumerated here, will be in effect. Please read these guidelines carefully, particularly keeping in mind the need for participants to bring their own water for all their hydration needs before, during, and after their runs/walks.
Other points:
PROPERLY WORN MASKS ARE REQUIRED at all times when near registration and epunch areas and their volunteers.
We encourage everyone to download and use any or even all of the DC, Maryland and Virginia COVID exposure notification apps.
Dogs are permitted at this event but must be leashed at all times.
The park's boat ramp will be available for those who want to bring their boats, and kayaks may be rented as well; full rental details here.
The size of start teams (groups of individuals orienteering together with one e-punch) on a course must be no more than four (4) individuals (juniors and adults combined). Unregistered "tag-alongs" are not allowed (other than babies or toddlers). Any youth or large groups attending, although you will be pre-registering online, please contact the Event Director of your plans and numbers for their awareness.
There is no planned, on-site beginner instruction, but beginners are encouraged to watch relevant videos such as this one created by QOC's instructional guru David Onkst

Location

Pohick Bay Regional Park, Shelter 1, Lorton, VA (Classic)

Registration
Pre-registration for this event will open at 6pm on Monday April 5 via this link. Registration will close no later than 6pm Sat. March 13 (the night before the event).
Who's registered? Check by clicking here. Sorting by column is possible too - just click on the column name.

Start Times
Participants will register in advance for a specified 15 or 45 minute check-in window (including map pick-up), starting at 9:45am until the final window from 1:15-1:30pm. Each window will be limited to 15 or 45 "starts" (solo individuals or groups).
Schedule
Sunday, April 11

| | |
| --- | --- |
| 10:00 am - 3:00 pm | Classic: |

Volunteers
Location Details

Classic
Pohick Bay Regional Park
Shelter 1
Lorton, VA
Google Map

From southbound I-95, take exit 163 (Lorton). Go left onto Lorton Rd at the end of exit ramp. Go under the 2nd overpass and turn right onto Lorton Market St (Z-pizza is in the shopping center on the left), then go about 1.5 miles to the traffic light at Route 1. Go straight through light (the road name changes to Gunston Rd) and go about 4 miles to the park entrance on left.
After passing through the gate, straight on the main park road until just past the disc golf course and into the large parking lot on your right. Shelter 1 is SE of the parking lot and is the southern most of the two shelters.

Course Details
Classic

| | | | |
| --- | --- | --- | --- |
| Course Name | Length (km) | Climb (m) | No. Controls |
| White | 2.5 | 55 | 9 |
| Yellow | 2.5 | 60 | 7 |
| Orange | 4.9 | 135 | 13 |
| Brown | 3.6 | 120 | 9 |
| Green | 5.5 | 175 | 11 |
| Red | 8.5 | 195 | 13 |
| Blue | 9 | 205 | 19 |

Course Notes
Classic

Course Notes
Please adhere to Out-Of-Bounds areas indicated by pink cross-hatching and do not pass through those areas which largely represent various campgrounds. There are also other Out-Of-Bounds areas depicted by olive green color and denote private property. Please be respectful and do not enter these properties since we do not have permission to use the land and you would be trespassing.
Please pay attention running near the finish and start since these will be alongside the main park road Pohick Bay Drive and in trafficked areas with considerably more people and activity. Also, Frisbee golfers are particular active now, so please be mindful if/when you cross their course "range".
Today might be good occasion to move up from a White to a Yellow course. However, we would not recommend moving up on any other courses since they conform with USOF course design guidelines and should provide a commensurate challenge.

Special Notes
We have encountered ticks while course setting and recommend long sleeves and long pants to protect yourself. Take care and be aware of the many remnants of wire fence.
Some of the trails may be difficult to see, due to fallen leaves.
The power line fields were recently cleared, but these freshly cut shrubs are a tripping hazard. Evaluate and consider your route options.
You may encounter horses and riders. When moving near a horse and rider, please slow down until you pass them and yield the right of way, if you encounter one while running on a trail.

Map Notes
The map scale is 1:10,000 or larger for the shorter courses.
The contour interval is 5 meters.
Even though the Pohick Bay map is only a couple of years old, many changes have taken place. We did not make additional map updates along the courses unless absolutely necessary and therefore you may encounter minor discrepancies.
All rock cliffs (black "combs") shown on the maps are actually only earth banks (brown "combs").
For the most part, the woods are open and fast. The majority of the green areas are either densely fallen trees or mountain laurel, rather than thorns.


Entry Fees
Individual Entries

Note: juniors = under 21

| | | | | |
| --- | --- | --- | --- | --- |
| | Club Member, adult | Club Member, junior | Non-Member, adult | Non-Member, junior |
| | $10 | $5 | $20 | $5 |

Group Entries

Participants are welcome to orienteer together as a group (up to the maximum for that event; usually 4). Each member of a group is charged their individual rate as shown above, up to a group total of $30 (maximum), and each receives a map. A group receives one epunch. Individuals or groups desiring to compete on a second course after completing their first can do so for a reduced fee of $2/map subject to approval at the event by the Event Director.

Important Notes

If you wish to become a QOC member you should join online in advance via this webpage (which also explains the member benefits). Membership is completely optional.
Most of our events use an 'epunch' timing chip for electronic timing. Individuals or groups without their own epunch will be loaned one for that event. Loaned epunches that are lost incur a $40 replacement fee. Epunches (also known as SI-cards or finger sticks) can be purchased from online vendors as described here.
Former QOC members who have let their membership lapse pay non-member fees.
Compasses are available at no charge, but if lost incur a $15 replacement fee.
Please provide collateral (such as car keys) when borrowing a compass or epunch.
Free beginner instruction is always available - just ask at the registration table. While COVID-19 policies are in effect, please check out instructional videos online such as those mentioned above in lieu of in-person/at-event instruction.