Fountainhead

Printer-friendly version

Send by email

PDF version
ShareThis
January 26
Sunday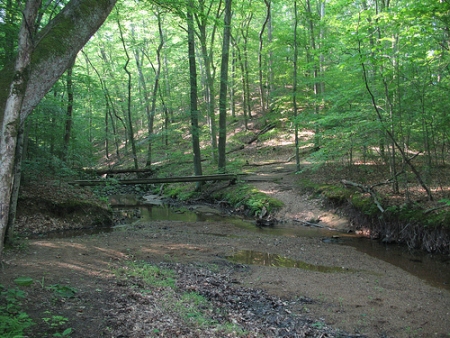 Welcome to our second of three events this season at Fountainhead Regional Park, a park with some of our most classic and well defined northern Virginia terrain. Come enjoy a full set of courses in the Fountainhead Central area thanks to QOC's Jon Torrance who is also setting the courses in Fountainhead Central for the Navy Junior Reserve Officer Training Corps (JROTC) national orienteering championships in March.
No preregistration is needed, and event timing will be as follows: registration will be open from 10:45am - 1:15pm, you can start anytime between 11am - 1:30pm, and everyone must be out of the woods by 3:00pm. Registration will be at Shelter 1 as usual.
Course Review: QOC's Course Review Program, consisting of a brief summary by the course setter of one of his or her courses and some ensuing discussion featuring observations, will take place at this event. Course setter Jon Torrance will lead a discussion of his Red course at 1:45pm in the vicinity of the registration site. All are welcome to attend.
As usual, youth groups and other large groups planning to attend this event should use the information on our Group Leaders page for group registration and include the waiver form. [However, NJROTC groups should be aware of embargo as described below.]
As with all winter meets, weather cancellation is always an outside possibility, so please continue to monitor this page as we get closer to the event date.
Additional information:
Port-a-johns will be available across the parking lot from Shelter 1.
The nearby mountain bike course may be open depending on the weather, so bring your bike and get a great ride before or after running an orienteering course. In case of rain, call the trail hotline at 703-250-9124 to check on the trail status.
Carpooling is encouraged as a courtesy to other park users.
Dogs on leash are welcome.
GPS watch loaner program continues, for anyone interested in trying one out. See Jon Torrance at the event.
FYI: at this time of year, the marina is closed.
NOTE NJROTC EMBARGO: Effective immediately and until March 16, Fountainhead Regional Park and Hemlock Overlook Regional Park in Virginia are off limits for all NJROTC cadets, NJROTC instructors, coaches and involved parents 2020 NJROTC National Orienteering championship. Details about this event are here.
Location

Fountainhead Regional Park, Main parking area, Fairfax Station, VA (Classic)

Registration
No advance registration required. Just show up and have fun!
Start Times
Start any time between the specified times (usually 11am - 1:30pm).
Schedule
Sunday, January 26

| | |
| --- | --- |
| 11:00 am - 3:00 pm | Classic: |

Volunteers
Location Details

Classic
Fountainhead Regional Park
Main parking area
Fairfax Station, VA
Google Map

One route among several: Take I-95 south of the Beltway, exit at Lorton Road (exit 163), go west 2.1 miles (4th stop light) and at the end of the road take a right onto Route 123. Drive 1.3 miles to Hampton Road, then turn left just past the fire station and drive 3 miles to the park entrance on the left.

Course Details
Classic

| | | | |
| --- | --- | --- | --- |
| Course Name | Length (km) | Climb (m) | No. Controls |
| White | 2.7 | 105 | 10 |
| Yellow | 3.4 | 130 | 11 |
| Orange | 4.5 | 210 | 9 |
| Brown | 4.3 | 180 | 11 |
| Green | 5.9 | 270 | 15 |
| Red | 8 | 355 | 18 |
| Blue | 9.8 | 470 | 19 |

Course Notes
Classic

Welcome to another likely to be fine day of orienteering at Fountainhead Regional Park. A full slate of courses await you in a lovely piece of mostly highly runnable spur and reentrant terrain. The current map is still aging reasonably gracefully since its debut in 2014. Please set your expectations as follows:

the mapped rootstocks have shrunk somewhat while a few new ones were added while designing today's courses. There must, of course, be other new rootstocks not encountered during course design and therefore not yet on the map, which some of you will surely have the perhaps dubious pleasure of encountering today.
deadfall on the map is generally still recognizable as deadfall in the terrain and no large new areas of deadfall were encountered while designing the courses. Try not to be thrown off your game by smaller new patches of deadfall wherever you may encounter them.
areas of thicker vegetation on the map generally still match the terrain; mismatch, to the extent there is such, mostly seems to consist of some areas having become less thick than they're mapped.
the trails on the map are mostly reliable thanks to the work done updating them to reflect the rerouting of a portion of the Bull Run-Occoquan Trail for the last Fountainhead event last fall. There is one quite significant exception to this affecting primarily the Orange, Green, and Red courses - see below.
the great majority of mapped dot knolls are quite low; the great majority of mapped cup depressions are quite shallow.
the mapped contours are still excellent and therefore absolutely the most reliable thing on the map by which to navigate.
Streams were running high in the aftermath of rain on Saturday afternoon. They should, knock on wood, have subsided to normal levels by Sunday morning, presenting no unusual obstacle to participants on the Orange and advanced courses. On White and Yellow, which both feature some unavoidable stream crossings without the aid of bridges while following paths, the risk of getting one or both feet wet may be significantly elevated and wouldn't be quite zero even during a longer spell of dry weather. Select your footwear appropriately and maybe bring a backup pair of both socks and shoes to change into after you complete your course.
The terrain features a fair bit of climb, often on quite steep slopes. Course lengths are in line with QOC local event norms but with Green, Red, and Blue courses at the high end of the usual range. It should be noted that both White and Yellow are slightly more difficult than is often the case, with some white controls a very short distance away from trails, and some yellow legs calling for leaving the trails to rely on other kinds of handrails. Select your course in view of your desired level of technical and physical challenge and all should be well. If in doubt, take a look at the map for your chosen course before committing to it absolutely.

A few very specific notes:

your course setter was lazy enough not to check all the control flags before heading into the woods with them, with the result that there are two flags currently hung in the terrain without a backup pin punch. This may not be remedied before the courses open. Should an e-punching failure occur at one of the affected control points, just carry on - the results people will know to give you credit for the control in question.
participants on all advanced courses but especially Red and Blue may catch sight of an unmapped hunter's stand affixed to a tree, closer to ground level than usual, in a section of very open woods. This was encountered for the first time on Saturday; don't let it throw you. In the same general area of the terrain there were also a goodly number of streamers, mostly pink, having nothing to do with orienteering. Let them similarly affect your optic nerves while leaving your higher cognitive functions unmoved.
control 120, on the Orange, Green, and Red courses, appears on the map to be about 90 meters away from the closest section of the Bull Run-Occoquan Trail. It is actually slightly under 50 meters away, since the trail takes a rather larger swing to the south in the area to the NE of the control than the map currently depicts. Green and Red runners should have the skills to take this in stride relying on the contours and not the trail. It is likely to be more confusing for someone running Orange with less experience interpreting contours so note that 120 is the seventh control on the Orange course. Apologies for not noticing how much an update to this section of trail was needed until it was too late for this event, though not for the upcoming NJROTC Championships.
control 127 is on all of the advanced courses. The control feature is a rock pile. There is some other visible rock, mapped and perhaps also unmapped quite nearby (which wasn't inspected closely enough to determine that it might need some attention until it was too late to give it that attention prior to this event). Please don't let it confuse you for long, should you find it before you find the rock pile with the flag hung beside it. Fortunately, the right and wrong rock are close enough together the flag should be visible if you look around regardless of which rock it is you're at.

Entry Fees
Individual Entries

Note: juniors = under 21

| | | | | |
| --- | --- | --- | --- | --- |
| | Club Member, adult | Club Member, junior | Non-Member, adult | Non-Member, junior |
| Epunch Owner | $5 | $5 | $10 | $5 |
| Epunch Borrower | $10 | $5 | $15 | $10 |

Team or Group Entries

Participants are welcome to compete together as a single team entry. Teams containing one or more nonmembers are charged the nonmember individual rate. Teams containing one or more adults are charged the adult individual rate. For teams to receive member or junior rates, all members of the team must be members or juniors, respectively. Each extra team map beyond the first is an additional $2. Individuals or teams desiring to compete on a second course can do so for a reduced fee of $2/map.

Important Notes

If you wish to become a QOC member you should join online in advance via this webpage (which also explains the member benefits). Membership is completely optional.
Most of our events use an 'epunch' timing chip for electronic timing. Individuals or groups without their own epunch pay a higher entry fee (see above), which includes the loan of an epunch for that event. Loaned epunches that are lost incur a $40 replacement fee. Epunches (also known as SI-cards or finger sticks) can be purchased from online vendors as described here.
Former QOC members who have let their membership lapse pay non-member fees.
Compasses are available at no charge, but if lost incur a $15 replacement fee.
Please provide collateral (driver's license or car keys) when borrowing a compass or epunch.
For additional safety, whistles are available for sale at $1/each.
Free beginner instruction is always available - just ask at the registration table.