Pohick Bay

Printer-friendly version

Send by email

PDF version
ShareThis
May 19
Sunday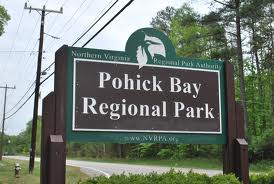 Welcome to Pohick Bay Regional Park for this event! This year, we will be based out of Shelter #2, which is a different registration and start/finish area from last year (diagram below). A full set of courses from beginner (white) to advanced (blue) will be available thanks to course setter Keg Good.
Course stats are now posted below, and detailed course and map notes are posted below. As for timing, plan on showing up anytime between 10:45am - 1:15pm, start any time between 11 - 1:30, and make sure to be back before 3pm.
Any youth or large groups attending, please contact the Event Director so that we can coordinate pre-registration for your group; the group registration and waiver form is part of the information on our Group Leaders page.
Additional Information:
Note that a park entry fee must be paid to the attendant at the park gate. Those who live in the NOVA Parks jurisdiction (residents of Arlington, Fairfax and Loudoun Counties; Cities of Alexandria, Fairfax & Falls Church) are admitted free. They should be prepared to show ID at gate. Those who live outside the jurisdiction will pay $4 per vehicle at the gate. That is the shelter-rental rate, so they should inform the attendant that they are there for the orienteering event at shelter 2. If the parking lot near Shelter 2 (see the map) is full, proceed down the hill to the Boat Ramp parking lot and walk back up to the registration site.
Dogs are welcome, if they are on a leash at all times.
Have a question about this event? Just ask our Event Director.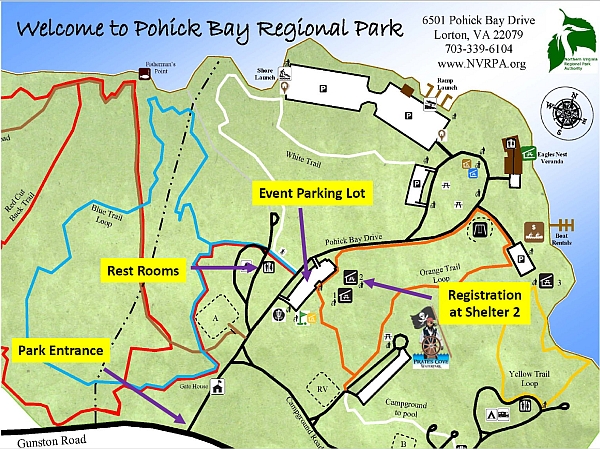 Location

Pohick Bay Regional Park, Shelter 2, Lorton, VA (Classic)

Registration
No advance registration required. Just show up and have fun!
Start Times
Start any time between the specified times (usually 11am - 1:30pm).
Schedule
Sunday, May 19

| | |
| --- | --- |
| 11:00 am - 3:00 pm | Classic: |

Volunteers
Location Details

Classic
Pohick Bay Regional Park
Shelter 2
Lorton, VA
Google Map

From southbound I-95, take exit 163 (Lorton). Go left onto Lorton Rd at the end of exit ramp. Go under the 2nd overpass and turn right onto Lorton Market St (Z-pizza is in the shopping center on the left), then go about 1.5 miles to the traffic light at Route 1. Go straight through light (the road name changes to Gunston Rd) and go about 4 miles to the park entrance on left.
After passing through the gate, straight on the main park road until just past the disc golf course and into the large parking lot on your right. Shelter 2 is east of the parking lot and is the northern most of the two shelters.

Course Details
Classic

| | | | |
| --- | --- | --- | --- |
| Course Name | Length (km) | Climb (m) | No. Controls |
| White | 2.3 | 75 | 8 |
| Yellow | 3.1 | 150 | 13 |
| Orange | 3.9 | 175 | 11 |
| Brown | 4.1 | 210 | 10 |
| Green | 5.2 | 245 | 13 |
| Red | 7.2 | 330 | 19 |
| Blue | 9.8 | 550 | 27 |

Course Notes
Classic

Pohick Bay is a fun place to orienteer and to also do other activities like boating and frisbee golf. For orienteering, the "white woods" are fast, and the map is great and easy to navigate while on the run. At this time of year, there may be some flies and ticks, however, and a few small poison ivy patches may exist.

Course notes
All maps: contour interval is 5m, and distance between N/S lines should be 300m.
Course map scale is 1:7500 for white, yellow, orange and brown, and 1:10,000 for all others. There is a map change for red and blue courses (and there's a small chance the green course map will be 1:7500).
Please watch for cars when crossing the road: between registration & the restrooms/start, approaching the finish, & during the course for long advanced courses.
If you are thinking about moving up a course, take a look at the map first.
The constrained nature of the map led me to knowingly violate some common course setter principles, so don't be surprised if you encounter dog legs, steepness, a leg without much route choice or a clue description not matching the mapped feature.
White course: will make turns not at controls; expect to step off the trails. Yellow course: expect handrails that are not trails. Both white and yellow: expect to get your feet wet.

Map Notes:
Out of Bounds: There are two types of out of bounds marked on the map: A magenta hatch and a "puke" green. Please do not go into either, or the trails just inside the golf course. In addition, please go around any occupied campsites. The start is in the middle of the overflow campground but most logical routes start along a trail. For some courses the run to the finish will go back thru the campsites.
Water - Blue: Everything is wetter than mapped.
Vegetation- Green: darkest green is usually truly green. Lighter shades are pretty easy to dodge around. Green stripe (slow, but good visibility) is often downed trees. Jon Torrance's 2018 vegetation mapping is very good. Yellow: is used when the sky is open. Some yellow power lines now have shrubbery. Affects Yellow course. White forest can be wild forest or scattered trees like in the campground area near the start.
Ground cover in the forest: may be leaves or that invasive woodland grass that hides your feet.
Trails: A section of a long trail is missing from the map. I will try to mark this on the maps as a straight dashed line after printing. Could affect Orange thru Blue. Some trails now have different status then mapped. Trails are muddy.
Manmade activity: There is some forest cutting along a major trail. This had created larger clearings/ wider tracks. Please do not play on the construction machinery. Could affect Yellow thru Blue.
Point Features: Rootstocks are at least 1 meter high. Boulders can be <1 foot. Not all 1 foot boulders are mapped.
Pits/cup depressions and dot knolls: one or the other or none are mapped. Ruins may have unmapped well holes nearby. Trash piles are mapped as black X's.
Gulleys (ravines), ditches, and streams: Gulleys will probably have streams. Streams may be in gulleys. Gulleys are difficult to cross. Take note of which side of a gulley, stream or ditch is listed in the control description. Ditches may be deep or shallow, wet or dry and may have a foot of leaves.
Contours – the abundance of supplemental (dashed) contours ( ½ the regular contour interval) give the impression of steeper terrain.

Entry Fees
Individual Entries

Note: juniors = under 21

| | | | | |
| --- | --- | --- | --- | --- |
| | Club Member, adult | Club Member, junior | Non-Member, adult | Non-Member, junior |
| Epunch Owner | $5 | $5 | $10 | $5 |
| Epunch Borrower | $10 | $5 | $15 | $10 |

Team or Group Entries

Participants are welcome to compete together as a single team entry. Teams containing one or more nonmembers are charged the nonmember individual rate. Teams containing one or more adults are charged the adult individual rate. For teams to receive member or junior rates, all members of the team must be members or juniors, respectively. Each extra team map beyond the first is an additional $2. Individuals or teams desiring to compete on a second course can do so for a reduced fee of $2/map.

Important Notes

If you wish to become a QOC member you should join online in advance via this webpage (which also explains the member benefits). Membership is completely optional.
Most of our events use an 'epunch' timing chip for electronic timing. Individuals or groups without their own epunch pay a higher entry fee (see above), which includes the loan of an epunch for that event. Loaned epunches that are lost incur a $40 replacement fee. Epunches (also known as SI-cards or finger sticks) can be purchased from online vendors as described here.
Former QOC members who have let their membership lapse pay non-member fees.
Compasses are available at no charge, but if lost incur a $15 replacement fee.
Please provide collateral (driver's license or car keys) when borrowing a compass or epunch.
For additional safety, whistles are available for sale at $1/each.
Free beginner instruction is always available - just ask at the registration table.