National Mall City Race

Printer-friendly version

Send by email

PDF version
ShareThis
December 1
Sunday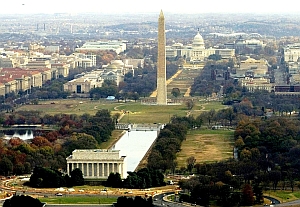 Welcome to Quantico Orienteering Club's first official event on the National Mall in Washington, DC. This will be a unique opportunity to do urban orienteering in our Nation's capital and a chance to finish off your holiday weekend by working off that last piece of pie. The event will use a score-O format, with control locations scattered around the mall and surrounding areas. This will be a zero-impact event, so we won't be placing control bags. Instead control locations will be statues and other landmarks and you will be asked to answer a question about what you see at each location. Registration, start, and finish will be right across from the Smithsonian metro station on the mall.
Pre-registration was mandatory. but is now closed. [Registration closed at 5pm on Saturday Nov. 30 (the day before the event)]. Standard fees will apply. Starts will be from 10:00 am to 12:00 noon. The event will close at 3:00 so you must check in at the start finish area before then.
Score-O Course Notes: There will be a single map for all participants with approximately 35 locations marked. You will be given a map, a scoresheet, and a pencil at the start. The scoresheet will have a question to be answered for each control location and three possible answers. When you arrive at a control location, you will be able to see which answer is correct and circle it on your scoresheet. There will be a 10 point penalty for wrong answers, but you can appeal if you think you've answered correctly. Googling the answers is not allowed. You must actually go to the control location. You will have 3 hours to visit as many locations as possible and return to the start/finish location. Each location will have a point value of 10 for getting the correct answer and -10 for an incorrect answer. There will be a penalty of 2 points per minute if your time exceeds three hours. You can start any time between 10am and 12 noon. You must return to the finish no later than 3pm. Timing and scoring will be done manually, so you will not need an epunch. You can compete as a group, but the group must stay together. You are not allowed to split up to go to different controls. Pets are allowed on the mall, but we can't guarantee they will be allowed at all control locations, so bring your pet at your own risk.
There will be two competition classes, Foot and Mechanical Assist. In the Foot class, only walking and running will be allowed. In the Mechanical Assist class, you will be allowed to use any type of personal recreational transport you want to get around, including bikes, scooters, skateboards, rollerblades, hoverboards, and kayaks. Cars, busses, Metro, taxis and Uber are not allowed. You can also switch between allowed transportation modes. Just be sure to be safe and follow the rules of the road. You will write which class you qualify for on your scoresheet when you finish. You don't have to declare beforehand.
There will also be a special competition to see who can clear the course in the least distance. You'll need to use a GPS tracker for this competition.
Warnings: You must to cross streets only at marked crosswalks. Crosswalks are marked on the map with purple dotted lines. Wait for the crossing light if there is one. This is part of the competition, so plan your crossings carefully. Walking down alleys and through parking lots is allowed, but be careful! It's crowded on the mall, so be respectful of other people and don't run over anyone. You must walk in sculpture and plant gardens and near memorials. You are not allowed to go through any doors in buildings, but you can go under canopies and through walkways and tunnels.
Bathroom access: Please note we can not promise easy toilet access during this event, but you are welcome to check this online map that purports to show all public bathroom facilities around the National Mall. If you need to use a bathroom while on course, you must exit the building using the same door you came in.
Location

National Mall, Smithsonian/12th St, Washington, District of Columbia (Score-O)

Registration
Pre-registration was required for this event but has now closed. [Registration closed at 5pm on Saturday Nov. 30 (the day before the event)].
New Feature! Check who's registered here.
Start Times
Start any time between 10am - noon.
Schedule
Sunday, December 1

| | |
| --- | --- |
| 10:00 am - 3:00 pm | Score-O: |

Volunteers
Location Details

Score-O
National Mall
Smithsonian/12th St
Washington, District of Columbia
Google Map

Registration will be on the Mall directly east of the Smithsonian Metro station.

Metro: We recommend that you take the metro to this event. Take the Orange, Silver, or Blue line to Smithsonian station. Exit the train to the right and turn right on the platform. Follow the sign for 12th and Jefferson – The National Mall to the up escalator. Exit the station using the next up escalator to the mall. The registration tent will be directly across (east) from the top of the escalator.

Driving: There is street parking around the DC Mall, but it fills up fast. 1230 Jefferson St, SW is the closest street address. There are pay-parking lots both north and south of the Mall.

Course Details
Score-O

| | | | |
| --- | --- | --- | --- |
| Course Name | Length (km) | Climb (m) | No. Controls |
| Score | 12.4 | 99 | 35 |

Course Notes
Score-O

Map Notes: The map is oriented to true north rather than magnetic north. There are no elevation contours. The direction marks on the clue sheet generally tell where the question answers are. The map scale will be 1:6500, printed on both sides. Some controls will be duplicated on both sides of the map. Out of bounds areas will be marked in olive (permanent out of bounds) or purple slashes (temporary out of bounds). Things are constantly changing in the mall area, so it is possible that new construction and closed areas may appear or that areas marked as closed may become passable. It is even possible that a control location will become unreachable. In this case make a note of it on your scoresheet and you'll be given credit.

Entry Fees
Individual Entries

Note: juniors = under 21

| | | | | |
| --- | --- | --- | --- | --- |
| | Club Member, adult | Club Member, junior | Non-Member, adult | Non-Member, junior |
| Epunch Owner | $5 | $5 | $10 | $5 |
| Epunch Borrower | $10 | $5 | $15 | $10 |

Team or Group Entries

Participants are welcome to compete together as a single team entry. Teams containing one or more nonmembers are charged the nonmember individual rate. Teams containing one or more adults are charged the adult individual rate. For teams to receive member or junior rates, all members of the team must be members or juniors, respectively. Each extra team map beyond the first is an additional $2. Individuals or teams desiring to compete on a second course can do so for a reduced fee of $2/map.

Important Notes

If you wish to become a QOC member you should join online in advance via this webpage (which also explains the member benefits). Membership is completely optional.
Most of our events use an 'epunch' timing chip for electronic timing. Individuals or groups without their own epunch pay a higher entry fee (see above), which includes the loan of an epunch for that event. Loaned epunches that are lost incur a $40 replacement fee. Epunches (also known as SI-cards or finger sticks) can be purchased from online vendors as described here.
Former QOC members who have let their membership lapse pay non-member fees.
Compasses are available at no charge, but if lost incur a $15 replacement fee.
Please provide collateral (driver's license or car keys) when borrowing a compass or epunch.
For additional safety, whistles are available for sale at $1/each.
Free beginner instruction is always available - just ask at the registration table.