Cunningham Falls

Printer-friendly version

Send by email

PDF version
ShareThis
April 16
Sunday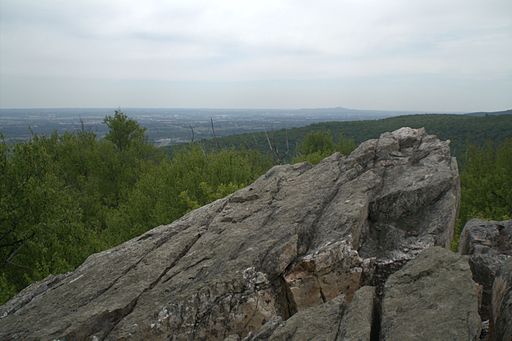 Mark Easter Sunday on your calendar as the date of the first ever orienteering event in Cunningham Falls State Park, near Thurmont, MD! Also as the date of the end of any collective case of charcoal platform envy we in QOC may have been suffering vis-a-vis our friends in DVOA and SVO. Due to both park and terrain restrictions, this event will be limited to advanced orienteers - no beginner or intermediate courses will be offered. Online registration is now closed and was required.
For non-orienteers, other diversions are available - sadly, the park's playground is currently being renovated and the aviary won't open until May but they can enjoy a hike in the park (the views from Cat Rock and other overlooks are quite fine), a visit to the Catoctin Furnace, or a visit to the adjacent Catoctin Wildlife Park and Zoo.
A couple of park notes: dogs are allowed but must be leashed. There is an honor box at the entrance to the Manor Area where you should pay $3 per vehicle for MD residents or $5 per vehicle for non-residents.
Location

Cunningham Falls St. Park, Manor Area (Platformpalooza 2017 - Advanced-Only Event)

Registration
Pre-registration was required and is closed. There will be no walk-up registration at the event. To see who's registered, click here.
Start Times
You may start your course at any time between 11:00am and 1:30pm. Please allow 15 minutes or more to walk to the start from registration - it will be a 1.4km hike with 200m climb.
Schedule
Sunday, April 16

| | |
| --- | --- |
| 11:00 am - 3:00 pm | Platformpalooza 2017 - Advanced-Only Event: |

Volunteers
Location Details

Platformpalooza 2017 - Advanced-Only Event
Cunningham Falls St. Park
Manor Area
Google Map

From US-15, 11 miles north of Frederick MD and 2.7 miles south of Thurmont, turn west onto Cunningham Falls Park Rd. After entering the park, keep following the road around to your left, past the parking lots, playground, visitor center and aviary, then park in the large parking lot at the bottom of the incline south of the aviary. Registration will be in the pavilion near the northeast corner of that parking lot.

Course Details
Platformpalooza 2017 - Advanced-Only Event

| | | | |
| --- | --- | --- | --- |
| Course Name | Length (km) | Climb (m) | No. Controls |
| Brown | 4.4 | 140 | 12 |
| Green | 5.5 | 165 | 15 |
| Red | 7.2 | 260 | 19 |
| Blue | 9.2 | 380 | 23 |

Course Notes
Platformpalooza 2017 - Advanced-Only Event

This event will take place on a new LiDAR-derived map of a portion of Cunningham Falls State Park covering a large part of the east-facing side of Bob's Hill, adjacent to the park's Manor Area parking on the west side of Route 15 and the Catoctin Furnace, on the east side. The map scale will be 1:10,000; the contour interval 5 meters. The map is a slightly improved basemap - trails and a certain number of point features, mostly boulders and rootstocks, encountered during scouting and course setting were surveyed by GPS and added to the LiDAR-derived features - so it's fortunate that the LiDAR data is of high quality. In addition to producing reliable contours, it shows the plentiful charcoal platforms - which used to supply the Catoctin Furnace - ditches, slopes steep enough to possibly justify mapping as cliffs, and areas with significant mountain laurel quite well. The mountain laurel in the area the courses visit is generally runnable at reduced speed and with lessened visibility; the surrounding white woods are runnable though there is more deadfall and small rock underfoot than on most QOC maps, so don't expect to move quite as quickly through them as you often can.

The terrain, consisting as it does of a single large hillside with relatively few handrails, will challenge orienteers' distance estimation and compass skills more than typical QOC spur and reentrant terrain. Though a sufficiently skilled orienteer could manage without a compass - despite the paucity of other handrails, there will never be any difficulty distinguishing which directions are up and down on the map or in the terrain.

The most widely distributed kind of point feature in the terrain, if not necessarily the most common given there are some pockets of intense rock detail, are charcoal burning platforms. Because they show up so beautifully in the LiDAR data and were therefore the great majority of features on the base map, all the controls will be hung on them. Charcoal platforms will be familiar to many QOC members from visits to French Creek State Park and other areas in Pennsylvania where they're plentiful. For anyone lacking such experience, the brown triangles on the map mark the locations of eerily flat, more or less perfectly circular patches of ground on the order of 10 to 20m in diameter scattered throughout the park. Since the terrain is one big, usually moderately to very steep hillside, these flat circular areas stand out like sore thumbs when viewed from above. From below, they tend to be somewhat less obvious, although the built-up edge of the circle on the downslope side generally protrudes above the natural curve of the hillside in a way that an alert orienteer can distinguish from below. If you are new to charcoal platforms, there will be a few of them visible on the walk to the start for you to examine before running your course.

The courses on offer all have a common start and first few legs before the shorter courses take shortcuts at one point or another to rejoin the blue course, so people you see in the woods are likely to be heading to the same place you are (except occasionally when they're not) and it will be generally advisable to space starts out a bit, or at least let the faster orienteer start first. Note that in order to keep the climb on course manageable, there will be a 1.4km hike to the start from registration, with 200m of continuous climb en route. Please plan the timing of your arrival in the park and departure for the start accordingly.

Should you become lost and unable to relocate while doing your course, please return to the event center at the Manor Area by either (a) heading south until you reach the trail you hiked on to get to the start, then taking that trail downhill to the event center OR (b) heading downhill (more or less east) until you reach a divided highway (MD route 15) then turning right (more or less south by southwest) and walking alongside it until you reach the Manor Area entrance.

Entry Fees
Individual Entries

Note: juniors = under 21

| | | | | |
| --- | --- | --- | --- | --- |
| | Club Member, adult | Club Member, junior | Non-Member, adult | Non-Member, junior |
| Epunch Owner | $5 | $5 | $10 | $5 |
| Epunch Borrower | $10 | $5 | $15 | $10 |

Team or Group Entries

Participants are welcome to compete together as a single team entry. Teams containing one or more nonmembers are charged the nonmember individual rate. Teams containing one or more adults are charged the adult individual rate. For teams to receive member or junior rates, all members of the team must be members or juniors, respectively. Each extra team map beyond the first is an additional $2. Individuals or teams desiring to compete on a second course can do so for a reduced fee of $2/map.

Important Notes

This event will not offer on-site registration and payment. Both will have to be done online in advance..
Most of our events use an 'epunch' timing chip for electronic timing. Individuals or groups without their own epunch pay a higher entry fee (see above), which includes the loan of an epunch for that event. Loaned epunches that are lost incur a $40 replacement fee. Epunches (also known as SI-cards or finger sticks) are usually available for sale at each event as described here.
Former QOC members who have let their membership lapse pay non-member fees.
Compasses are available at no charge, but if lost incur a $15 replacement fee.
Please provide collateral (driver's license or car keys) when borrowing a compass or epunch.
For additional safety, whistles are available for sale at $1/each.