Pohick Bay

Printer-friendly version

Send by email

PDF version
ShareThis
February 12
Sunday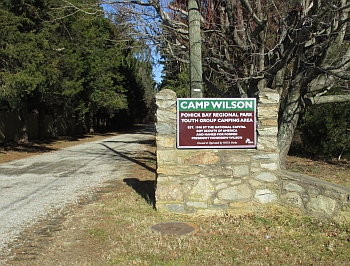 2017 marks our return to Pohick Bay Regional Park (PBRP) after a year's absence. Hannah Culberg is designing a full set of courses, white through blue. Special thanks to Jon Campbell for having completely updated the PBRP map, which was significantly out of date at our last event there in 2015. Full course stats and course comments are now posted below. Event timing is our usual: register between 10:45 - 1:15, start any time between 11 - 1:30, be back before 3pm.
This year, we are varying the traditional meet location by running the meet out of Camp Wilson, a former Boy Scout camp that now constitutes the northernmost part of PBRP. To provide even more variety, the Green, Red, and Blue courses will entail a road crossing from PBRP across Gunston Road and onto a section of Meadowood Special Recreation Management Area (SRMA) that we have not used in more than five years. All the courses, from white to blue, should provide participants with a new and enjoyable Pohick orienteering experience. For an overview of the areas being used for this event, see this map.
The entrance to Camp Wilson is SEPARATE AND DISTINCT from the park main entrance that many of you are used to using (see photo to the right). It is located just before the Gunston Fire Station. It's easy to miss, so slow down after you pass the entrance to the Pohick Golf Course and be on the look-out for the event signs.
PBRP has made a significant improvement to the parking area at Camp Wilson with ~60 new right-angle parking slots along the entrance road. Overflow parking will be in the camping areas off the access road. No parking is permitted along the sides of the Camp Wilson entrance road, except in designated slots, in order to avoid any impediment to emergency-vehicle access.As you enter Camp Wilson, look for parking volunteers in reflective vests who will direct you to the appropriate parking areas and spaces.
Important notes:
For the courses crossing Gunston Road, there will be controls on both sides of the designated crossing point (see course notes). This point, just adjacent to the Camp Wilson entrance and clearly marked on the pavement, is the only permissible crossing point to and from Meadowood. The visibility from the crossing point in both directions along Gunston Road is excellent, but the speed limit is 50 MPH and cars often exceed that speed, so make sure to stop and observe carefully before crossing. A road guard, wearing a reflective vest, will be in place at the Gunston Road crossing point to watch for approaching vehicles and warn them, as necessary, that there is foot traffic at the crossing point.
Do not cross any part of the Pohick Bay Golf Course, which is located north of Camp Wilson.
You may encounter horses and riders on Meadowood East, which is a local center of equestrian activity and features trails specially designed to withstand the effects of horse traffic. When moving near a horse and rider, please slow down until you pass them and yield the right of way, if you encounter one while running on a trail.
Any significant accumulation of snow prior to the event could potentially have an impact on our ability to use Camp Wilson with its dirt road access. Check this page for any last-minute changes.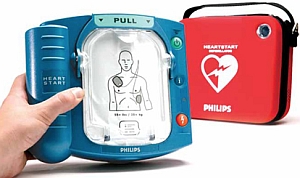 AED Demo Would you know how to use QOC's AED unit in an emergency? Come find out! Aided by Fairfax County Fire and Rescue Academy Instructor Rich Hall, QOC member Keg Good is organizing the first of several informal AED training sessions at this (Pohick) event. Meet around 1-ish near the main registration area.
Special Post-Race Meetup Discount! Quiznos will be happy to host our post-race meetup. Just show them your map and get 15% off your order. As you leave Pohick, it's located less than a mile from the intersection of Route 1 and Gunston Road in the Lorton Station Marketplace, at 9433 Lorton Market Street, on Google maps (here) just east of the I-95/Lorton exit 163.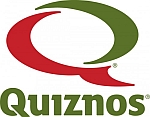 Nearby Attraction: Want to combine some history with your orienteering? Nearby Gunston Hall was the home of George Mason, "the father of the Bill of Rights" and has an impressive mansion and over 500 acres of grounds and hiking trails. The entry road for Gunston Hall is just 500 meters beyond the main entrance to Pohick Bay Park entrance (2 miles beyond Camp Wilson), off of Gunston Road. Head to their website for hours and admission prices.
Any youth or large groups attending, please contact the Event Director so that we can coordinate pre-registration for your group; the group registration and waiver form is part of the information on our Group Leaders page.
Location

Pohick Bay Regional Park, Camp Wilson, Lorton, VA (Classic)

Registration
No advance registration required. Just show up and have fun!
Start Times
Start any time between 11am - 1:30pm. Be back before 3pm.
Schedule
Sunday, February 12

| | |
| --- | --- |
| 11:00 am - 3:00 pm | Classic: |

Volunteers
Location Details

Classic
Pohick Bay Regional Park
Camp Wilson
Lorton, VA
Google Map

From I-95 exit 163 (Lorton Rd, VA-642), head east, then turn right/south on Rt 1 (Richmond Hwy). Turn left on Rt 600/242 (Gunston Rd), and then drive 1.5 miles until and turn left on a dirt road marked by a Camp Wilson sign, immediately before the Gunston Fire Station. If you see the main entrance to Pohick Bay Park you've gone too far.

Course Details
Classic

| | | | |
| --- | --- | --- | --- |
| Course Name | Length (km) | Climb (m) | No. Controls |
| White | 2.1 | 40 | 9 |
| Yellow | 2.9 | 75 | 8 |
| Orange | 3.8 | 110 | 9 |
| Brown | 3.4 | 120 | 9 |
| Green | 6.2 | 165 | 17 |
| Red | 7.8 | 215 | 18 |
| Blue | 9.1 | 230 | 21 |

Course Notes
Classic

Course Notes:

We are running this meet out of Camp Wilson, which should offer a slightly different perspective on the Pohick Bay Park than you have usually experience from the main parking lot. Additionally, green, red, and blue courses will cross the road and use a section of the Meadowood map as well. For the most part, the woods are open and fast. The majority of the green areas are either densely fallen trees or mountain laurel, rather than thorns.

For all runners:

Please be pay attention running near the finish and start as there will be cars driving through the campground area for parking. Also, please note that the maps are older, and particularly in Camp Wilson, the trails have changed or faded in many places. I have made every effort to either update the map or avoid these areas on the courses, but you may encounter discrepancies if you veer off course.

A few notes for Green, Red, and Blue runners:

There will be a control on each side of the road main crossing. You must punch both controls when you cross over to Meadwood and again when you cross back to Pohick. Your road crossing times will be subtracted from your final course time, so please take your time, look both ways, and cross the road safely. There will also be a water drop at the road crossing, parked on both your map and clue sheet. On the Meadowood side, you will run near the horse stables and pastures. These have been marked off as out of bounds on your map using purple hatch marks. Please respect this and stay out of these pastures (they are clearly fenced in as well). Also, be aware that because we are using a combination of two maps, you can expect a noticeable change in mapping style when you cross the road, as well as a change in contour interval from ~3m (on the Pohick side) to ~5m (on the Meadowood side).

Entry Fees
Individual Entries

Note: juniors = under 21

| | | | | |
| --- | --- | --- | --- | --- |
| | Club Member, adult | Club Member, junior | Non-Member, adult | Non-Member, junior |
| Epunch Owner | $5 | $5 | $10 | $5 |
| Epunch Borrower | $10 | $5 | $15 | $10 |

Team or Group Entries

Participants are welcome to compete together as a single team entry. Teams containing one or more nonmembers are charged the nonmember individual rate. Teams containing one or more adults are charged the adult individual rate. For teams to receive member or junior rates, all members of the team must be members or juniors, respectively. Each extra team map beyond the first is an additional $2. Individuals or teams desiring to compete on a second course can do so for a reduced fee of $2/map.

Important Notes

At the event, we can only accept payment in cash or check; online, you may use a credit card or PayPal account.
If you have access to a smartphone, you may become a member at the event by joining online via this webpage (which also explains the member benefits). Membership is completely optional. If you wish to join or renew, we strongly recommend joining (or renewing) online before the event rather than at it to save time and because it's easier.
Most of our events use an 'epunch' timing chip for electronic timing. Individuals or groups without their own epunch pay a higher entry fee (see above), which includes the loan of an epunch for that event. Loaned epunches that are lost incur a $40 replacement fee. Epunches (also known as SI-cards or finger sticks) are usually available for sale at each event as described here.
Former QOC members who have let their membership lapse pay non-member fees.
Compasses are available at no charge, but if lost incur a $15 replacement fee.
Please provide collateral (driver's license or car keys) when borrowing a compass or epunch.
For additional safety, whistles are available for sale at $1/each.
Free beginner instruction is always available - just ask at the registration table.