Little Bennett

Printer-friendly version

Send by email

PDF version
ShareThis
February 6
Saturday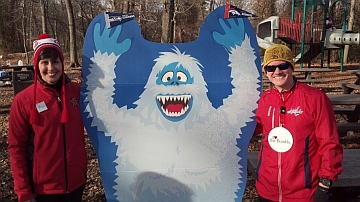 UPDATE 4 FEB: There has been enough snowmelt in the park that we are ALL SYSTEMS GO!! That said, be sure to bring a change of socks/shoes for after the event as your feet will get wet and muddy. Gaiters are also advised for advanced course runners.
February means BUMBLE time! Come out and join us for the 4th Super Bowl Saturday Bumble! In addition to a Mass Start event for advanced courses, there will also be White, Yellow and Orange level courses available. PLEASE read the notes below for important details about this unique QOC and fun tradition designed by Head Bumble, David Onkst.
Registration will be in the Hawk's Reach Activity Center, which is heated and has an indoor restroom. Since we have a warm place to gather, feel free to bring a lunch or snacks and hang out! You can discuss your route choices, compare "window" sequences, and join in recognizing the Bumble winners.
Parking will be tight, so carpooling is encouraged and appreciated. There are a limited number of spots in front of the Activity Center so once they fill up, please drive a bit further up the road to park in Campground E; overflow will then be in Camp Ground D. We will have volunteers guiding you to use the camping pull off spots and we need to try to get two cars in each (it's OK to be on the "shell or gravel" that edges each platform). So please be thoughtful when pulling in. Also, please do NOT park on the dirt shoulders.
Because of the mass start we will open registration at 10:30am. Please be sure to arrive early to avoid a last minute rush.
Important notes:

Beginners are welcome at this event (just like at 99% of our events!)
Those participating on the Red- or Blue-equivalent course WILL need to have an SI-6 or newer e-punch to hold the high number of controls. These will be provided free-of-charge for those who own their own punch but need an upgrade and for the usual fee for those with no e-punch of their own.
Beginner (White, Yellow) and intermediate (Orange) courses will have regular starts from 11:00am to 1:30pm.
The advanced (Beige, Brown, Mint, Green, Pink, Red, Blue) courses will have a MASS START at Noon. Please be ready for the PRE-RACE briefing near the start at 11:45am. The advanced map scale is 1:10,000.
Everyone must be out of the woods and back at the registration/finish area by 3:00pm, which is when we will begin picking up the controls.
Dogs on leashes are welcome in the park, but they must be on leashes.
Any youth or large groups attending, please contact the
Event Director
so that we can coordinate pre-registration for your group; the group registration and waiver
form
is part of the information on our
Group Leaders
page.
We're looking forward to seeing you soon! Please feel free to contact the Event Director (link below) with questions.
Registration
No advance registration required. Just show up and have fun!
Start Times
You may start your course at any time during the start window listed below for your event.
Schedule
Saturday, February 6

| | |
| --- | --- |
| 10:30 am - 1:15 pm | Bumble: Registration Open |
| 11:00 am - 1:30 pm | Bumble: White, Yellow, Orange course orienteers may start any time in this window |
| 11:45 am | Bumble: Pre-race briefing for Mass Start |
| 12:00 pm | Bumble: Bumble Mass Start |
| 3:00 pm | Bumble: All courses close - everyone to have finished and downloaded |

Volunteers
Course Details
Bumble

| | | | |
| --- | --- | --- | --- |
| Course Name | Length (km) | Climb (m) | No. Controls |
| White | 2.9 | 80 | 11 |
| Yellow | 4.4 | 105 | 13 |
| Orange | 4.7 | 135 | 11 |
| Brown | | | |
| Mint | | | |
| Green | | | |
| Advanced | | | |
| Red | | | |
| Blue | | | |

Course Notes
Bumble

In addition to the regular beginning and intermediate courses, this event will also have one, single, very unique, "mass start" advanced course. Like last year, all of the advanced courses – Beige through Blue – will be rolled-up into one course/event. If you fear you won't be able to keep up with the speedsters, don't worry, there will be several twists to level the playing field.

In addition to containing regular orienteering course legs, the advanced course will also have 5 windows that contain a number of controls. The windows will vary in size and control density, and each competitor, depending on his or her gender and orienteering level will have a handicap that will determine how many windows he or she must run. The level is based on the normal course he/she runs at local QOC Meets.

As per normal window rules, you must visit every control in the window, but the controls inside each window may be taken in any order the runner decides. Adding another twist, each competitor, depending on his or her handicap, will be able to determine which of the windows he or she wants to run. For example, if the handicap is 3 windows, the competitor can decide which 3 of the 5 windows he or she wants to include. Suffice it to say that some windows are very small and only have a few bags, while others are much larger and contain multiple controls.

Wondering what a "window" on an orienteering course map is? See the diagram below. The key point is that after a mandatory numbered control (in this case, control 2), you can go to the three letter controls (A, B, C) in the boxed area in any order you like, before continuing on to control 6. Part of the fun is figuring out which way will be the quickest.


The handicaps are as follows:
Bumble Course / Handicap (Number of Windows Required)
Beige (Brown – F) / 1
Brown (M) / 1
Mint (Green – F) / 2
Green (M) 3
Pink (Red – F) / 3
Red (M) / 4
Blue (M & F) / 5


The advanced course length for each runner will vary based on his or her handicap and what windows he or she decides to run. Those with the most generous handicap should only have to travel approximately 5-6K, while those with the least favorable handicap might have to run upward of 10K. The rest will fall somewhere in between those distances depending on the choices they make. If racers select the course appropriate for their skill/fitness level, then everyone should conceivably finish at roughly the same time.

If you can't make the 12:00pm mass start for some reason you can run the advanced course (according to your handicap) on your own just as long as you are finished by 3:00pm.

Mass start races provide orienteers with several different and exciting challenges than they normally encounter during regular individual courses (such as following other orienteers). So, we hope you'll join us at this fun and unique event.

Lengths for non-advanced courses:
White: 2.9km, 80m climb, 11 controls; map is 1:7500 scale.
Yellow: 4.4km, 105m climb, 13 controls; map is 1:7500 scale.
Orange: 4.7km, 135m climb, 11 controls; map is 1:10,000 scale.


Entry Fees
Individual Entries

Note: juniors = under 21

| | | | | |
| --- | --- | --- | --- | --- |
| | Club Member, adult | Club Member, junior | Non-Member, adult | Non-Member, junior |
| Epunch Owner | $5 | $5 | $10 | $5 |
| Epunch Borrower | $10 | $5 | $15 | $10 |

Team or Group Entries

Participants are welcome to compete together as a single team entry. Teams containing one or more nonmembers are charged the nonmember individual rate. Teams containing one or more adults are charged the adult individual rate. For teams to receive member or junior rates, all members of the team must be members or juniors, respectively. Each extra team map beyond the first is an additional $2. Individuals or teams desiring to compete on a second course can do so for a reduced fee of $2/map.

Important Notes

At the event, we can only accept payment in cash or check; online, you may use a credit card or PayPal account.
If you have access to a smartphone, you may become a member at the event by joining online via this webpage (which also explains the member benefits). Membership is completely optional.
Most of our events use an 'epunch' timing chip for electronic timing. Individuals or groups without their own epunch pay a higher entry fee (see above), which includes the loan of an epunch for that event. Loaned epunches that are lost incur a $40 replacement fee. Epunches (also known as SI-cards or finger sticks) are usually available for sale at each event as described here.
Former QOC members who have let their membership lapse pay non-member fees.
Compasses are available at no charge, but if lost incur a $15 replacement fee.
Please provide collateral (driver's license or car keys) when borrowing a compass or epunch.
For additional safety, whistles are available for sale at $1/each.
Free beginner instruction is always available - just ask at the registration table.