Jug Bay

Printer-friendly version

Send by email

PDF version
ShareThis
June 7
Sunday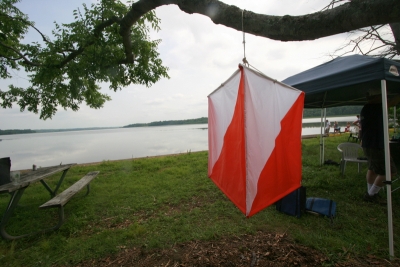 The Chase, aka the longest continually running orienteering race in the USA, + Annual Meeting + Potluck Picnic + lots more, as QOC's 2014-2015 Sept - June season comes to a close! Newcomers are welcome - we'll have plenty of challenges, suited for all levels from beginner to advanced. And if you've been contemplating trying a harder level course? Well, according to our esteemed course setter, there are unlikely to be any set of courses that will be easier than the ones at Jug Bay to support moving up to a more advanced level.
As is the tradition of this event, there will be a common mass start at High Noon for all courses. Those missing The Chase mass start may still go out but must return by 3:00 PM. The will be a beginner/white course (of ~2 km), a short orange course (also ~2 km), and two advanced loops (of about 2 and 3 km). The longest version of the chase will be 3 loops and should be slightly less than 7 km. By omitting certain loops, this means there are basically three advanced course options: short (3 km), medium (5 km) or long (7 km).
Pre-register Now! This event is free to all members who pre-register, and even non-members get a discount if they pre-register. Pre-registration closes at midnight June 5. You can register at the event, but at regular event prices, so why not help us and save some $ by registering now by clicking here?
Sorry, but dogs are not allowed at Jug Bay, for their sake and the sake of numerous traps and food caches used in ongoing studies by the Univ. of MD and the Smithsonian.
So here's how the event will run, at least in theory:
We've been asked to repeat this, so here goes: No pets are allowed in the park. No exceptions.
Convenient parking is a bit limited so carpooling is encouraged (and in some cases, so are designated drivers!)
Please don't wait until the last moment to show up since everyone needs to be registered well in advance of the mass start.
The (brief) Annual Meeting and Election of Officers will take place prior to the start of the Chase.
Beginner instruction (about orienteering, not, drinking) will take place from 11 - 11:30 (only).
Each color course includes different loops.
Everyone on a given course does their loops in the same order.
Maps will be handed out at the starting line; don't look at the side with the squiggly brown lines until the starters gun goes off.
You will need to have a cup filled with your "race beverage" of choice in hand; we'll have water, soda, and beer (adults only).
The mass start will take place at noon.
When the race starts, empty your cup, throw it with style to the ground, turn over and look at your map (that means turn the map over, not, turn your body over), and figure out where to go. Or, just follow someone and hope for the best. Every orienteer does that now and then, so why not here and now?
In contrast to most orienteering races, following someone is OK in this race.
After finding your controls/checkpoints in the correct order, you'll wind up back at the start area.
After that, quaff another cup of your beverage of choice before heading out with your next map.
The finish of each loop is just a short way away from the start triangle of the next loop, but all loops start and finish in the same place. The start is just up the hill from the finish. Repeat this process until you've completed all your required loops.
Time stops when you've quaffed the last drop from your beverage of choice after your last run in to the start/finish area.
Post Chase: Annual PICNIC and AWARDS CEREMONY
Recognition of Course Setters/Meet Directors
Volunteer of the Year Award

QOC will provide beverages, desserts and paper goods. People should bring picnic foods to share at this potluck. Grills will be available and BBQing is encouraged! Please bring water shoes if you want to go into the water because of broken glass on the river bottom. And bring your family, chairs to sit on, sun block and bug spray. Feel free to bring kayaks or canoes if you would like to enjoy the waters of Jug Bay.
Plan now to hang around afterwards for the food and drinks, and to hear about all the great plans for our upcoming Sept. 2015 - June 2016 season!
Location

Jug Bay, Caretaker's House Area, Bristol, MD (It's A Party!)

Registration
Pre-register here before midnight Friday June 5. This event is FREE for members (and discounted for non-members) who pre-register, but full price for all day-of registrations at the event.
FYI, for this event only - everyone must register individually; feel free to run in a group at the event if you wish, but make sure each individual is (individually) registered.
Start Times
This event will have a mass start at noon.
Schedule
Sunday, June 7

| | |
| --- | --- |
| 10:00 am - 3:00 pm | It's A Party!: |

Volunteers
Location Details

It's A Party!
Jug Bay
Caretaker's House Area
Bristol, MD
Google Map

From the MD. Rt. 4 Capital Beltway exit, head south/east on Rt. 4 for 8 miles (where you cross over U.S. Rt. 301), then 3 more miles south (into Anne Arundel County) on Rt. 4 to the "Plummer Lane" exit. Ignore all "Jug Bay Wetlands Sanctuary" signs and continue on Plummer Lane (which becomes Pindell Rd.) for 2.0 miles, making a hard right turn at 5 mailboxes. Take the paved "River Farm" road for a mile though the O' map terrain; after the road become dirt, look for parking in the field a bit before the house by Jug Bay.

Course Details
It's A Party!

| | | | |
| --- | --- | --- | --- |
| Course Name | Length (km) | Climb (m) | No. Controls |
| Short Advanced | 3 | | |
| Medium Advanced | 5 | | |
| Long Advanced | 7 | | |
| White | 2 | | |
| Orange | 2 | | |

Course Notes
It's A Party!

Each of the advanced courses is orange-ish due to the terrain – the woods are largely wide open, nothing is buried and contour reading need not be a significant factor. The main difference relative to orange will be that there won't be large line features near controls to rely on. Those moving from yellow to orange will need to learn to use their compass to create a pseudo line feature and to learn to 'aim off' to the large line features that are in the terrain near the controls. As always, there will be instruction available. If you have it in mind to move up, you won't find a better opportunity to start the process.

Entry Fees
Individual Entries

Note: juniors = under 21

| | | | | |
| --- | --- | --- | --- | --- |
| | Club Member, adult | Club Member, junior | Non-Member, adult | Non-Member, junior |
| Epunch Owner | $5 | $5 | $10 | $5 |
| Epunch Borrower | $10 | $5 | $15 | $10 |

Team or Group Entries

Participants are welcome to compete together as a single team entry. Teams containing one or more nonmembers are charged the nonmember individual rate. Teams containing one or more adults are charged the adult individual rate. For teams to receive member or junior rates, all members of the team must be members or juniors, respectively. Each extra team map beyond the first is an additional $2. Individuals or teams desiring to compete on a second course can do so for a reduced fee of $2/map.

Important Notes

At the event, we can only accept payment in cash or check; online, you may use a credit card or PayPal account.
You may become a member at the event or by joining online via this webpage (which also explains the member benefits). Membership is completely optional.
Most of our events use an 'epunch' timing chip for electronic timing. Individuals or groups without their own epunch pay a higher entry fee (see above), which includes the loan of an epunch for that event. Loaned epunches that are lost incur a $40 replacement fee. Epunches (also known as SI-cards or finger sticks) are usually available for sale at each event as described here.
Compasses are available at no charge, but if lost incur a $15 replacement fee.
Please provide collateral (driver's license or car keys) when borrowing a compass or epunch.
For additional safety, whistles are available for sale at $1/each.
Free beginner instruction is always available - just ask at the registration table.