King's Landing

Printer-friendly version

Send by email

PDF version
ShareThis
April 26
Sunday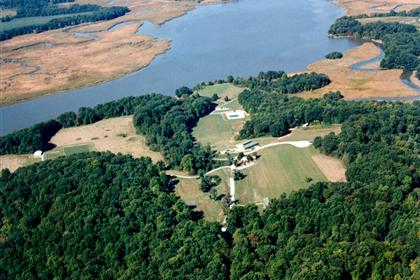 King's Landing is a small park that QOC hasn't used in a number of years, so welcome back. Our course setter (Ted Good) has managed to squeeze in a red course, and because there is no blue course, there will be an option for everyone to run the yellow course (at no extra charge) for fun as a sprint course. So for those looking for a little more orienteering, run a normal course first then try the sprint course!
Many of the hill sides in this park are quite steep, so keep that in mind when selecting a course. The brown course will have to climb/descend several steep hillsides in the far part of the map. There will also be a beige course which is a little shorter but is an option to avoid the worst climb. If it has rained recently then the steep hillsides will be quite slippery.
Other course comments:
Brown/Green/Red courses will cross the major marsh to the far side of the map. You will get wet and muddy, and without paying $60+ Muddy Buddy entry fees either! How muddy will depend on how much recent rain there has been.
On Green and Red, on the way to control 2, there is a bridge along the route. The bridge is unsafe and is closed. Do not take the bridge. You can run next to it.
Note that Brown/Green/Red are at 1:7500 scale and the map fits on one sheet.
The "On Top" clue symbol has been used for several reentrant controls to show that the control is actually above the reentrant. The controls are hung above the reentrant so you won't have to climb down into them.
Map scale will be either 1:5000 or 1:7500, on letter size paper. Contour interval is 10ft.
Any youth or large groups attending, please contact the Meet Director so that we can coordinate pre-registration for your group; the group registration and waiver form is part of the information on our Group Leaders page.
Location

King's Landing, Main parking area, Huntingtown, MD (Classic)

Registration
No advance registration required. Just show up and have fun!
Start Times
Start anytime between 11 - 1:30, and be back to download no later than 3pm.
Schedule
Sunday, April 26

| | |
| --- | --- |
| 11:00 am - 3:00 pm | Classic: |

Volunteers
Location Details

Classic
King's Landing
Main parking area
Huntingtown, MD
Google Map

From I-495 (Capital Beltway) exit 11, head S on MD-4 towards Upper Marlboro. In about 22 miles, turn right onto MD-262/Lower Marlboro Rd, go 0.9 miles, then turn left onto Huntingtown Rd. In 2.7 miles turn right onto Kings Landing Rd and follow it ~2 miles into Kings Landing Park.

Course Details
Classic

| | | | |
| --- | --- | --- | --- |
| Course Name | Length (km) | Climb (m) | No. Controls |
| White | 2.9 | 15 | |
| Yellow | 2.7 | 45 | |
| Orange | 3.5 | 45 | |
| Beige | 2.6 | 100 | |
| Brown | 4 | 150 | |
| Green | 5.4 | 180 | |
| Red | 6.6 | 275 | |

Course Notes
Classic

The map was updated in 2012. It was converted to OCAD for this meet but not everything is to correct mapping standards. (For example, there is slash over open areas instead of rough open). I did some map updates while vetting controls.

Notice that the words on the map labeling water are not oriented to north. If you are like me and fold your map all up this could confuse you if you aren't careful.

Most of the green isn't that bad. The original map only had two vegetation thicknesses. Most of the "fight" vegetation is mountain laurel and is passable. I have downgraded it to medium green in the areas I visited. No poison ivy has been seen.

The terrain consists of ridges and valleys with lots of wet areas in the low lying areas. The hill sides are quite steep in places. Keep this in mind when planning your routes.

Entry Fees
Individual Entries

Note: juniors = under 21

| | | | | |
| --- | --- | --- | --- | --- |
| | Club Member, adult | Club Member, junior | Non-Member, adult | Non-Member, junior |
| Epunch Owner | $5 | $5 | $10 | $5 |
| Epunch Borrower | $10 | $5 | $15 | $10 |

Team or Group Entries

Participants are welcome to compete together as a single team entry. Teams containing one or more nonmembers are charged the nonmember individual rate. Teams containing one or more adults are charged the adult individual rate. For teams to receive member or junior rates, all members of the team must be members or juniors, respectively. Each extra team map beyond the first is an additional $2. Individuals or teams desiring to compete on a second course can do so for a reduced fee of $2/map.

Important Notes

At the event, we can only accept payment in cash or check; online, you may use a credit card or PayPal account.
You may become a member at the event or by joining online via this webpage (which also explains the member benefits). Membership is completely optional.
Most of our events use an 'epunch' timing chip for electronic timing. Individuals or groups without their own epunch pay a higher entry fee (see above), which includes the loan of an epunch for that event. Loaned epunches that are lost incur a $40 replacement fee. Epunches (also known as SI-cards or finger sticks) are usually available for sale at each event as described here.
Compasses are available at no charge, but if lost incur a $15 replacement fee.
Please provide collateral (driver's license or car keys) when borrowing a compass or epunch.
For additional safety, whistles are available for sale at $1/each.
Free beginner instruction is always available - just ask at the registration table.