Little Bennett

Printer-friendly version

Send by email

PDF version
ShareThis
January 25
Sunday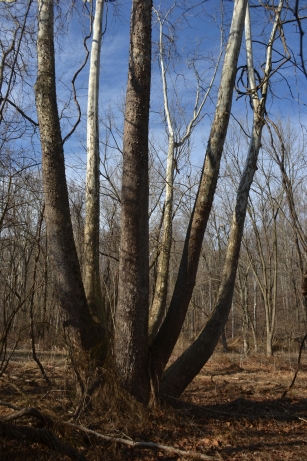 Update 6pm Sat Jan 24: This event is definitely a go! So plan to head on out and enjoy the orienteering.
This event at Little Bennett Park is now confirmed for Sunday, Jan. 25. A more than full set of 8 courses - yes, 8 (see comments below) will be available (2 beginner, 1 intermediate, and 5 advanced; details below), along with free beginner instruction as usual. Event timing will be standard: register any time between 10:45 - 1:15, start any time between 11 - 1:30, and be back no later than 3pm.
Any youth or large groups attending, please contact the Meet Director so that we can coordinate pre-registration for your group; the group registration and waiver form is part of the information on our Group Leaders page.
Additional notes:

Dogs on leash are welcome.
Park as directed near or beyond the Nature Center.
Please do not wear any shoes with spikes or cleats into the Nature Center room.
The beginner (White or Yellow) courses do not feature a control with water, so if you anticipate needing refreshments while on either courses, please bring your own.
There is an ~500 meter walk to the remote start for all courses.
Map scale is 1:7500 for the beginner courses and 1:10000 for all others. Contour interval is 5m.
Please make sure to read the detailed course setter notes below!
Registration
No advance registration required. Just show up and have fun!
Start Times
Start anytime between 11 - 1:30, and be back to download no later than 3pm.
Schedule
Sunday, January 25

| | |
| --- | --- |
| 11:00 am - 3:00 pm | Classic: |

Volunteers
Course Details
Classic

| | | | |
| --- | --- | --- | --- |
| Course Name | Length (km) | Climb (m) | No. Controls |
| White | 2.2 | 50 | 8 |
| Yellow | 2.2 | 70 | 8 |
| Orange | 4.2 | 130 | 14 |
| Beige | 3 | 100 | 9 |
| Brown | 4.5 | 150 | 13 |
| Green | 5.9 | 210 | 12 |
| Red | 7.7 | 250 | 17 |
| Blue | 9.5 | 320 | 19 |

Course Notes
Classic

First, a few general comments about the park's terrain and the mapping style:
The terrain of Little Bennett Park consists of relatively bland small hills and shallow valleys (meaning, lacking in terrain features). There are areas of open forest with little undergrowth and there are areas of nasty, nearly impenetrable undergrowth. The lack of terrain features has necessitated the mapping of small rock features (less than 1 meter in height) that are not normally mapped and the mapping of as many rootstocks as possible to provide strategic control locations. Rock features that are mapped are clearly identifiable in the terrain at running speed. They are represented on the clue sheets as "cliffs", on the map as a passable rock face, but, in reality, they are similar to small boulders. Also, rockpiles, which are represented on the map as black circles, are identified by the rocky ground symbol on the clue sheets and not by the rock pillar or black circle symbol. Any rootstocks that are mapped are at least 1 meter in height or width and contain dirt around the roots themselves. Many are considerably larger than 1 meter, reaching up to 3 meters in size. The slash symbol (green parallel lines) is used extensively on the map and it represents areas of downed trees from various storms over the years. These areas may or may not impact your running speed, but they will probably affect your ability to follow a compass bearing through these areas and cause you to alter your course. Areas of dark green on the map should be avoided at all costs; the courses have been designed to give the runner a trail option through or around these areas. At this time of the year, the terrain is more open (i.e. less "green") than mapped, therefore, running speed through the light green and medium green areas will be less affected than the map may indicate. A green circle symbol that designates a unique individual tree is used on the map. It represents a tree with multiple (at least 4) trunks sprouting from an individual base when mapped in forested portions of the map. When mapped in fields, the green circle represents a distinct tree in that field.

Second, specific comments about the courses:
Based on a suggestion by Don Davis in an issue of ONA, I have added an experimental "Beige" course. This is an advanced level course, basically a shortened version of the Brown course and is designed for older orienteers who find the Brown course a bit on the long side to complete in a reasonable time. It would also be appropriate for those folks who normally run an intermediate level course (i.e. Orange) and would wish to sample what an advanced course has to offer.
All courses have a remote start and a separate remote finish. Please remember to download after finishing your course, since there will be a temptation to stop by your parked car after finishing your race on the way to the download.
Depending on the amount of precipitation the park has received in the days leading up to the event, portions of the trails on which the White and Yellow courses are based may be wet and muddy, be prepared for this contingency.
The White through Brown courses are located in the area around the Nature Center. They do not cross Little Bennett Creek or any significant streams. The Green, Red and Blue courses cross Little Bennett Creek as well as Clarksburg Road (rt. 121) (twice). The courses have been designed to offer a dry crossing of the creek at a bridge in both directions. They have also been designed to provide a safe crossing of Clarksburg Road in both directions, but take care in crossing this highway. PLEASE DO NOT USE CLARKSBURG ROAD AS A ROUTE CHOICE.

Entry Fees
Individual Entries

Note: juniors = under 21

| | | | | |
| --- | --- | --- | --- | --- |
| | Club Member, adult | Club Member, junior | Non-Member, adult | Non-Member, junior |
| Epunch Owner | $5 | $5 | $10 | $5 |
| Epunch Borrower | $10 | $5 | $15 | $10 |

Team or Group Entries

Participants are welcome to compete together as a single team entry. Teams containing one or more nonmembers are charged the nonmember individual rate. Teams containing one or more adults are charged the adult individual rate. For teams to receive member or junior rates, all members of the team must be members or juniors, respectively. Each extra team map beyond the first is an additional $2. Individuals or teams desiring to compete on a second course can do so for a reduced fee of $2/map.

Important Notes

At the event, we can only accept payment in cash or check; online, you may use a credit card or PayPal account.
You may become a member at the event or by joining online via this webpage (which also explains the member benefits). Membership is completely optional.
Most of our events use an 'epunch' timing chip for electronic timing. Individuals or groups without their own epunch pay a higher entry fee (see above), which includes the loan of an epunch for that event. Loaned epunches that are lost incur a $40 replacement fee. Epunches (also known as SI-cards or finger sticks) are usually available for sale at each event as described here.
Compasses are available at no charge, but if lost incur a $15 replacement fee.
Please provide collateral (driver's license or car keys) when borrowing a compass or epunch.
For additional safety, whistles are available for sale at $1/each.
Free beginner instruction is always available - just ask at the registration table.