Greenbelt

Printer-friendly version

Send by email

PDF version
ShareThis
February 1
Saturday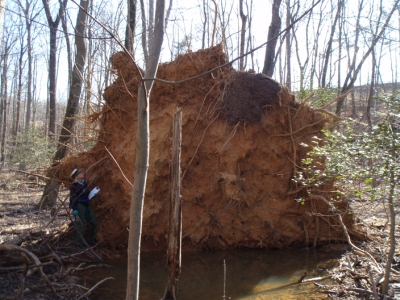 Given the excitement and interest in last year's "Super Bowl Saturday Stumbling Goat" mass start event, we've decided to do it again!
Welcome to this year's Super Bowl Saturday Stumble Bumble at Greenbelt National Park. We begin with a newly completely updated map thanks to the hard work of long-time QOC member Diana Todd (pictured, if you squint, at right, beside one of the more impressive features she added to the map - she visited the park for fieldwork on 54 separate days, walking 225 miles in the course of her work (and she has the GPS tracks to prove it - see the image below with her accumulated GPS tracks). Our course designer David Onkst has once again set up a fun and challenging Mass Start event along with White, Yellow and Orange courses too; PLEASE read the course notes below for full details.
We will be meeting at the Sweetgum Parking Lot/Field, our usual gathering spot at Greenbelt. Overflow parking will be in the adjacent Holly Parking Lot (follow the orange flags along the trail to Sweetgum.) The restrooms at Sweetgum will be open and there are two great playgrounds in the vicinity for young orienteers to hang out with each other and have fun.
IMPORTANT: Because of the mass-start for the advanced courses and the fact that we cannot collect fees at this National Park, PRE-REGISTRATION for ALL courses is required and it is now closed open through Thursday 1/30.
And please note:
Beginner (White, Yellow) and intermediate (Orange) courses will have regular starts from 11:00am to 1:30pm.
The advanced (Brown, Green, Red, Blue) courses will have a MASS START at Noon, which will be lots of fun! Please be ready for the PRE-RACE briefing near the start at 11:45am.
Red and Blue course orienteers will need an SI-6 or newer e-punch to hold the high number of controls. These will be provided free-of-charge for those who own their own punch but need an upgrade and for the usual fee for those with no e-punch of their own.
Registration CHECK-IN will be from 10:45am to 1:15pm.
Even though we have pre-registration, everyone must CHECK-IN at then registration table when they arrive.
Everyone must be out of the woods and back at the registration/finish area by 3:00pm, which is when we will begin picking up the controls.
Dogs on leashes are welcome and owners must clean up after their furry friends!
Any youth or large groups attending, please contact Event Director Heidi Onkst (click on her name below) so that we can coordinate pre-registration for your group; the group registration and waiver form is part of the information on our Group Leaders page.
Wondering what a "window" on an orienteering course map is? See the diagram below. The key point is that after a mandatory control (in this case, control 2), you can go to the three controls (A, B, C) in the boxed area in any order you like, before continuing on to control 6. Part of the fun is figuring out which way will be the quickest.

Looking forward to seeing you soon! And feel free to contact the Event Director (link below) with any questions.
Location

Greenbelt National Park, Sweetgum Parking, Greenbelt, MD (Classic Orienteering)

Registration
Registration is now open Closed: Click here to register, pay, and submit the online waiver. Registration closes at midnight Thursday Jan. 30. Click here to see who has registered online.
Start Times
Mass start for advance courses at Noon. Otherwise, you may start your course between 11 - 1:30pm.
Schedule
Saturday, February 1

| | |
| --- | --- |
| 11:00 am - 3:00 pm | Classic Orienteering: |

Volunteers
Location Details

Classic Orienteering
Greenbelt National Park
Sweetgum Parking
Greenbelt, MD
Google Map

From the I-495 Beltway (which is also I-95 in this section): Take Exit 23 Route 201 Kenilworth Avenue South (toward Bladensburg). You will soon see the sign for Route 193 Greenbelt Road; veer right to take Route 193 East, and take the left onto Greenbelt Road . (Greenbelt Road is Route 193 and passes over Route 201) The park entrance is a quarter mile further on the right hand side of Greenbelt Road, across from TGI Fridays restaurant and a Marriott Courtyard hotel. Follow the orienteering signs to the parking area (Sweetgum or nearby, depending on which has space).

Course Details
Classic Orienteering

| | | | |
| --- | --- | --- | --- |
| Course Name | Length (km) | Climb (m) | No. Controls |
| | | | |
| White | 2 | 35 | 10 |
| Yellow | 2.8 | 70 | 11 |
| Orange | 4.2 | 115 | 11 |
| Beige | | | |
| Brown | | | |
| Mint | | | |
| Green | | | |
| Advanced | | | |
| Pink | | | |
| Red | | | |
| Blue | | | |
| Brown 2 | 4.7 | 85 | 13 |
| Green 2 | 6 | 115 | 10 |

Course Notes
Classic Orienteering

Many of us love celebrating Super Bowl Weekend and this special SATURDAY event will help you kick off the good times. In addition to our regular beginning and intermediate courses, this event will also have one, single, very unique, advanced course. Because Greenbelt has become very common orienteering ground for many of you, I wanted to provide you with some interesting twists. Like last year, all of the advanced courses – Brown, Green, Red and Blue – will be rolled-up into one course/event. If you fear you won't be able to keep up with the speedsters, don't worry, there will be several twists to level the playing field.

To create the event, I borrowed various elements from both the Susquehanna Stumble and the Billygoat, two of the country's most well-known orienteering mass start races. This meet's advanced course, in addition to containing regular orienteering course legs, will also have 5 windows that contain a number of controls. The windows (the Susquehanna Stumble's influence) will vary in size and control density, and each competitor, depending on his or her gender and orienteering level (the level is based on the normal course he/she runs at local QOC Meets), will have a handicap that will determine how many windows he or she must run. As per normal window rules, the controls inside each window may be taken in any order the runner decides. Adding one of the Billygoat's elements to the race, each competitor, depending on his or her handicap, will be able to determine which of the windows he or she wants to run. For example, if the handicap is 3 windows, the competitor can decide which 3 of the 5 windows he or she wants to include. Suffice it to say that some windows are very small and only have a few bags, while others are much larger and contain multiple controls. (to understand "windows" see the diagram and description above)

The handicaps are as follows:
Normal QOC Course Handicap (Number of Windows Required)
Beige (Brown - F) 0
Brown (M) 1
Mint (Green - F) 2
Green (M) 3
Pink (Red - F) 3
Red (M) 4
Blue (M & F) 5


The advanced course length for each runner will vary based on his or her handicap and what windows he or she decides to run. Those with the most generous handicap should only have to travel approximately 4.5 K, while those with the least favorable handicap might have to run upward of 8 K. The rest will fall somewhere in between those distances depending on the choices they make. If racers select the course appropriate for their skill/fitness level, then everyone should conceivably finish around the same time.

If you can't make the 12:00pm mass start for some reason you can run the advanced course (according to your handicap) on your own just as long as you are finished by 3:00pm.

Mass start races provide orienteers with several different and exciting challenges than they normally encounter during regular individual courses (such as following). So, we hope you'll join us at this fun and unique event. Oh, and by the way, for those of you who know a little something about the regular Billygoat traditions, I might just be awarding some style points to someone if I'm so moved—HMMMM!

Approximate lengths for non-advanced courses:
White 2.0 km
Yellow 2.9 km
Orange 4.1 km


Finally, please be sure to check the website closer to the event for additional MAP notes.

Entry Fees
Individual Entries

Note: juniors = under 21

| | | | | |
| --- | --- | --- | --- | --- |
| | Club Member, adult | Club Member, junior | Non-Member, adult | Non-Member, junior |
| Epunch Owner | $5 | $5 | $10 | $5 |
| Epunch Borrower | $10 | $5 | $15 | $10 |

Team or Group Entries

Participants are welcome to compete together as a single team entry. Teams containing one or more nonmembers are charged the nonmember individual rate. Teams containing one or more adults are charged the adult individual rate. For teams to receive member or junior rates, all members of the team must be members or juniors, respectively. Each extra team map beyond the first is an additional $2. Individuals or teams desiring to compete on a second course can do so for a reduced fee of $2/map.

Important Notes

At this event, online pre-registration is required - see above. You may use a credit card or PayPal account.
You may not become a member at this particular event (since we can't take payment in this park), but you can join online via this webpage (which also explains the member benefits). Membership is completely optional.
Most of our events use an 'epunch' timing chip for electronic timing. Individuals or groups without their own epunch pay a higher entry fee (see above), which includes the loan of an epunch for that event. Loaned epunches that are lost incur a $40 replacement fee. Epunches (also known as SI-cards or finger sticks) are usually available for sale at each event as described here.
Compasses are available at no charge, but if lost incur a $15 replacement fee.
Please provide collateral (driver's license or car keys) when borrowing a compass.
For additional safety, whistles are available for sale at $1/each.
Free beginner instruction is always available - just ask at the registration table.