Patuxent River Trail 10K

Printer-friendly version

Send by email

PDF version
ShareThis
March 2
Saturday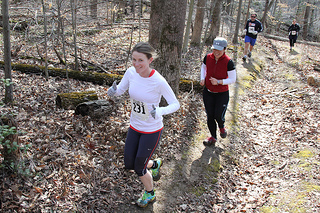 Have a great time at QOC's 3rd Annual Patuxent River Trail 10K run, and you'll be supporting orienteering nationally as well as conservation efforts at this Patuxent River Park. Funds raised from this race will be split equally between a donation to Patuxent River Park and one to the US National Orienteering Teams, which represent the United States in international orienteering competitions. Race proceeds will therefore support both a variety of conservation activities and wildlife projects including wetland restoration, invasive species removal, wildlife monitoring activities, river clean-up events and environmental education programs, and US elite orienteers in their efforts to excel in international competition. In case the mention of orienteering makes you wonder if your map reading and compass skills are up to snuff, don't worry, QOC offers plenty of races involving navigation but this one is a "straight" trail run on a well marked course - so spread the word to all your compass-avoiding friends!
The Date & Time: Saturday, Mar. 2, 2013. Race start is 10 a.m.
The Course: A 10 km loop on the park's natural surface trails and fields. The course is mostly relatively flat (profile below), with occasional dips into and then climbs out of the park's stream valleys, but like anywhere else around here in early March it could be rainy and/or muddy or even snowy or icy on race day. The course will be the same as last year's course - see map here, or a course elevation (height in meters by distance in km) profile here.
The Awards: There will be awards for the top 3 overall male and female and in the following age groups: 19 & under, 20-34, 35-44, 45-54, 55-64, 65 and up. The awards will be the same as in years past - Pacers Running Store gift cards worth $50/$35/$25 for the top 3 overall M/F and $10 for the top three M/F in each age group. Manual timing will be used.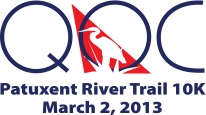 Registration: Online registration is now closed. On-site race day registration will be offered for $35 (cash or check accepted) starting at 9 a.m.. All those who registered online will get the commemorative race item; race day registrants will get it while supplies last.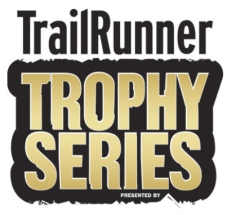 New this year! This race is now part of the 2013 Trail Runner Trophy Series, a nationwide series of trail races. Everyone who finishes our race will be automatically entered (at no additional cost) in this series.
Packet pick up will be held from 9am until 9:45am at the race arena. Please arrive early to ensure you aren't rushed getting ready for the start.
Directions: from the Capital Beltway (I-495), take Exit 11A, (Pennsylvania Ave), Route 4 east for 8 miles. Take Route 301 south for 1.7 miles. Turn left on Croom Station Road and continue for 1.6 miles. Turn left on Croom Road (Route 382) and proceed for 1.5 miles. Turn left on Croom Airport Road and continue for 2 miles. At park entrance, continue straight towards the Group Camp Area. Turn right into the parking area when you reach a large field on the right hand side of the road. The arena map showing parking, registration, start and finish areas is shown below.
From Routes 50/301, take Route 301 south for 15 miles. Turn left onto Croom Station Road and continue as described above.
Refresh/Reload page for more random photos from last year's 10K!
And with thanks to this year's Sponsors!
Location

Patuxent River Park, Barn parking area, Upper Marlboro, MD (10K Trail Race)

Registration

Start Times
The race will start at 10am.
Schedule
Saturday, March 2

| | |
| --- | --- |
| 9:00 am - 9:45 am | 10K Trail Race: Race packet pickup |
| 10:00 am | 10K Trail Race: Race start |

Volunteers
Location Details

10K Trail Race, 10K Trail Race
Patuxent River Park
Barn parking area
Upper Marlboro, MD
Google Map

From the MD. Rt. 4 Capital Beltway exit, head south/east on Rt. 4 for 3 miles. Exit onto Woodyard Rd (Rt. 223) south. Immediately turn left at the light onto Osbourne Rd. After 3 miles you'll reach a traffic light and a junction with US Rt. 301. Turn left on 301 then immediately turn right at the next light onto Croom Rd. (Rt. 382). Signs for Patuxent River Park begin at this turn. After 3.5 miles, turn left on Croom Airport Road and continue for 2 miles to the park entrance, passing the junction with Duvall Rd. on the way. At the park entrance, continue straight towards the Group Camp Area (do not turn left towards the park's visitor center). Turn right onto the driveway leading to a barn and picnic pavilion when you reach a large field on the right hand side of the road. The parking, registration, start and finish areas are shown below on the arena map.

Alternatively, from the Capital Beltway (I-495), take Exit 11A, (Pennsylvania Ave), Route 4 east for 8 miles. Take Route 301 south for 1.7 miles. Turn left on Croom Station Road and continue for 1.6 miles. Turn left on Croom Road (Route 382) and proceed for 1.5 miles. Turn left on Croom Airport Road and proceed to the park entrance as described above.

From the junction of Route 50 and Route 301, take Route 301 south for 15 miles. Turn left onto Croom Station Road and go 3.5 miles before turning left again onto Croom Airport Road. Follow it to the park entrance and proceed as described above.

Course Details
10K Trail Race

| | | | |
| --- | --- | --- | --- |
| Course Name | Length (km) | Climb (m) | No. Controls |
| 10K Trail Race | 10 | | |