Jug Bay

Printer-friendly version

Send by email

PDF version
ShareThis
June 3
Sunday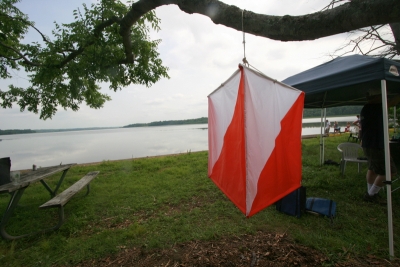 The Beverage Chase + Annual Meeting + lots more, as our 2011-2012 season comes to a close! Newcomers are welcome - we'll have plenty of challenges, suited for all levels from beginner to advanced.
The Main Course: we will have 3 "Classic" courses, suitable for beginners (White and Yellow) and intermediate (Orange) level orienteers, and then we'll have two "Chase" courses, a Short (4.2 km) and a Long (6.2 km). You can preregister online until noon Saturday (just click here) for any course, which will guarantee you a map; if you don't preregister, you need to do so no later than 11:30am and although we'll probably have enough maps, we may run out. Preregistered folks who don't show up are subject to bad karma and won't get refunds either. And did we mention that this event is free for QOC members who preregister? Non-members can preregister can opt to pay online or at the event ... or they can just join now and then preregister at no cost!
If you're running in either Chase course (short or long), make sure to be ready before High Noon, when it's mass start time. If you're doing a classic course (white, yellow or orange) you can start anytime between 11am - 1pm, as long as you avoid getting trampled at 12:01.
Procedure for the Chase race(s): Everyone needs to be registered well in advance. The first map will be the same for both short and long course participants; don't look at it until the starters gun goes off. You will also need to have a cup filled with your race beverage of choice in hand; we'll have water, soda, and beer. When the race starts, empty your cup, throw it to the ground, turn over and look at your map, and figure out where to go. In contrast to most orienteering races, following someone is OK in this race. After finding your controls/checkpoints in the correct order, you'll wind up back at the start area, where you'll need to quaff another cup of your beverage of choice before heading out with your next map. Short course participants will get their second (and last) map at this point; long course runners will have a second and then a third map. Time stops when you've quaffed the last cup of your beverage of choice after your last run in to the start/finish area. Nothing in this paragraph applies to classic course participants EXCEPT that orange course runners will have two maps, i.e. a map exchange.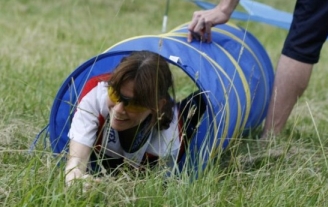 And for the Young at Heart: the Silly Obstacle Course is back! Thanks to Dasa and Jan, kids and kid-like adults will have a chance to complete this whimsical O'course. Timing: when they've caught their breath after finishing the Chase, so sometime in the afternoon.
Which reminds us to mention: Sorry, but dogs are not allowed at Jug Bay, for their sake and the sake of numerous traps and food caches used in ongoing studies by the Univ. of MD and the Smithsonian.
More event details may be posted later, but feel free to use our Contact Us form with questions in the meantime.
Descriptions of courses and other activities to be posted later.
SCHEDULE OF EVENTS
10:30 am Registration opens
11:30 am Registration closes
11:30 am Annual Meeting
12:00 Mass Start for 'The Chase'
Beverages for your selection: Beer, Soda, or Water

Post Chase: Annual PICNIC and AWARDS CEREMONY
QOC will provide beverages, desserts and paper goods. People should bring picnic foods to share. Grills will be available and BBQing is encouraged! This is also a fine place to launch a kayak or canoe, so bring one along if you can. And yes, it's possible that summer bugs will have emerged, so consider bringing bug spray.
Location

Jug Bay, Caretaker's House Area, Bristol, MD (Mass Start Classic Orienteering)

Registration
Pre-registration is now available online here until Saturday at noon, and is highly encouraged since it guarantees you a map. This event is free for QOC members who preregister. Payment online by nonmembers is optional. Day-of registration will also be offered subject to map availability; regular entry fees apply at the event.
Start Times
Mass Start - make sure to allow enough time to register and be ready for the traditional noon start.
Schedule
Sunday, June 3

| | |
| --- | --- |
| 12:00 pm - 4:00 pm | Mass Start Classic Orienteering: |

Volunteers
Location Details

Mass Start Classic Orienteering
Jug Bay
Caretaker's House Area
Bristol, MD
Google Map

From the MD. Rt. 4 Capital Beltway exit, head south/east on Rt. 4 for 8 miles (where you cross over U.S. Rt. 301), then 3 more miles south (into Anne Arundel County) on Rt. 4 to the "Plummer Lane" exit. Ignore all "Jug Bay Wetlands Sanctuary" signs and continue on Plummer Lane (which becomes Pindell Rd.) for 2.0 miles, making a hard right turn at 5 mailboxes. Take the paved "River Farm" road for a mile though the O' map terrain; after the road become dirt, look for parking in the field a bit before the house by Jug Bay.

Course Details
Mass Start Classic Orienteering

| | | | |
| --- | --- | --- | --- |
| Course Name | Length (km) | Climb (m) | No. Controls |
| Short Advanced | 4.5 | 105 | 11 |
| Long Advanced | 6.4 | 130 | 16 |
| White | 1.25 | 25 | 8 |
| Yellow | 1.8 | 30 | 8 |
| Orange | 3.6 | 45 | 10 |

Course Notes
Mass Start Classic Orienteering

NOTE: Map Scale is 1:5000 for beginner (white and yellow) courses, and 1:7500 for all other courses (i.e. Loops 1, 2 and 3). Contour interval is 5m.

Entry Fees
Individual Entries

Non-Member: $10/adult, $6/junior (under 21 years old)

Member: $6/adult, $4/junior (under 21 years old)

Team or Group Entries

Participants are welcome to compete together as a single team entry. Teams containing one or more nonmembers are charged the nonmember individual rate. Teams containing one or more adults are charged the adult individual rate. For teams to receive member or junior rates, all members of the team must be members or juniors, respectively. Each extra team map beyond the first is an additional $4. Individuals or teams desiring to compete on a second course can do so for a reduced fee of $4/map.

Important Notes

At the event, we can only accept payment in cash or check; online, you may use a credit card or PayPal account.
Most of our events use electronic timing. We will provide you with an electronic timing chip (aka e-stick, finger dibber, or SI-card) for free if you don't own one. Loaned e-sticks that are lost incur a $40 replacement fee.
Compasses are available at no charge, but if lost incur a $15 replacement fee.
Please provide collateral (driver's license or car keys) when borrowing a compass or e-punch.
For additional safety, whistles are available for sale at $1/each.
Free beginner instruction is always available - just ask at the registration table.