Little Bennett

Printer-friendly version

Send by email

PDF version
ShareThis
March 25
Sunday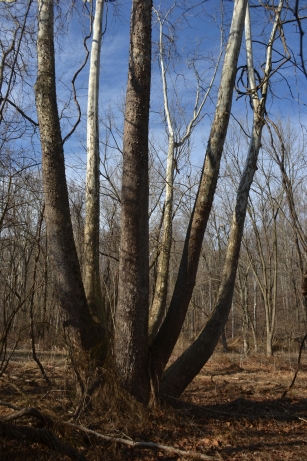 Breaking News: As of 11am Sunday, although the conditions in the woods are obviously damp the National Weather Service has zero active watches, warnings or advisories for Montgomery County; click the link to check for updates. The Event Director may delay some starts if significant thunderstorms appear in the area, but this seems highly unlikely to happen at this time. Come out and have some fun!
Welcome to day 2 of this orienteering-filled weekend. This year, parking and registration for both Sat. and Sunday Little Bennett events will be the lower part of the Nature Center. Note that we'll be returning for this event to our former sprung forward event timing - Sunday's registration will be open from 11:45am - 1:45pm, and you can start anytime between noon and 2pm. Everyone must be out of the woods by 4:00pm.
Optional advance registration is now closed available until Friday at 4pm HERE via our pop-up form. Check the course details and course notes posted below to help you decide which course to run.
Any youth or large groups attending, please contact the Event Director so that we can coordinate pre-registration for your group; the group registration and waiver form is part of the information on our Group Leaders page.
Please note that while there is some sharing of controls between the Intermediate and Short Advanced courses of the Night-O and Sunday's Orange and Brown courses, they are still quite different courses. All the advanced courses (Green thru Blue) share controls with the Night-O courses only at the very end of their course. Therefore, you will get a chance to run two completely different courses this weekend if you run in both the Night-O as well as the Day-O. Additional course notes can be found below.
Some additional information:
Dogs on leash are welcome.
White through Green maps are 8.5x11 in size, while Red and Blue are 11x17; the scale for the white and yellow maps is 1:7,500 and 1:10,000 for all other courses.
A new program of loaning out thumb compasses for those interested in seeing how they differ from the more common baseplate compasses will be getting underway. See Jon Torrance for details (and related instruction).
GPS watches will also be available to borrow.
Feel free to use our Contact Us form if you have any questions!
Registration
Optional advance pre-registration is now closed available HERE via our pop-up form. Receipt of payment is proof of pre-registration. Otherwise, just show up and have fun!
Start Times
You may start your course at any time during the start window listed.
Schedule
Sunday, March 25

| | |
| --- | --- |
| 12:00 pm - 4:00 pm | Classic Orienteering: |

Volunteers
Course Details
Classic Orienteering

| | | | |
| --- | --- | --- | --- |
| Course Name | Length (km) | Climb (m) | No. Controls |
| White | 1.8 | 50 | 9 |
| Yellow | 2.5 | 70 | 9 |
| Orange | 4.2 | 130 | 12 |
| Brown | 4.4 | 160 | 11 |
| Green | 5.9 | 180 | 12 |
| Red | 7.9 | 220 | 17 |
| Blue | 9.8 | 280 | 21 |

Course Notes
Classic Orienteering

Only the Orange and Brown courses cross the park entrance road (while the White course has a separate finish to avoid crossing the entrance road during the course itself). Please watch out for cars at that stage in your race. While there are some small areas of nastiness along the Orange and Brown courses, these areas can be avoided by route choice. Otherwise, the wooded areas are quite open, the visibility good and the runnability fast.

For the Advanced courses, Green through Blue, you will have to cross Rt.121 (Clarksburg Rd) twice. These courses have been designed such that the crossing should occur where visibilty of traffic is good, but still be alert to the possibility of relatively high speed cars travelling along this road. These courses have minimal overlap with the Night-O courses and are predominately in a separate section of the park. Depending on route choice, you may have a wet crossing of Little Bennett Creek, but that will happen towards the end of your course. Generally the wooded areas of the park have excellent visibility and are quite runnable. The light slash symbol is used liberally on the map to indicate areas of fallen trees, but even in these areas, progess may not be impeded - you will only have to pick your feet up to get over some of the older fallen trees. Rootstocks that are mapped and used for control locations are at least 1 m in height or diameter, most being larger, have dirt present (i.e. no older rootstocks) and are clearly visible in the terrain from a distance. As was stated for the Orange and Brown courses, there maybe some areas of vegetaion nastiness, but these areas can generally avoided by route choice. Overall, the mapped green areas of the park are less green at this time of the year. However, the dark green areas should be avoided (usually areas of briar nastiness). Most of the rock features that are mapped and used for control locations are small rock features (less than 1 meter in height), so small that they would not be mapped under normal circumstances. But the park needs more control locations, and the rootstocks are larger, which is why I was forced to go over to the "Dark Side" and map them.

Entry Fees
Individual Entries

Non-Member: $10/adult, $6/junior (under 21 years old)

Member: $6/adult, $4/junior (under 21 years old)

Team or Group Entries

Participants are welcome to compete together as a single team entry. Teams containing one or more nonmembers are charged the nonmember individual rate. Teams containing one or more adults are charged the adult individual rate. For teams to receive member or junior rates, all members of the team must be members or juniors, respectively. Each extra team map beyond the first is an additional $4. Individuals or teams desiring to compete on a second course can do so for a reduced fee of $4/map.

Important Notes

At the event, we can only accept payment in cash or check; online, you may use a credit card or PayPal account.
Most of our events use electronic timing. We will provide you with an electronic timing chip (aka e-stick, finger dibber, or SI-card) for free if you don't own one. Loaned e-sticks that are lost incur a $40 replacement fee.
Compasses are available at no charge, but if lost incur a $15 replacement fee.
Please provide collateral (driver's license or car keys) when borrowing a compass or e-punch.
For additional safety, whistles are available for sale at $1/each.
Free beginner instruction is always available - just ask at the registration table.