Occoquan

Printer-friendly version

Send by email

PDF version
ShareThis
March 17
Saturday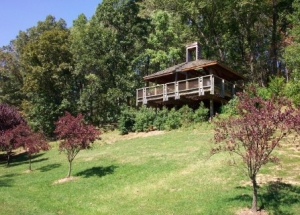 A Saturday event, held on a new map! Join us at 11:00am for a special ribbon cutting ceremony to open the new venue. In addition to regular beginner (white and yellow) courses, course setter Sid Sachs has planned a special type of Score-O orienteering event to help celebrate his birthday. Registration will be from 10:45am - 1:15pm, you can start anytime between 11 - 1:30 (but no peeking at the Score-O map in advance!), and you must be back within your time limit and no later than 2:45pm.
Here's how scoring for the "special score-O" will work. You want to get the maximum number of points during your time limit of up to 75 minutes. You can find the controls in any order, however, the point value of each control will vary. You get 2 points for getting to a higher number control from a lower number; you get 1 point for getting to a lower number control from a higher one. For example, if you get to control #107, it is worth 1 point if you just came from any control who's code was higher than 107, and it's worth 2 points if you just came from any control who's code is lower than 107. The overall length you'd have to run to get the theoretically maximum number of points possible from finding all 16 controls will be equal to a blue course length (8.0km, 325m climb), while the lowest point score still resulting from finding all the controls will be around the length of an average orange or brown course (4.3km, 160m climb). The first control you find from the Start is worth 2 points, and each minute or part of a minute you are overtime will cost you a penalty of one point. Got it?
If you will be bringing a large group (youth or otherwise), please contact Event Director John Baker so that we can coordinate pre-registration for your group; the group registration and waiver form is part of the information on our Group Leaders page.
Additional information:

Registration is at the pavilion shown in the photo.
If you're doing the Score-O, bring a watch to keep track of the 75 minute time limit. You might also want to come up with a way to keep track during your run of which controls you've already visited.
Dogs are welcome, but please keep them on a leash at all times.
Full restroom facilities will be available.
There are no entrance or parking fees at this venue.
GPS watches will be available for loan from Jon Torrance for those who wish to track their routes.
Have any questions? Just use our handy Contact Us form.
Nearby Attraction: The Lorton Workhouse Art Center presents a Saturday matinee play for children, 'Sinbad: The Untold Story' at 10am and 1pm. Plays are ~1 hour long and great for young kids. Full details here.
Another attraction is the nearby Lorton Art Center, perhaps best visited after the orienteering event. Turn right onto Route 123 when exiting the park, and then take the next right turn. When leaving the Art Center go out the side entrance and then turn right onto Lorton Road. Follow Lorton Road back to I-95 exit 163.
Location

Occoquan Regional Park, Shelter 4 Parking Area, Lorton, VA (Classic Orienteering: White, Yellow & Score-O)

Registration
No advance registration required. Just show up to register between 10:45am - 1:15pm.
Start Times
You may start your course at any time between 11am - 1:30pm.
Schedule
Saturday, March 17

| | |
| --- | --- |
| 11:00 am - 2:45 pm | Classic Orienteering: White, Yellow & Score-O: |

Volunteers
Location Details

Classic Orienteering: White, Yellow & Score-O
Occoquan Regional Park
Shelter 4 Parking Area
Lorton, VA
Google Map

Take exit 160B off of I-95 onto Route 123 north, follow 123 north 1.5 miles to park entrance on right. As as alternative, from exit 163 make a left at the new traffic light onto Workhouse Road, and then go left at the next two traffic lights.

Be aware that I-95 heading south after ~11am on Saturday mornings is when the express lanes reverse, usually causing a back up starting at Route 123; avoid using I-95 between exits 160 - 163 on a weekend afternoon if you can.

Course Details
Classic Orienteering: White, Yellow & Score-O

| | | | |
| --- | --- | --- | --- |
| Course Name | Length (km) | Climb (m) | No. Controls |
| White | 1.5 | 45 | 7 |
| Yellow | 2.4 | 90 | 10 |
| Score | 0 | 0 | 16 |

Course Notes
Classic Orienteering: White, Yellow & Score-O

The map does not show the deep banks along some of the streams. The mapper has added some ditches to the map where the contours did not indicate small re-entrants, while in other areas some are not shown. Roots stocks are at least 2 meters in height. The score event will cross a road with a speed bump that should keep traffic to under 20 mph, but please pay attention when crossing this road.

Entry Fees
Individual Entries

Non-Member: $10/adult, $6/junior (under 21 years old)

Member: $6/adult, $4/junior (under 21 years old)

Team or Group Entries

Participants are welcome to compete together as a single team entry. Teams containing one or more nonmembers are charged the nonmember individual rate. Teams containing one or more adults are charged the adult individual rate. For teams to receive member or junior rates, all members of the team must be members or juniors, respectively. Each extra team map beyond the first is an additional $4. Individuals or teams desiring to compete on a second course can do so for a reduced fee of $4/map.

Important Notes

At the event, we can only accept payment in cash or check; online, you may use a credit card or PayPal account.
Most of our events use electronic timing. We will provide you with an electronic timing chip (aka e-stick, finger dibber, or SI-card) for free if you don't own one. Loaned e-sticks that are lost incur a $40 replacement fee.
Compasses are available at no charge, but if lost incur a $15 replacement fee.
Please provide collateral (driver's license or car keys) when borrowing a compass or e-punch.
For additional safety, whistles are available for sale at $1/each.
Free beginner instruction is always available - just ask at the registration table.