Oregon Ridge

Printer-friendly version

Send by email

PDF version
ShareThis
December 16
Sunday
A beautiful park and one of our favorites, just a bit northwest of Baltimore. Note that we're changing things up this year by running the event out of one of the pavilions near the bottom of the ski slope on the northeast side of the park rather than out of the Nature Center parking area on the north side of the park.
Course designer Tom Nolan has prepared a full slate of courses, from beginner (white) through advanced (blue). The map scale will be 1:5000 for the beginner (White and Yellow) courses, and 1:10000 for all others.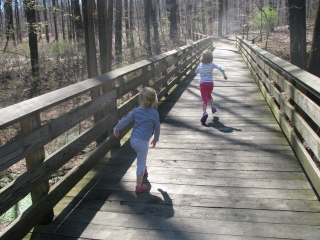 Any youth or large groups attending, please contact the Event Director so that we can coordinate pre-registration for your group; the group registration and waiver form is part of the information on our Group Leaders page.
While Oregon Ridge Park hosts a fine Nature Center a bit away from this year's registration area, we will have the use of the nearby lodge restroom facilities. Of additional note:
The park has a large playground near our registration area.
Dogs are welcome in the park, but must be on a leash at all times.
Geocachers take note - several favored caches are in this park.
Notes about this map will be available to read at registration.
Free beginner instruction is available as always - just ask at registration.
Additional course comments are below (see the "Course Notes" section).
Sure, you can probably guess your size well enough, but if you want to see sizes and fabric choices for the new-for-2013 QOC custom jerseys in time to pre-order by Dec. 31 at the discounted price of just $49, this is your last chance! They'll be on display here at this event.
Post-Event Socializing: There's a huge 'Market Cafe' in the Wegman's just 5 minutes (2 miles) east of Oregon Ridge on Shawan Road, just east of I-83 exit 20, with many food selections and plenty of sit-wherever-you-like seating on the second floor (store & market cafe map here). It's a fine place to meet up and compare maps, whether you're having just a coffee or soda or a full meal, and it's suitable for both kids and adults. We'll be giving away their Holiday Menu books at our event, including coupons. Yelp review of this store with over 20 photos here.
Any Questions? Just use our handy Contact Us form and ask!
Location

Oregon Ridge Park - Ski Hill, Ski hill parking area, Cockeysville, MD (Classic Orienteering)

Registration
No advance registration required. Just show up and have fun!
Start Times
You may start your course at any time during the start window listed below for your event.
Schedule
Sunday, December 16

| | |
| --- | --- |
| 10:45 am - 1:15 pm | Classic Orienteering: Registration window |
| 11:00 am - 1:30 pm | Classic Orienteering: Start window |
| 3:00 pm | Classic Orienteering: Courses close |

Volunteers
Location Details

Classic Orienteering, Classic Orienteering, Classic Orienteering
Oregon Ridge Park - Ski Hill
Ski hill parking area
Cockeysville, MD
Google Map

From Baltimore: Take I-695 to I-83 North to Exit 20B (Shawan Road West). Follow Shawan Road to the first light, Beaver Dam Road, and turn left. Immediately after making the left onto Beaver Dam Road, there will be a fork in the road. Take the left fork to continue on Beaver Dam Road for half a mile to the park entrance. Turn right into the park. The event will be held out of the picnic shelter on the other side of the lodge building from the parking lot.

Course Details
Classic Orienteering

| | | | |
| --- | --- | --- | --- |
| Course Name | Length (km) | Climb (m) | No. Controls |
| White | 2.2 | 95 | 10 |
| Yellow | 2.6 | 55 | 12 |
| Orange | 3.2 | 120 | 8 |
| Brown | 4.2 | 135 | 8 |
| Green | 5.3 | 185 | 12 |
| Red | 7.2 | 220 | 11 |
| Blue | 8.8 | 230 | 13 |

Course Notes
Classic Orienteering

Unlike previous events at Oregon Ridge, we are starting from the main parking lot in front of the lodge, where you will find ample parking. Registration is in the Ridge Pavilion up behind the lodge, near the base of the hill.

The Yellow course winds through the intricate vegetation on the relatively flat area below the hill, following trails and fields. All the other courses climb the hill. Once past the initial elevation gain, the woods are open and very fast, with only moderate elevation gains as you traverse through the stream valleys. This is spectacular terrain -- great visibility, open views, well-defined hills and valleys, and small point features. There are many trails, which may be obscured in places by the generous leaf cover this time of year, but the courses are designed to keep you off-trail as much as possible.

On Orange and above, runners may find controls on features mapped with a black X, which represent wooden posts, about 4 feet high, that can be hard to see from a distance. These are marked with the word "Post" in the control description. Green circles represent small evergreen holly trees, which are clearly visible this time of year, and can be useful for navigation once you learn what to expect. One of these is used as a control feature, and is marked with the word "Holly" in the control description. Rootstocks are mapped with a green X, and are over 1 meter high. On the hilltops, there are some new unmapped rootstocks, due to high winds in the summer and fall this year.

The Navy Junior ROTC orienteering championships are being held on the day before the QOC event, using (almost) the same courses. The Saturday championship courses will use control stands, and the majority of the Sunday controls will likewise be hung from stands. The control markers will be low to the ground, and may be obscured by vegetation and terrain. Be familiar with your control descriptions (ask if you are in doubt), and look for the features as you approach the controls.

Tom Nolan, Course Setter

Entry Fees
Individual Entries

Non-Member: $10/adult, $6/junior (under 21 years old)

Member: $6/adult, $4/junior (under 21 years old)

Team or Group Entries

Participants are welcome to compete together as a single team entry. Teams containing one or more nonmembers are charged the nonmember individual rate. Teams containing one or more adults are charged the adult individual rate. For teams to receive member or junior rates, all members of the team must be members or juniors, respectively. Each extra team map beyond the first is an additional $2. Individuals or teams desiring to compete on a second course can do so for a reduced fee of $2/map.

Important Notes

At the event, we can only accept payment in cash or check; online, you may use a credit card or PayPal account.
Most of our events use electronic timing. We will provide you with an electronic timing chip (aka e-stick, finger dibber, or SI-card) for free if you don't own one. Loaned e-sticks that are lost incur a $40 replacement fee.
Compasses are available at no charge, but if lost incur a $15 replacement fee.
Please provide collateral (driver's license or car keys) when borrowing a compass or e-punch.
For additional safety, whistles are available for sale at $1/each.
Free beginner instruction is always available - just ask at the registration table.