Swanson Rd

Printer-friendly version

Send by email

PDF version
ShareThis
October 14
Sunday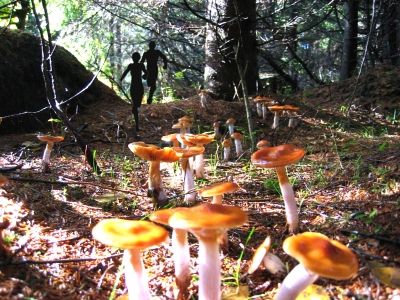 For QOC's fourth event of the season, we'll host a classic orienteering event for only the second time ever in this relatively new section of Patuxent River Park. Beginner through advanced courses from White up to Red will be available. The terrain is varied with open fields, generally quite nice open woods over much of the map and greener areas fringing some of the fields and in the Patuxent River floodplain. Register at the event anytime between 10:45 - 1:15pm, start anytime between 11 - 1:30, and be back out of the woods by 3pm.
Any youth or large groups attending this event should contact the Event Director so that we can coordinate pre-registration for your group; the group registration and waiver form is part of the information on our Group Leaders page. Dogs on leash are welcome at this park.
Parking for this event will be on the hilltop adjacent to the start/finish and on either side of the road starting at the cluster of buildings south of the hilltop as shown here. The available parking should suffice for a typical to good QOC local event turnout but please do your best to park efficiently but without trapping any other cars anyway. In order to give ourselves a bit of wiggle room, we will once again be raffling off a $50 REI gift card among those who carpool to the event with three or more orienteers per vehicle and meet volunteers so if you can, get yourself a carpool and be sure to ask after the binder in which to put your name down for the raffle. It should be near registration. In the hopefully unlikely event that we completely fill the available parking, please drive up to the registration area and ask for Jon Torrance. He'll drive out with you to parking areas nearby outside the park and shuttle you back to registration.
Location

Swanson Road Natural Area, North end, Upper Marlboro, MD (Classic Orienteering)

Registration
No advance registration required. Just show up and have fun!
Start Times
You may start your course at any time during the start window listed below for your event.
Schedule
Sunday, October 14

| | |
| --- | --- |
| 10:45 am - 1:15 pm | Classic Orienteering: Registration window |
| 11:00 am - 1:30 pm | Classic Orienteering: Start window |
| 3:00 pm | Classic Orienteering: Courses close |

Volunteers
Location Details

Classic Orienteering, Classic Orienteering, Classic Orienteering
Swanson Road Natural Area
North end
Upper Marlboro, MD
Google Map

From the Washington Beltway, take exit 11 to MD-4 South/Pennsylvania Avenue. After 8 miles, exit onto US-301 North. Drive 3 miles then turn right onto Swanson Road. Stay on Swanson Road for about half a mile, then instead of turning right for Swanson Road, continue straight onto Swanson Road Spur. Follow Swanson Road Spur for another half mile then look for parking along the park entrance road.

If your route brings you south on US-301, turn left onto Swanson Road - it's the next junction south of Leeland Road, with the right turn being onto Beech Tree Parkway and the left turn, crossing the highway onto Swanson Road.

Course Details
Classic Orienteering

| | | | |
| --- | --- | --- | --- |
| Course Name | Length (km) | Climb (m) | No. Controls |
| White | 2.4 | 25 | 9 |
| Yellow | 3 | 55 | 9 |
| Orange | 3.4 | 70 | 10 |
| Brown | 4.6 | 70 | 10 |
| Green | 6.6 | 140 | 15 |
| Red | 7.5 | 145 | 18 |

Course Notes
Classic Orienteering

Map scales are 1:7500 for white and yellow course maps, and 1:10,000 for orange through red. The contour interval is 6m (20 feet), and you can anticipate feeling that the terrain is fairly steep. Both white and yellow courses have short off-trail sections, so beginners should ask at registration for advice if needed. The orange (intermediate) course is best suited to those who have done orange courses before successfully; this is probably not the best event for an orienteer to move from yellow to orange unless they are quite comfortable with off-trail navigation using handrails.

Entry Fees
Individual Entries

Non-Member: $10/adult, $6/junior (under 21 years old)

Member: $6/adult, $4/junior (under 21 years old)

Team or Group Entries

Participants are welcome to compete together as a single team entry. Teams containing one or more nonmembers are charged the nonmember individual rate. Teams containing one or more adults are charged the adult individual rate. For teams to receive member or junior rates, all members of the team must be members or juniors, respectively. Each extra team map beyond the first is an additional $2. Individuals or teams desiring to compete on a second course can do so for a reduced fee of $2/map.

Important Notes

At the event, we can only accept payment in cash or check; online, you may use a credit card or PayPal account.
Most of our events use electronic timing. We will provide you with an electronic timing chip (aka e-stick, finger dibber, or SI-card) for free if you don't own one. Loaned e-sticks that are lost incur a $40 replacement fee.
Compasses are available at no charge, but if lost incur a $15 replacement fee.
Please provide collateral (driver's license or car keys) when borrowing a compass or e-punch.
For additional safety, whistles are available for sale at $1/each.
Free beginner instruction is always available - just ask at the registration table.