Swanson Road

Printer-friendly version

Send by email

PDF version
ShareThis
September 29
Sunday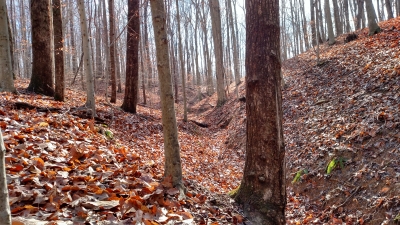 Welcome back to Swanson Road, one of the smaller parks associated with the Patuxent River Park system. Like our last event here, the QOC event will be held at the north end of the park. We may have parking along the entrance road. If you need a street address, use 17110 Swanson Rd Spur, Upper Marlboro, MD 20772.
Beginner Instruction: There will be beginner's instruction, as always, as well. If you are interested and don't see who is giving it, ask at the registration table. A QOC member will show you how to read a map, teach you how to use a compass with your map and give you hints on how to navigate your choice of course. Besides that, just wear a smile and the clothes you would for a hike or run in a local park. Bring a compass, if you have one, or borrow one at the event.
Registration opens at 10:45 and ends at 1:15 p.m. People may start anytime between 11 a.m. and 1:30 p.m. Everyone must be back to download by 3 p.m. Don't forget to download even if you don't finish, so we don't need to send out a search party! Wondering about the map and courses? See below for course setter comments about both.
Dogs (on leash) are welcome too.
Parking: Driving directions are below. Look for the sign on Route 301 to the Prince George's Radio Control Club for the turn-off. Depending on the state of mowing, we may be parking along Swanson Road Spur, the entrance road for the park's northern area. Please park compactly to leave room for others and follow directions from QOC volunteers.
Registration opens at 10:45 and ends at 1:15 p.m. People may start anytime between 11 a.m. and 1:30 p.m. Everyone must be back to download by 3 p.m. Don't forget to download even if you don't finish, so we don't need to send out a search party! Wondering about the map and courses? See below for course setter comments about both.
Youth or large groups attending, please contact the Event Director so that we can coordinate pre-registration for your group; the group registration and waiver form is part of the information on our Group Leaders page.
Location

Swanson Road Natural Area, North end, Upper Marlboro, MD (Classic)

Registration
No advance registration required. Just show up and have fun!
Start Times
Start any time between the specified times (usually 11am - 1:30pm).
Schedule
Sunday, September 29

| | |
| --- | --- |
| 11:00 am - 1:30 pm | Classic: Start Window |
| 3:00 pm | Classic: All Courses Close: everyone must be back to the finish |

Volunteers
Location Details

Classic, Classic
Swanson Road Natural Area
North end
Upper Marlboro, MD
Google Map

From the Washington Beltway, take exit 11 to MD-4 South/Pennsylvania Avenue. After 8 miles, exit onto US-301 North. Drive 3 miles then turn right onto Swanson Road. Stay on Swanson Road for about half a mile, then instead of turning right for Swanson Road, continue straight onto Swanson Road Spur. Follow Swanson Road Spur for another half mile then look for parking along the park entrance road.

If your route brings you south on US-301, turn left onto Swanson Road - it's the next junction south of Leeland Road, with the right turn being onto Beech Tree Parkway and the left turn, crossing the highway onto Swanson Road.

Course Details
Classic

| | | | |
| --- | --- | --- | --- |
| Course Name | Length (km) | Climb (m) | No. Controls |
| White | 1.9 | 25 | 10 |
| Yellow | 1.6 | 30 | 9 |
| Orange | 3.7 | 105 | 13 |
| Brown | 4.6 | 150 | 12 |
| Green | 6.1 | 245 | 13 |
| Red | 7.4 | 305 | 16 |
| Blue | 8.7 | 380 | 18 |

Course Notes
Classic

Swanson Road provides a mix of mid-Atlantic spur and reentrant terrain, combined with Patuxent River low lands and marshes. Unlike Patuxent River Park, there are many steep areas at Swanson Road. Calculated climbs for each course may be low, depending upon the route choice. Since this year's event will probably occur before the first frost, visibility should be expected to be lower than the map might indicate; and every shade of green on the map will likely be a bit greener ... and white, open forest areas are likely to have some understory. Rootstocks are not shown and none are used for controls. Environmental sample wells are four inch white plastic pipes scattered throughout the park and are shown on the map as blue Xs. Other man-made special features include trail markers, decorative farm equipment, and the occasional old vehicle or other debris, all shown with black Xs. Some dump sites are not mapped, especially along Swanson Road Spur.

This is the third time I've set the courses at Swanson Road and the third map I've used. This year's map reflects updates based on the Maryland-National Capital Park and Planning Commission (MNCPPC) 2018 LIDAR data. The extracted contours agree really well with those Diana Todd derived from the National Map that we used in 2017. The vegetation on this map was automatically generated from the LIDAR data, and except for the current crop reflecting a season's growth, the LIDAR vegetation and what I've experienced on the ground matches pretty closely.

Rides aren't so free. The terrain shows several rides which would seem at first to present high speed options – however, most have some amount of deadfall across them, or the surface may be obscured by ankle high vegetation. Dead falls are partially mapped, and should be an improvement over 2017, but remain inconsistent. Mapped dead fall areas can be trusted, but there are others I have missed.

I've copied in all the terrain features from the excellent work by prior mappers Dave Linthicum and Peggy Dickison, but there may be some omissions.

In particular, advanced runners should keep an eye open for steep areas. Yes, close contours are nature's way of reminding us the other silent competitor – Gravity – is waiting for us to make a mistake. I'm confident I brought in all the earth banks / dirt cliffs that were mapped and added and confirmed several others. But while course setting, I found others, that are only revealed by close contours – especially in the northern area of the park along District Branch. Watch your step. Leg options which avoid the steeper areas should be feasible. I have used the top of one earth bank as a control, but none of its approaches should require antigravity boots or rappelling skills.

Except for the fence around the garden of the RC Clubhouse, all fences inside the park are ruined fences – often with barbed wire at ankle height. One small area of only ankle high barbed wire is near one of the advanced course legs that runs roughly parallel to District Branch and is marked by a small purple out of bounds symbol. This is one subtle hazard I found while field checking – there are probably others like it.

This is the first time I've included a Blue course at Swanson Road. In prior years it seemed the park wasn't big enough to support a Blue course, but after finding an interesting control site north of District Branch and comparing climbs, it seems appropriate to offer a Blue option this time around.

The model aircraft airfield remains out of bounds, except around the edges, and is reflected on all appropriate maps.

Open fields in the northern part of the park are Rough Open and in this context, it means they may be hay fields, but they've not been cut this year. Expect chest-high growth in some areas.

For the Beginners, the Green Trail which is used for much of the course may have only been partially mowed, so some portions are likely to be as rough as the open field.

In general, except for runners looking to try leveling up from Yellow to Orange this is probably not a venue to run up a course difficulty level.

Start and Finish will be co-located for all courses.

Beginner Course Notes:
White (1:5,000): Intended to provide an interesting tour of the Park's north end.
Yellow (1:5,000): Most controls can be reached by staying on or near the designated paths, but for some legs, a willingness to go cross country may yield faster times. Attention to detail will also be important, though, since some White controls will probably be encountered along the way. For Yellow runners looking to move up, Orange may be a good opportunity to try leveling up.

Intermediate Course Notes:
Orange (1:5,000): Orange is limited to the northern end of the park with options to avoid the thicker vegetation, and has a mix of trail options, hand rails, and some solid catching features. I've included two groups of fairly short legs with tight direction changes to help keep map contact and direction focus. Most legs provide distinctive collecting features to ensure map contact is maintained or to serve as handrails. The larger scale should also help the Intermediate runners clearly see the control features.

Advanced Course Notes:
Brown (1:7,500) remains in the northern part of the park.
Green, Red, and Blue (1:10,000) take runners to the southern part of the park.
Brown, Green, and Red will cross South Fork twice with at least one bridge option.
Blue will cross both South Fork and District Branch.

Entry Fees
Individual Entries

Note: juniors = under 21

| | | | | |
| --- | --- | --- | --- | --- |
| | Club Member, adult | Club Member, junior | Non-Member, adult | Non-Member, junior |
| Epunch Owner | $5 | $5 | $10 | $5 |
| Epunch Borrower | $10 | $5 | $15 | $10 |

Team or Group Entries

Participants are welcome to compete together as a single team entry. Teams containing one or more nonmembers are charged the nonmember individual rate. Teams containing one or more adults are charged the adult individual rate. For teams to receive member or junior rates, all members of the team must be members or juniors, respectively. Each extra team map beyond the first is an additional $2. Individuals or teams desiring to compete on a second course can do so for a reduced fee of $2/map.

Important Notes

If you wish to become a QOC member you should join online in advance via this webpage (which also explains the member benefits). Membership is completely optional.
Most of our events use an 'epunch' timing chip for electronic timing. Individuals or groups without their own epunch pay a higher entry fee (see above), which includes the loan of an epunch for that event. Loaned epunches that are lost incur a $40 replacement fee. Epunches (also known as SI-cards or finger sticks) can be purchased from online vendors as described here.
Former QOC members who have let their membership lapse pay non-member fees.
Compasses are available at no charge, but if lost incur a $15 replacement fee.
Please provide collateral (driver's license or car keys) when borrowing a compass or epunch.
For additional safety, whistles are available for sale at $1/each.
Free beginner instruction is always available - just ask at the registration table.