Mason Neck

Printer-friendly version

Send by email

PDF version
ShareThis
December 8
Sunday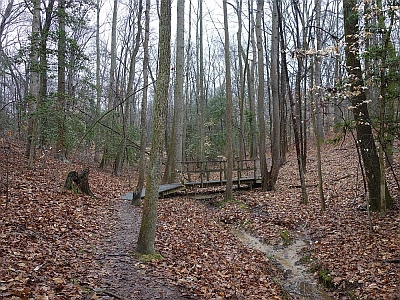 Orienteering in Mason Neck provides a distinctive navigation experience due to its flat ground and relatively few easily identifiable features. Its 2.5m map contours (rather than the standard 5 meters) will will give orienteers the chance to develop a heightened appreciation of terrain subtleties and provide a great opportunity for them to work on their compass skills and pace counting. Runners will have their choice of a full set of classic courses designed by Aaron Linville.
As usual, we will set up the registration site on the west side of main parking area. Heated rest rooms are immediately adjacent.
Event registration will be from 10:45am - 1:15pm. Start your course anytime between 11am - 1:30pm, but be back before the courses close at 3pm. There is an entrance fee for the park ($7 (in state) or $10 (out-of-state) per car). Please pay your entrance fee prior to registering for your course.
NEW: In conjunction with this meet, QOC will be kicking off a new Course Review program that we hope will become a permanent feature at our events. The course review will consist of a brief summary by the course setter of one of his or her courses and some ensuing discussion featuring observations from an experienced orienteer as well as some general discussion. Total duration will be 20-30 minutes or so. The intent is to foster a stimulating exchange of perceptions and the sharing of tactics, techniques and procedures for all those interested.
For this event, course setter Aaron Linville will lead a discussion of his Brown course at 1:15pm in the vicinity of the registration site. All are welcome to attend.
Park Information: Mason Neck State Park is also a great place by bike this time of year, a very smooth and family-friendly bike path runs through the park and connects with other parks on the Mason Neck peninsula. Additionally of note:

There's an extensive playground adjacent to our registration area.
Dogs are welcome in the park, but must be on a leash of length 6 feet or less at all times and "with a human on the other end", as a park ranger said.
Nature Programs for Kids & Families: There are three programs on Dec. 8th: 11am (Natural Inquirer), 1pm (Visitor Center Exploration), 3pm (Microscope Detectives)
Any youth or large groups attending, please contact the
Event Director
so that we can coordinate pre-registration for your group; the group registration and waiver
form
is part of the information on our
Group Leaders
page.
Location

Mason Neck SP, Mason Neck SP, Lorton, VA (Classic)

Registration
No advance registration required. Just show up and have fun!
Start Times
Start any time between the specified times (usually 11am - 1:30pm).
Schedule
Sunday, December 8

| | |
| --- | --- |
| 11:00 am - 3:00 pm | Classic: |

Volunteers
Location Details

Classic
Mason Neck SP
Mason Neck SP
Lorton, VA
Google Map

From southbound I-95, take exit 163 (Lorton). Go left onto Lorton Rd at the end of exit ramp. Go under the 2nd overpass and turn right onto Lorton Market St (Z-pizza is in the shopping center on the left), then go about 1.5 miles to the traffic light at Route 1. Go straight through light (the road name changes to Gunston Rd) and go about 5 miles to the right turn on High Point Road (it's about 1.2 miles after the Pohick entrance). Once in the park ($7 in-state or $10 out-of-state entrance fee per vehicle on weekends), follow the signs towards the Visitor Center. The registration area will be to the left just before the Visitor Center; look for the banner.

Course Details
Classic

| | | | |
| --- | --- | --- | --- |
| Course Name | Length (km) | Climb (m) | No. Controls |
| White | 2 | 25 | 7 |
| Yellow | 3.5 | 35 | 12 |
| Orange | 4.8 | 50 | 11 |
| Brown | 4.6 | 35 | 9 |
| Green | 6.5 | 45 | 12 |
| Red | 7.6 | 70 | 15 |
| Blue | 9.4 | 85 | 17 |

Course Notes
Classic

Green, Red and Blue maps are printed at 1:10,000. Orange and Brown are printed at 1:7,500. White and Yellow are printed at 1:5,000.

As of initial control location vetting and streamer-ing about half the leaves had fallen and forest visibility was very good, giving a good view of Mason Neck's subtle contouring. A uniquely flat park in QOC's archive, the map contour intervals are 2.5 meters, and the map makes extensive use of the form lines (half-contours) to better define the delicate changes in terrain elevation.

The map received a significant update in Spring of 2018 and it is aging well. Mapped rootstocks are reliable for navigation but the usual course designer disclaimer applies that there may be new, unmapped rootstocks.

As of mid-November, the park was very dry and mapped marshes are only discernible but subtle changes in the forest floor and reduction in ground vegetation.

The distinct tree used as a control location on advanced courses is both larger and of distinctly different character than surrounding trees.

A number of former shelter locations (possibly collier huts, but there is no evidence of charcoal production in the park) are used as control locations. They are slightly elevated, round platforms, 6-8 meters in diameter surrounded by a shallow ditch. They are marked on the map as a circular/pentagonal dry ditch - five brown points evenly spaced around a common center point. The control description will denote them as a small erosion gully.

Courses do cross the main park road and while speed limits are low, runners are encouraged to use due caution when crossing.

This is Aaron Linville's first time designing a full set of courses since his graduation from the QOC Course Designing course. He welcomes and appreciates any feedback on the overall course design, individual legs or control site selection.

Entry Fees
Individual Entries

Note: juniors = under 21

| | | | | |
| --- | --- | --- | --- | --- |
| | Club Member, adult | Club Member, junior | Non-Member, adult | Non-Member, junior |
| Epunch Owner | $5 | $5 | $10 | $5 |
| Epunch Borrower | $10 | $5 | $15 | $10 |

Team or Group Entries

Participants are welcome to compete together as a single team entry. Teams containing one or more nonmembers are charged the nonmember individual rate. Teams containing one or more adults are charged the adult individual rate. For teams to receive member or junior rates, all members of the team must be members or juniors, respectively. Each extra team map beyond the first is an additional $2. Individuals or teams desiring to compete on a second course can do so for a reduced fee of $2/map.

Important Notes

If you wish to become a QOC member you should join online in advance via this webpage (which also explains the member benefits). Membership is completely optional.
Most of our events use an 'epunch' timing chip for electronic timing. Individuals or groups without their own epunch pay a higher entry fee (see above), which includes the loan of an epunch for that event. Loaned epunches that are lost incur a $40 replacement fee. Epunches (also known as SI-cards or finger sticks) can be purchased from online vendors as described here.
Former QOC members who have let their membership lapse pay non-member fees.
Compasses are available at no charge, but if lost incur a $15 replacement fee.
Please provide collateral (driver's license or car keys) when borrowing a compass or epunch.
For additional safety, whistles are available for sale at $1/each.
Free beginner instruction is always available - just ask at the registration table.