Lake Needwood

Printer-friendly version

Send by email

PDF version
ShareThis
May 13
Sunday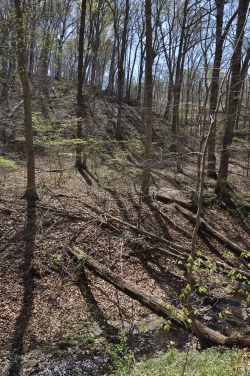 Welcome back to Lake Needwood! This will be our seventh event at this beautiful lakeside park, nestled within the 1,800 acre Rock Creek Regional Park. We'll offer a full slate of beginner through advanced courses (white through blue, including beige). And the park offerings a surprising array of family recreational opportunities – from kayak rentals to the Go Ape! Treetop challenge course (see below).
In honor of Mother's Day: After your run, please join us for grilled burgers, hot dogs, or veggie burgers, plus a special Mother's Day cake. We'll be grilling on site, by the shelter.
Course stats and course setter comments are posted below.
Standard event timing: register between 10:45 - 1:15, start any time between 11 - 1:30, and be back before 3pm. Special welcome to new orienteers! As always, we will offer free beginner instruction. An experienced QOC member will show you how to read a map, use a compass with your map, and give you hints on how to navigate your course. Just wear the clothes and shoes you would for a hike or run in a local park. Bring a compass, if you have one, or borrow one free at the event.
Driving directions are below; we will be in Shelter C (Just up hill from Shelter A, near the restrooms). And BTW, leashed dogs are welcome!
[One word of caution: In recent years, in late summer, Lake Needwood has shown elevated levels of microcystin, an algae-produced toxin. This problem only appears when water temperatures – and algae blooms -- peak in late July/early August. Springtime has never been a problem; the water is still cool. But since microcystin is potentially harmful to both people and pets, we want everyone to be fully aware of the issue. Swimming is prohibited, and Park authorities recommend not letting dogs swim in the lake either. And, of course, nobody should ever drink the lake water. Here is a link to last summer's notice (July 24, 2017) from Montgomery Parks.]
Youth or large groups: Please contact the Event Director so that we can coordinate pre-registration for your group; the group registration and waiver form is part of the information on our Group Leaders page.
Links to park info and nearby attractions:
Location

Lake Needwood, Circle Parking Area, Derwood, MD (Classic)

Registration
No advance registration required. Just show up and have fun!
Start Times
You may start your course at any time during the start window listed below for your event.
Schedule
Sunday, May 13

| | |
| --- | --- |
| 11:00 am - 3:00 pm | Classic: |

Volunteers
Location Details

Classic
Lake Needwood
Circle Parking Area
Derwood, MD
Google Map

Get to Avery Rd from either Norbeck Rd (Rt 28) or Muncaster Mill Rd (Rt 115). From Avery Rd, turn onto Needwood Lake Dr, go 0.3 miles, then turn left on Beach Dr. The first right then leads to Needwood Lake Circle, and by continuing to follow QOC signs you should be led to the pavilion/shelter in use for the event, most likely towards the S end of the lake.

Course Details
Classic

| | | | |
| --- | --- | --- | --- |
| Course Name | Length (km) | Climb (m) | No. Controls |
| White | 2.1 | 85 | 8 |
| Yellow | 2.6 | 85 | 8 |
| Orange | 5.5 | 175 | 12 |
| Beige | 2.4 | 100 | 8 |
| Brown | 4.2 | 165 | 11 |
| Green | 5.6 | 180 | 16 |
| Red | 6.8 | 200 | 17 |
| Blue | 8.4 | 285 | 26 |

Course Notes
Classic

The woods are gorgeous and the map has been partially updated for our annual visit to Lake Needwood.

None of the courses cross Southlawn Drive; all courses remain within the main section of the park. This means that even some of the shorter courses have loops. Blue has several butterfly loops (a small loop that returns to a control before going on); take care to head to the right control! Blue especially but the other advanced courses as well have sections that are control-picky- y. Controls are relatively close together but are on distinct features. The woods are hilly and while I tried to keep the climb reasonable, a lot of the nicest terrain is on the top of the hills. Most of the rock is found in the stream valley. Point features on the map tend to be quite small, though mapper Nadim Ahmed has taken off some of the smallest features. Some of the small strips of green indicate where there used to be a downed tree; these areas are mostly gone or not relevant any more.

Two small areas have recently burned. All advanced courses plus Orange will skirt (or, optionally, go through) at least one such area. One of the areas has new fire breaks and a fire road; Nadim has added these to the map. The firebreaks look like new ditches with dirt piled up on the sides.

All controls except White will cross a creek; the courses are set so that you can avoid crossing the larger stream by going around to the smaller stream if you wish. Depending on rainfall leading up to the event, you'll likely get your feet wet crossing even the smaller stream, though in some places you can cross on rocks. This stream is quite shallow.

Orange and all the advanced courses except Beige go into the area north of the start/finish. These courses all go through the Go Ape! zip line area; be courteous and pay attention when in the area (we're allowed to be there). Pay attention and be mindful of other park users; several courses may go through parking lots and/or picnic areas. Orange, Green, Red, and Blue go around the lake.

There are some road route options; please be cautious while running on or crossing the road as cars aren't necessarily expecting to see you.

With the limited area I'm using for courses, along with the density of controls and routing of the courses, you will likely see a lot of other orienteers. You may be heading the opposite direction; stay aware so you don't run into someone. I have ignored guidelines to not have legs going in reverse order , which may be of help as you approach a control.

There are four water controls, with every course visiting at least one. If it's a warm day, please be courteous and leave some water for others.

Enjoy Needwood's woods!

Entry Fees
Individual Entries

Note: juniors = under 21

| | | | | |
| --- | --- | --- | --- | --- |
| | Club Member, adult | Club Member, junior | Non-Member, adult | Non-Member, junior |
| Epunch Owner | $5 | $5 | $10 | $5 |
| Epunch Borrower | $10 | $5 | $15 | $10 |

Team or Group Entries

Participants are welcome to compete together as a single team entry. Teams containing one or more nonmembers are charged the nonmember individual rate. Teams containing one or more adults are charged the adult individual rate. For teams to receive member or junior rates, all members of the team must be members or juniors, respectively. Each extra team map beyond the first is an additional $2. Individuals or teams desiring to compete on a second course can do so for a reduced fee of $2/map.

Important Notes

If you wish to become a QOC member you should join online in advance via this webpage (which also explains the member benefits). Membership is completely optional.
Most of our events use an 'epunch' timing chip for electronic timing. Individuals or groups without their own epunch pay a higher entry fee (see above), which includes the loan of an epunch for that event. Loaned epunches that are lost incur a $40 replacement fee. Epunches (also known as SI-cards or finger sticks) can be purchased from online vendors as described here.
Former QOC members who have let their membership lapse pay non-member fees.
Compasses are available at no charge, but if lost incur a $15 replacement fee.
Please provide collateral (driver's license or car keys) when borrowing a compass or epunch.
For additional safety, whistles are available for sale at $1/each.
Free beginner instruction is always available - just ask at the registration table.