Mason Neck

Printer-friendly version

Send by email

PDF version
ShareThis
April 15
Sunday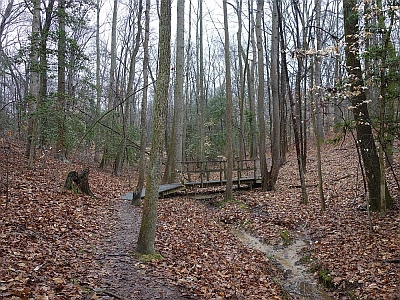 Once again, it's time to enjoy the distinctive orienteering terrain of Mason Neck State Park. Mason Neck's flat ground and relatively few easily identifiable features provide a great opportunity to improve your compass work and pace counting. And the 2.5m map contour (rather than the standard 5 meters) will give orienteers the chance to develop a heightened appreciation of terrain subtleties. Jon Torrance will be putting together a set of courses that takes full advantage of the park's signature characteristics. As usual, we will set up the registration site right off the main parking area. Rest rooms are immediately adjacent.
Event registration will be from 10:45am - 1:15pm. Start your course anytime between 11am - 1:30pm, but be back before the courses close at 3pm. There is an entrance fee for the park ($5 (in state) or $7 (out-of-state) per car).
In addition to the standard Sunday event, QOC's Bob Turbyfill will be conducting a special training course on Saturday, April 14th and Sunday, April 15th for the beginner to intermediate-level orienteer titled "Zero to Orange in Three Days." See the QOC website here for more information.
Park Information: Mason Neck State Park is also a great place for exploration on the water or by bike (a very smooth and family-friendly bike path runs through much of the park). Of note:
There's an extensive playground adjacent to our registration area.
Dogs are welcome in the park, but must be on a leash of length 6 feet or less at all times and "with a human on the other end", as a park ranger said.
April through October: kayaks and canoes may be rented for an hour or all day to explore Belmont Bay and Kane's Creek. It's a great way to see eagles; details are on the park website.
Nature Programs for Kids & Families: There are three programs on April 15th at Mason Neck--10am (Ranger at the Blind), 2pm (Guided Eagle Tour), and 5pm (Eagle Walk); details here.
Any youth or large groups attending, please contact the
Event Director
so that we can coordinate pre-registration for your group; the group registration and waiver
form
is part of the information on our
Group Leaders
page.
Location

Mason Neck SP, Mason Neck SP, Lorton, VA (Classic)

Registration
No advance registration required. Just show up and have fun!
Start Times
You may start your course at any time during the start window listed below for your event.
Schedule
Sunday, April 15

| | |
| --- | --- |
| 11:00 am - 3:00 pm | Classic: |

Volunteers
Location Details

Classic
Mason Neck SP
Mason Neck SP
Lorton, VA
Google Map

From southbound I-95, take exit 163 (Lorton). Go left onto Lorton Rd at the end of exit ramp. Go under the 2nd overpass and turn right onto Lorton Market St., then go about 1.5 miles to the traffic light at Route 1. Go straight through light (the road name changes to Gunston Rd) and go about 5 miles to the right turn on High Point Road (it's about 1.2 miles after the Pohick entrance). Once in the park ($7 in-state or $10 out-of-state entrance fee per vehicle on weekends), follow the signs towards the Visitor Center. The registration area will be to the left just before the Visitor Center; look for the banner.

Course Details
Classic

| | | | |
| --- | --- | --- | --- |
| Course Name | Length (km) | Climb (m) | No. Controls |
| White | 2.6 | 35 | 11 |
| Yellow | 3.1 | 35 | 13 |
| Orange | 4.8 | 55 | 12 |
| Brown | 4.6 | 45 | 13 |
| Green | 5.8 | 50 | 16 |
| Red | 7.5 | 65 | 18 |
| Blue | 11 | 75 | 23 |

Course Notes
Classic

The map has received a significant update starting in late February, with fieldwork occurring through the first week of March, the focus being on updating the mapped rootstocks. Unfortunately, the last day of fieldwork happened to be the day of the major windstorm that took down so many trees in Prince William Forest Park, forcing the cancellation of the planned training weekend. More fortunately, Mason Neck was much less affected. Nevertheless, while all rootstocks 1.5m high or higher may have been mapped as of early March, there are almost certainly a few new rootstocks in the terrain that came down on that day or since and that weren't among the dozen or so new rootstocks detected and added to the map during the subsequent course design process. Summing up, you can now once more count on mapped rootstocks existing in the terrain but you can't quite count on all rootstocks (let alone less than 1.5m high things having the appearance of rootstocks) you see in the terrain being on the map. Navigate accordingly.

The previous 5 foot contours dating back to the origin of the map in 2011 have been replaced with 2.5 meter contours, supplemented by formlines more or less throughout the flat, inland portions of the terrain and more selectively along the shores of the marshes and creek on the north side of the map, where there's more relief. The new contours and formlines are derived from LiDAR data collected in 2015 and provide a clear improvement in the depiction of subtle contour detail (wherever there is subtle contour variation as opposed to subtle near total lack of contour variation).

Orange and all advanced courses will be printed at 1:10,000. White and yellow may be printed at 1:7,500. Due to park restrictions on where courses could go, the white course is slightly more adventurous than the norm, featuring a short distance following a non-trail handrail as well as a few controls in open woods, visible from the nearby trail, but slightly farther away from it than is usual.

A number of former colliers huts (or equivalent shelters for people doing something other than making charcoal, there being no evidence in the form of charcoal platforms of any past charcoal production in the park) have been added to the map and some are used as control locations. In the terrain, these are slightly raised round platforms, perhaps 6 to 8 meters in diameter, surrounded by a shallow ditch. On the map, these are depicted as a circular/pentagonal dry ditch - five brown points evenly spaced around a common center point. They will also be described as a ditch in the control descriptions.

A couple of distinct trees have been added to the map despite being surrounded by vast numbers of other trees, one of which is used as a control feature on all advanced courses. The tree in question is both unusually large and, depending on your taste ruggedly/grotesquely charismatic - complaints over being asked to pick out a single tree in the middle of a forest are not anticipated from any sighted person.

All courses will involve two or more crossings of paved roads within the park, as well as crossing and/or travelling on paved paths shared with cyclists and other visitors to the park. The speed limit on the roads within the park is quite low but please exercise due caution whenever you see fit to cross or run along a paved surface regardless. Not that you can totally relax on dirt trails or in the woods either - the woods are generally very fast but there is more than enough small to medium sized deadfall to present a tripping hazard, and the leaf litter often quite effectively conceals the occasional small declivity that can easily throw you off your stride or even entirely off your feet.

Traffic and unavoidable slightly uneven terrain aside, Mason Neck is pretty unhazardous but the weather has been warming up so a reminder of the advisability of always performing a thorough tick check after orienteering seems in order.

The courses should present no temptation to intentionally stray into any of the out-of-bounds areas marked on the map. Please don't get distracted and do so inadvertently.

That all said, please enjoy the challenge of navigating the subtle near-flatness of a truly unique terrain in QOC's portfolio of maps.

Entry Fees
Individual Entries

Note: juniors = under 21

| | | | | |
| --- | --- | --- | --- | --- |
| | Club Member, adult | Club Member, junior | Non-Member, adult | Non-Member, junior |
| Epunch Owner | $5 | $5 | $10 | $5 |
| Epunch Borrower | $10 | $5 | $15 | $10 |

Team or Group Entries

Participants are welcome to compete together as a single team entry. Teams containing one or more nonmembers are charged the nonmember individual rate. Teams containing one or more adults are charged the adult individual rate. For teams to receive member or junior rates, all members of the team must be members or juniors, respectively. Each extra team map beyond the first is an additional $2. Individuals or teams desiring to compete on a second course can do so for a reduced fee of $2/map.

Important Notes

If you wish to become a QOC member you should join online in advance via this webpage (which also explains the member benefits). Membership is completely optional.
Most of our events use an 'epunch' timing chip for electronic timing. Individuals or groups without their own epunch pay a higher entry fee (see above), which includes the loan of an epunch for that event. Loaned epunches that are lost incur a $40 replacement fee. Epunches (also known as SI-cards or finger sticks) are usually available for sale at each event as described here.
Former QOC members who have let their membership lapse pay non-member fees.
Compasses are available at no charge, but if lost incur a $15 replacement fee.
Please provide collateral (driver's license or car keys) when borrowing a compass or epunch.
For additional safety, whistles are available for sale at $1/each.
Free beginner instruction is always available - just ask at the registration table.