Quantico Hangman Tree

Printer-friendly version

Send by email

PDF version
ShareThis
November 4
Sunday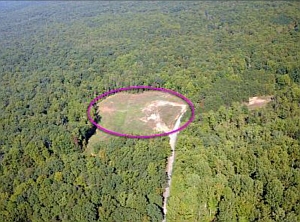 For the second day of our two-day Fall orienteering weekend, the action moves from the ravines and steep climbs of Fountainhead to the rolling open woodland of Training Area 16B west of Hangman Tree Road on Quantico Marine Corps Base (QMCB). This area was newly mapped by QOC's Francis Hogle for last year's national meet. The only change this year is that registration will not be at the very end of Hangman Tree Road where it runs up to the base perimeter fence. Instead, it will be in Landing Zone (LZ) Canary, an open area with some elevation on the west side of the road about 2000 meters south of that. Driving directions are below, and a map with driving directions on base is here.
Daniel Heimgartner and Bill Wright are designing and setting a full set of courses that will allow runners to enjoy the contrast with Saturday's Fountainhead event. Event timing is standard. Registration opens at 10:45am. Courses open at 11:00pm. All participants need to be out of the woods by 3:00pm. [You will have set your clocks back an hour on Saturday night, right?]
Please read the directions in the next three paragraphs carefully:
Since this event is being held on a US Marine Corps installation, there are unique administrative requirements that must be met. All participants 18 and older are required to submit full name, nationality and social security number (for US citizens) or passport number (for non-US citizens) using the encrypted form available HERE. The form must be submitted no later than 11:59pm on Tuesday, 30 October. That's five days before the meet, so don't wait to accomplish this task. When arriving at the MCBQ West Gate (directions below) all adult participants will need to present driver's license or passport to be checked against the list of names and SSNs submitted in advance. Those with military identification or CAC cards do not need to submit the data described above.
In addition to the security data, each attendee over the age of 18 (both those who run courses and those who do not) will have to sign and submit a special 'adult waiver' for MCBQ. Please print out, sign and turn in the waiver at registration. If you arrive without a signed waiver, there will be blank waiver forms at registration, but it will speed the registration process if you have it done in advance.
For each attendee under the age of 18, there is a waiver form for minors that must be signed by his/her parent/guardian. Those under the age of 18 who will not be accompanied by their parent/guardian must ensure that a parent/guardian has signed the form before they depart for the event. For youth groups such as JROTC units and FUMA, group leaders will collect a form for each minor signed by his/her parent/guardian and collate and bring to registration with a copy of the unit's group registration form and payment. Registrars will verify that everyone on the group registration has a signed waiver. No youth group member (or any other minor) will be allowed to run without the waiver signed by his/her parent/legal guardian. Again, if there are any youth group members who are 18 or older, they must provide the data required of adult participants. Youth group leaders should feel free to contact the meet director with any questions.
For those who will be coming south on I-95 to get to QMCB for the event, it is important to note that Dominion Power will be upgrading transmission lines crossing the highway on Saturdays and Sundays through November 4th, the day of our meet. Work will take place between sunrise and 10am, and delays may persist after that time, so consider route variations and allow extra time to get to QMCB, also keeping in mind that it is about 20 minutes driving time from the West Gate to LZ Canary.
Location

Quantico Marine Corps Base (MCBQ), LZ Canary, Triangle, VA (Classic)

Registration
The base entry form that must be submitted before Oct. 31 for each participant over 17 is online here. Course registration (and payment) will take place at the event.
Start Times
Start any time between the specified times (usually 11am - 1:30pm).
Schedule
Sunday, November 4

| | |
| --- | --- |
| 11:00 am - 3:00 pm | Classic: |

Volunteers
Location Details

Classic
Quantico Marine Corps Base (MCBQ)
LZ Canary
Triangle, VA
Google Map

Travelling South on I-95, take exit 148 toward Marine Corps Base Quantico. Use the right 2 lanes to turn right onto Russell Rd. Once through the security gates continue onto MCB 1. Go straight through the traffic light at 1.7 miles, travel another 0.6 miles, and turn right at the intersection to continue on MCB 1 (watch for the QOC Orienteering sign). Continue on MCB 1 for another 5.7 miles to N Hangman Tree Rd (watch for another QOC Orienteering sign). Turn right on N. Hangman Tree Rd and travel approximately 2 miles to Landing Zone (LZ) Canary.

Course Details
Classic

| | | | |
| --- | --- | --- | --- |
| Course Name | Length (km) | Climb (m) | No. Controls |
| White | 2.1 | 40 | 8 |
| Yellow | 3.1 | 85 | 10 |
| Orange | 3.5 | 105 | 9 |
| Beige | 3.3 | 130 | 6 |
| Brown | 4.5 | 165 | 9 |
| Green | 6.2 | 200 | 9 |
| Red | 7.6 | 230 | 12 |
| Blue | 9.7 | 295 | 13 |

Course Notes
Classic

Today's event is not your typical urban park with lots of well-traveled trails. Rather, if your selected course forces you to leave the few paths, you find yourself in rough and untamed terrain. For the white, yellow, and orange courses we even had to extend the map, in order to take advantage and include a trail of our outdated Combat Village map to the South. Anyway, some of the off-trail sections will be streamered. The man-made objects (black x'es on the map) mapped throughout the area, are empty ammunition boxes. The Marines use them for land-navigation training.
On all advanced courses, including Beige, you can expect to get wet feet (Sorry), even if the weather stays dry this week. The stream areas are very marshy. The mapped rides (long, thin dashed lines) can be very indistinct and covered with leaves, and therefore can be quite invisible. Also, expect more fallen trees than mapped. However, vegetation, in general, is reasonably accurate.
Again, don't forget to register with USMC Quantico by Tuesday, and remember we fall back to Wintertime on Sunday. Some hardy ticks may have survived the recent cold temperatures, so don't be hesitant with the use of tick repellent.

Entry Fees
Individual Entries

Note: juniors = under 21

| | | | | |
| --- | --- | --- | --- | --- |
| | Club Member, adult | Club Member, junior | Non-Member, adult | Non-Member, junior |
| Epunch Owner | $5 | $5 | $10 | $5 |
| Epunch Borrower | $10 | $5 | $15 | $10 |

Team or Group Entries

Participants are welcome to compete together as a single team entry. Teams containing one or more nonmembers are charged the nonmember individual rate. Teams containing one or more adults are charged the adult individual rate. For teams to receive member or junior rates, all members of the team must be members or juniors, respectively. Each extra team map beyond the first is an additional $2. Individuals or teams desiring to compete on a second course can do so for a reduced fee of $2/map.

Important Notes

If you wish to become a QOC member you should join online in advance via this webpage (which also explains the member benefits). Membership is completely optional.
Most of our events use an 'epunch' timing chip for electronic timing. Individuals or groups without their own epunch pay a higher entry fee (see above), which includes the loan of an epunch for that event. Loaned epunches that are lost incur a $40 replacement fee. Epunches (also known as SI-cards or finger sticks) can be purchased from online vendors as described here.
Former QOC members who have let their membership lapse pay non-member fees.
Compasses are available at no charge, but if lost incur a $15 replacement fee.
Please provide collateral (driver's license or car keys) when borrowing a compass or epunch.
For additional safety, whistles are available for sale at $1/each.
Free beginner instruction is always available - just ask at the registration table.