Fountainhead Central

Printer-friendly version

Send by email

PDF version
ShareThis
November 3
Saturday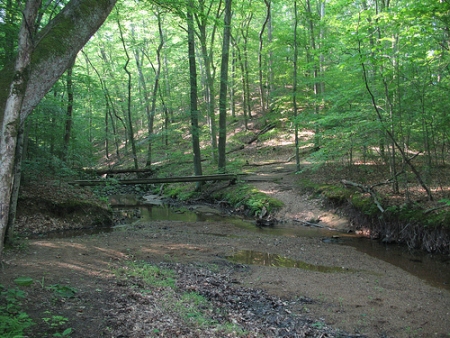 Welcome to QOC's Fall Orienteering Weekend. On the weekend of 3-4 November, we will be offering back-to-back local events in two great orienteering locations. We will be at Fountainhead Central, some of the best orienteering terrain that QOC has to offer, on Saturday, November 3rd. Then, the following day, Sunday, November 4th, we return to the excellent, open woodland of Hangman Tree Road-Landing Zone (LZ) Canary on Marine Corps Base Quantico, newly mapped last year for the national meet. (Registering to get on Base is required for Quantico.) So mark your calendar for two consecutive days of great navigating through prime, open woods at the best time of year!
Discover Fountainhead Regional Park with some of the most well defined terrain features in Virginia. Come enjoy a full set of courses in this classic QOC terrain, courtesy of a team of course setters. The full range of courses from white (beginner) through blue (advanced) will be available, and full course stats and course setter comments are now posted below.
No preregistration is needed, and event timing will be as follows: registration will be open from 10:45am - 1:15pm, you can start anytime between 11am - 1:30pm, and everyone must be out of the woods by 3:00pm.
As usual, youth groups and other large groups planning to attend this event should use the information on our Group Leaders page for group registration and include the waiver form.
Additional information:
The nearby mountain bike course may be open dependent weather, so bring your bike and get a great ride before or after running an orienteering course. In case of rain, call the trail hotline at 703-250-9124 to check on status.
Carpooling is encouraged as a courtesy to other park users.
Dogs on leash are welcome.
GPS watch loaner program continues, for anyone interested in trying one out. See Jon Torrance at the event.
FYI: at this time of year, the miniature golf course and the marina are closed.
Don't forget that this is the weekend when clocks go back one hour (between Saturday and Sunday)!
Feel free to use our
Contact Us
form if you have any questions!
Location

Fountainhead Regional Park, Main parking area, Fairfax Station, VA (Classic)

Registration
No advance registration required. Just show up and have fun!
Start Times
Start any time between the specified times (usually 11am - 1:30pm).
Schedule
Saturday, November 3

| | |
| --- | --- |
| 11:00 am - 3:00 pm | Classic: |

Volunteers
Location Details

Classic
Fountainhead Regional Park
Main parking area
Fairfax Station, VA
Google Map

One route among several: Take I-95 south of the Beltway, exit at Lorton Road (exit 163), go west 2.1 miles (4th stop light) and at the end of the road take a right onto Route 123. Drive 1.3 miles to Hampton Road, then turn left just past the fire station and drive 3 miles to the park entrance on the left.

Course Details
Classic

| | | | |
| --- | --- | --- | --- |
| Course Name | Length (km) | Climb (m) | No. Controls |
| White | 1.7 | 85 | 9 |
| Yellow | 2.6 | 140 | 9 |
| Orange | 4.2 | 215 | 11 |
| Brown | 3.7 | 225 | 8 |
| Green | 4.9 | 330 | 11 |
| Red | 7.5 | 495 | 17 |
| Blue | 9.4 | 530 | 23 |

Course Notes
Classic

Today's start and finish will be run out of the main parking lot. A full range of courses is available from White (beginner) to Blue (most advanced). The park is quite hilly and is a favorite location for mountain biking and trail running. As such, the total climb on the advanced courses is on the high end. Overall, the map quality is good. There is an out of bounds area that is clearly marked on the map in red hash marks but is not clearly marked on the ground.

For those who weren't at the last Fountainhead Central meet in January, there have been major changes to the trail network with the trails rerouted to follow contours, and the old trail network that ran primarily along ridge lines now gradually degrading and depicted on the map as rides or indistinct trails. Runners should also be aware that there is now a moderate amount of bike traffic on the trails they will be using, although bikers generally know that the trails north and west of the parking lot are dual-use and ride with caution.

Trails that run nearby or cross streams may be difficult to follow due to being washed out or covered with debris from recent heavy rains. The streams are running high, but are passable. You will likely get your feet wet if you cross without using the footbridges. The trail along the major east-west stream valley north of the parking lot and maintenance area, in particular, can be tricky to follow and the stream itself is the linear feature that white and yellow runners should rely on if they find it difficult to pick out the trail.

Today's courses were designed and set by students in this fall's QOC course setting course--Laura and Aaron Linville, Andrew Komm, Patrick Farley, Gavin Weise, Charles Carrick and Paul Hession--under the guidance of the club's chief mapper, Francis Hogle. The intent of the course setter's course is to increase the pool of qualified personnel that can contribute to the club by designing and setting courses for club events. We encourage you to provide feedback to the course design team after you complete your course.

Entry Fees
Individual Entries

Note: juniors = under 21

| | | | | |
| --- | --- | --- | --- | --- |
| | Club Member, adult | Club Member, junior | Non-Member, adult | Non-Member, junior |
| Epunch Owner | $5 | $5 | $10 | $5 |
| Epunch Borrower | $10 | $5 | $15 | $10 |

Team or Group Entries

Participants are welcome to compete together as a single team entry. Teams containing one or more nonmembers are charged the nonmember individual rate. Teams containing one or more adults are charged the adult individual rate. For teams to receive member or junior rates, all members of the team must be members or juniors, respectively. Each extra team map beyond the first is an additional $2. Individuals or teams desiring to compete on a second course can do so for a reduced fee of $2/map.

Important Notes

If you wish to become a QOC member you should join online in advance via this webpage (which also explains the member benefits). Membership is completely optional.
Most of our events use an 'epunch' timing chip for electronic timing. Individuals or groups without their own epunch pay a higher entry fee (see above), which includes the loan of an epunch for that event. Loaned epunches that are lost incur a $40 replacement fee. Epunches (also known as SI-cards or finger sticks) can be purchased from online vendors as described here.
Former QOC members who have let their membership lapse pay non-member fees.
Compasses are available at no charge, but if lost incur a $15 replacement fee.
Please provide collateral (driver's license or car keys) when borrowing a compass or epunch.
For additional safety, whistles are available for sale at $1/each.
Free beginner instruction is always available - just ask at the registration table.