Prince William Forest Night-O

Printer-friendly version

Send by email

PDF version
ShareThis
February 27
Saturday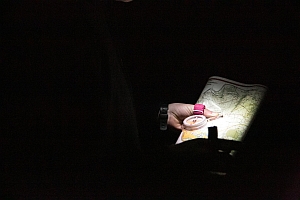 Come orienteer in the dark - it's fun, it's instructive, and we've got a warm lodge with a fireplace, food and convivial folks to hang out with after your run.
This Night-O event does not require pre-registration, so just come to the event and register any time between 6pm - 7:30pm. Start your course any time between 6:30 - 8:30pm, and be absolutely sure to be back before 10pm.
Course options include beginner, intermediate and advanced level courses; preliminary details are posted below. A potluck dinner will start around 8:30pm, with socializing and games for those who are so inclined the rest of the evening.
If you are planning on spending the night in one of the group cabins, you do need to pre-register. To learn more about the facilities click here. The Happyland Camp can accommodate up to 104 people staying overnight in one of 4 heated dorms (mattresses are provided; overnighters will have to bring their own bedding); for more information on this, see the Training Weekend webpage.
Any youth or large groups attending, please contact the Event Director so that we can coordinate pre-registration for your group; the group registration and waiver form is part of the information on our Group Leaders page.
Any questions? Feel free to use our Contact Us form or email an event volunteer directly via the linked names below.
Location

Prince William Forest Park, Camp 5 - Happyland, Triangle, VA (Night-O)

Registration
No advance registration required. Just show up and have fun!
Start Times
You may start your course any time between 6:30pm - 8:30pm.
Schedule
Saturday, February 27

| | |
| --- | --- |
| 6:00 pm - 8:00 pm | Night-O: Register for Night-O |
| 6:30 pm - 8:30 pm | Night-O: Night-O Starts |
| 10:00 pm | Night-O: Night Courses Close: All Orienteers must have finished. |

Volunteers
Location Details

Night-O, Night-O, Night-O
Prince William Forest Park
Camp 5 - Happyland
Triangle, VA
Google Map

From I-95 exit 150B (near Triangle, VA) go west on Joplin Road ~4.5 miles, then turn right and follow the red and white orienteering signs on Mawavi Road. Registration is (usually) in the Dining Hall of Camp 5. More detailed directions available using the Google map link. Note: Mawavi Road is likely to have runners on it - please be careful as you drive in. Please park in lots or where directed by volunteers (otherwise you're likely to get a costly ticket).

Course Details
Night-O

| | | | |
| --- | --- | --- | --- |
| Course Name | Length (km) | Climb (m) | No. Controls |
| Beginner | 2.9 | 105 | 9 |
| Intermediate | 3.1 | 140 | 7 |
| Short Advanced | 3.5 | 135 | 10 |
| Medium Advanced | 5 | 225 | 12 |
| Long Advanced | 6.4 | 285 | 15 |

Course Notes
Night-O

All maps are printed at 1:10,000. The start is along the camp entrance road, near the camp parking lot. The finish is next to the dining hall. If lost, please head west and eventually you'll get back to Route 619 and thereby to the cabin camp or directly to the cabin camp. If disoriented, going downhill will take you to the south fork of Quantico Creek. Following it upstream/west/to the left will eventually get you back to the cabin camp.

The beginner course wends it way along the trails, roads and open areas of Cabin Camps 2 and 5 and the area between them. In daylight, this would be a yellow course, with most of the controls a short distance into the woods from the nearest handrail. Careful attention to where to head into the woods is recommended. Scanning with your light for any reflections off in the right direction once in the vicinity is also likely to be rewarded.

The intermediate and the three advanced courses plunge into the steep spurs and reeentrants east of Cabin Camp 5, between the south fork of Quantico Creek and Route 619. This terrain is similar to much of the western half of the park, with mostly runnable woods but some thicker areas. The map is aging, but gracefully enough that the vegetation mapping is still generally useful for indicating where the visibility and runnability are both reduced. The worst of both is mostly encountered immediately to the east of the cabin camp - please plan your routes through the thicker stuff carefully and take extra care/slow down if needed.

For those who remember last year's night-O at this venue, or who have looked at the Routegadget, the intermediate course is both shorter and somewhat easier. The advanced courses are merely shorter, i.e. very challenging technically for night-O courses. Please pick your course accordingly. Enjoy.

Jon Torrance

Entry Fees
Individual Entries

Note: juniors = under 21

| | | | | |
| --- | --- | --- | --- | --- |
| | Club Member, adult | Club Member, junior | Non-Member, adult | Non-Member, junior |
| Epunch Owner | $5 | $5 | $10 | $5 |
| Epunch Borrower | $10 | $5 | $15 | $10 |

Team or Group Entries

Participants are welcome to compete together as a single team entry. Teams containing one or more nonmembers are charged the nonmember individual rate. Teams containing one or more adults are charged the adult individual rate. For teams to receive member or junior rates, all members of the team must be members or juniors, respectively. Each extra team map beyond the first is an additional $2. Individuals or teams desiring to compete on a second course can do so for a reduced fee of $2/map.

Important Notes

At the event, we can only accept payment in cash or check; online, you may use a credit card or PayPal account.
If you have access to a smartphone, you may become a member at the event by joining online via this webpage (which also explains the member benefits). Membership is completely optional. If you wish to join or renew, we strongly recommend joining (or renewing) online before the event rather than at it to save time and because it's easier.
Most of our events use an 'epunch' timing chip for electronic timing. Individuals or groups without their own epunch pay a higher entry fee (see above), which includes the loan of an epunch for that event. Loaned epunches that are lost incur a $40 replacement fee. Epunches (also known as SI-cards or finger sticks) are usually available for sale at each event as described here.
Former QOC members who have let their membership lapse pay non-member fees.
Compasses are available at no charge, but if lost incur a $15 replacement fee.
Please provide collateral (driver's license or car keys) when borrowing a compass or epunch.
For additional safety, whistles are available for sale at $1/each.
Free beginner instruction is always available - just ask at the registration table.