Balls Bluff

Printer-friendly version

Send by email

PDF version
ShareThis
December 11
Sunday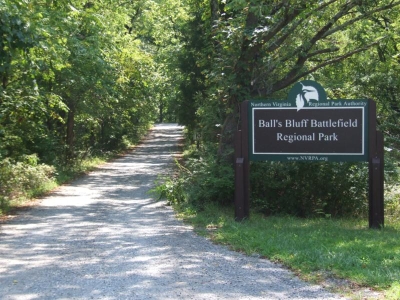 Balls Bluff welcomes you back! This park was last used in 2015, and is a favorite at this time of year. QOC member and OUSA Trail O Team competitor Daniel Heimgartner has designed a set of courses (white through red) taking advantage of the terrain offered by this unique park.
Our registration area will be at the Edwards Landing pavilion, at the south end of the park, so make sure to read the driving - and parking - directions. DO NOT park in the small Edwards Landing parking lot unless you are a meet helper. We prefer that you use the parking lot at Balls Bluff Elementary School which is about half a mile from Edwards Landing. If you car-pool, you can drop-off participants at Edwards Landing before parking there. Otherwise, a little walk as a warmup shouldn't do anyone any harm. Definitely do not park in or near the narrow cul-de-sac leading to Edwards Landing. This would surely rankle the residents in the cul-de-sac and possibly end our welcome to run events out of Edwards Landing. However, if you want to be closer than half a mile, you may park on one of the wide streets between Edwards Landing and Balls Bluff Elementary School - Hunton Place, Graywood Way and Wood Edge Drive- provided you refrain from block the residents' driveways or otherwise irking them. Click here for an overview map, showing our registration area in the lower right corner.
Balls Bluff Battlefield Park is the site of the first Civil War battle in Loudoun County (1861). The park has recently undergone restoration to more accurately reflect its 1861 condition, and you are encouraged to tour the area and its National Cemetery near the Potomac River.
Any youth or large groups attending, please contact the Event Director so that we can coordinate pre-registration for your group; the group registration and waiver form is part of the information on our Group Leaders page.

Post-Race MeetUp! The nearby Panera Bread cafe, located (here), is just a few minutes due south of the Balls Bluff School, and it's a fine place to hang out and discuss your routes, whether or not you're also taking advantage of the nearby Leesburg Premium Outlet Stores!
Location

Balls Bluff Regional Park, Edwards Landing Pavilion, Leesburg, VA (Classic)

Registration
No advance registration required. Just show up and have fun!
Start Times
You may start your course at any time during the start window listed below for your event.
Schedule
Sunday, December 11

| | |
| --- | --- |
| 11:00 am - 3:00 pm | Classic: |

Volunteers
Location Details

Classic
Balls Bluff Regional Park
Edwards Landing Pavilion
Leesburg, VA
Google Map

Take the Dulles Toll Road or Rt. 7 to the Rt. 15 by-pass in Leesburg. Turn right for about a mile to Battlefield Parkway and then turn right. Balls Bluff Elementary School will be on the right after 0.7 miles. (Some Marylanders may want to use White's Ferry).

Directions to Edwards Landing from the school: From Battlefield Parkway southbound, turn left near the south end of the school to go east on Hunton Place for 0.3 miles, then turn right at the intersection with Graywood Way/Woods Edge Drive and go 0.1 miles before turning left on Powhatan Ct. The entrance to the small Edwards Landing parking area is on the right side of the turnaround circle. Note to those walking: it's just 0.6 miles, but please be especially careful crossing Battlefield Parkway. Click here for an overview map.

Course Details
Classic

| | | | |
| --- | --- | --- | --- |
| Course Name | Length (km) | Climb (m) | No. Controls |
| White | 1.9 | 70 | 8 |
| Yellow | 2.5 | 85 | 9 |
| Orange | 4 | 145 | 11 |
| Brown | 3.8 | 170 | 10 |
| Green | 5.5 | 190 | 11 |
| Red | 7.6 | 255 | 18 |

Course Notes
Classic

All courses will have two to three controls at neighborhood sidewalks before heading into the woods. So be extra careful and considerate when you meet people just out for a walk. The private properties, shown with an olive-green color on the map, are not to be trespassed or crossed under any circumstances.
After this mix of Sprint-O and Trail-O (watch your compass and control description), all courses will be in the woods and will go more or less straight back to the finish (depending on the experience-level, that is). If you don't know it, let me express it again: even though the park is small, it is not flat at all. Expect a lot of ups and downs.
The visibility is very good, without much vegetation. In other words, the resident deer population keeps the nasty stuff down. The deer are very visible, since they are trapped between the river in one side, and dense housing developments on the others.
The recent rain did not help much in pressing down the fallen leaves. Some trails would be hard to see, if it would not be for the painted trail markers on the trees. Fortunately, there are no rocks to be covered up. However, keep your eyes open for eventual roots and fallen branches.
Unless we get more rain, the numerous creeks and streams on the map are all dry now (even the Potomac is narrower), so not to worry about wet feet.
Therefore, if the weather holds up, have fun out there and enjoy yourself.

Entry Fees
Individual Entries

Note: juniors = under 21

| | | | | |
| --- | --- | --- | --- | --- |
| | Club Member, adult | Club Member, junior | Non-Member, adult | Non-Member, junior |
| Epunch Owner | $5 | $5 | $10 | $5 |
| Epunch Borrower | $10 | $5 | $15 | $10 |

Team or Group Entries

Participants are welcome to compete together as a single team entry. Teams containing one or more nonmembers are charged the nonmember individual rate. Teams containing one or more adults are charged the adult individual rate. For teams to receive member or junior rates, all members of the team must be members or juniors, respectively. Each extra team map beyond the first is an additional $2. Individuals or teams desiring to compete on a second course can do so for a reduced fee of $2/map.

Important Notes

At the event, we can only accept payment in cash or check; online, you may use a credit card or PayPal account.
If you have access to a smartphone, you may become a member at the event by joining online via this webpage (which also explains the member benefits). Membership is completely optional. If you wish to join or renew, we strongly recommend joining (or renewing) online before the event rather than at it to save time and because it's easier.
Most of our events use an 'epunch' timing chip for electronic timing. Individuals or groups without their own epunch pay a higher entry fee (see above), which includes the loan of an epunch for that event. Loaned epunches that are lost incur a $40 replacement fee. Epunches (also known as SI-cards or finger sticks) are usually available for sale at each event as described here.
Former QOC members who have let their membership lapse pay non-member fees.
Compasses are available at no charge, but if lost incur a $15 replacement fee.
Please provide collateral (driver's license or car keys) when borrowing a compass or epunch.
For additional safety, whistles are available for sale at $1/each.
Free beginner instruction is always available - just ask at the registration table.