Patapsco Glen Artney

Printer-friendly version

Send by email

PDF version
ShareThis
March 8
Sunday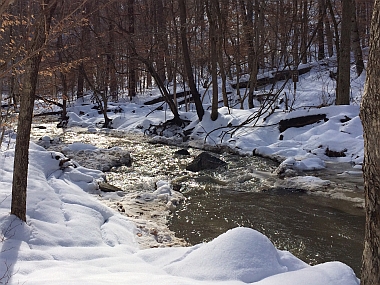 Last & Final Update, as of 6pm Sat: We're looking forward to seeing you at this event! See update on conditions below.
This event offers a full set of classic courses (white through blue) as well as an UltraLong course; stats for all courses are posted below.
Registration for the UltraLong (only) will open at 9am, since the UltraLong mass start will be at 9:30am. Pre-registration is mandatory for the UltraLong and the entry fee is $10/$15 for members/non-members. Pre-registration will close Friday, March 6 at midnight. SI-8 epunches will be fine to use (since there will be less than 30 controls), and they will be available to rent for $5. For those running in groups (teams), all individuals must register (and stay together during the race) but only one needs to have an epunch.
For the classic courses, fees are the regular QOC event fees (see below) and registration will take place that day at the event. Registration and start windows will be at the usual/classic times: 10:45 - 1:15 to register, and start any time between 11 - 1:30.
Update on conditions:
The N-S stream has some water in it, and wet feet are a certainty. However, it does not appear hazardous at this time, as long as you walk carefully across it without trying to jump using stones, logs, etc.
The footing is becoming squishy and slippery in some places as the snow melts, and running is possible, but obviously much more strenuous than usual. Cleats are definitely recommended.
White and Yellow courses should find most paths visible; note that Yellow course orienteers will go off the trails, but in an area where there is a strong handrail, so it should be OK.
Wet feet can be expected on all courses!
All competitors regardless of course type (classic or UltraLong) must finish before 3pm.
Any youth or large groups attending, please contact the Meet Director so that we can coordinate pre-registration for your group; the group registration and waiver form is part of the information on our Group Leaders page.
Any questions? Feel free to ask any time using our Contact Us form.
Location

Patapsco Valley State Park, CCBC Catonsville, Catonsville, MD (Classic w UltraLong)

Registration
UltraLong participants must pre-register by Friday midnight (March 6) via this link, and then check in on race day at 9am. Classic (white through blue) course participants register at the event anytime between 10:45 - 1:15.
Start Times
Daylight Savings Time - set clocks forward one hour Sat night! UltraLong start (only) at 9:30am. For classic courses, start anytime between 11 - 1:30. Everyone must be back to download no later than 3pm. This event has been rescheduled to Sunday March 8.
Schedule
Sunday, March 8

| | |
| --- | --- |
| 11:00 am - 3:00 pm | Classic w UltraLong: |

Volunteers
Location Details

Classic w UltraLong
Patapsco Valley State Park
CCBC Catonsville
Catonsville, MD
Google Map

Take 95 to 195/166 west. Take this until the road ends at South Rolling Road (keep right or you will end up in the Park-n-Ride). Go right/North on South Rolling Road. South Rolling Road has speed cameras so pay attention to the posted speed limit. Take South Rolling road to Campus Drive (there is a stop light there). Go left on Campus Drive. Follow Campus Drive to the top of the hill where the road splits to make a loop around the campus; keep left at this split. Follow the road around to Lot 6. Registration will be towards the field.

Course Details
Classic w UltraLong

| | | | |
| --- | --- | --- | --- |
| Course Name | Length (km) | Climb (m) | No. Controls |
| White | 2.1 | 75 | 10 |
| Yellow | 2.9 | 115 | 11 |
| Orange | 5.1 | 240 | 15 |
| Brown | 4.7 | 200 | 12 |
| Green | 6.2 | 270 | 15 |
| Red | 7.5 | 345 | 17 |
| Blue | 10 | 405 | 19 |
| UltraLong | 16.1 | 610 | 27 |

Course Notes
Classic w UltraLong

See update on conditions above!

The woods are open and visibility is good; however, the ground is stony in many areas, and the stones in turn are covered with leaves and sometimes small deadfall. This means that the footing can be a little loose and may slow you down. A number of paths have recently been re- routed by the park rangers, especially in the south-eastern section of the map used by the UltraLong runners, and a few corrections have been made to the map. However, UltraLong runners should not rely solely on the trails for navigation when running to the second control.

The Yellow course offers a couple of sections with off-trail navigation, but follows linear features, and should not be overly difficult when exercising due care in map reading and navigation.

The Green, Red, Blue and Ultra-Long courses all cross Hilltop Road, which carries regular traffic, so please use caution when crossing, and do not use the road as a route choice. Also, all courses except White will cross Hilton Ave., which carries (light) traffic into Patapsco Park, so again, please use caution when crossing.

Caution: In the far north/west part of the map - which will be accessed by the Green, Red, Blue and UltraLong courses - there is an open, deep well at ground level, just north of the settlement at the junction of the power line and Hilltop Road; the well will be marked with blue streamer tape.

Map scales will be the standard of 1:5000 for White and Yellow courses, 1:7500 for Orange and Brown courses, and 1:10000 for the other courses. All maps are letter size, except for the UltraLong, which is legal size (and double-sided). On the map, almost all green slash is thorny, and especially under the power line, it can be quite dense. Isolated rocks tend to be fairly small (0.5-0.75m). Some mapped rocks are wider than tall and since they don't stick up much are easy to miss. Snow covers the ground, including small rocks and branches, so plan on stepping carefully and on travel being slower.

Special symbols: Sewers/man holes are mapped as a circle with an S in them.

Entry Fees
Individual Entries

Note: juniors = under 21

| | | | | |
| --- | --- | --- | --- | --- |
| | Club Member, adult | Club Member, junior | Non-Member, adult | Non-Member, junior |
| Epunch Owner | $5 | $5 | $10 | $5 |
| Epunch Borrower | $10 | $5 | $15 | $10 |

Team or Group Entries

Participants are welcome to compete together as a single team entry. Teams containing one or more nonmembers are charged the nonmember individual rate. Teams containing one or more adults are charged the adult individual rate. For teams to receive member or junior rates, all members of the team must be members or juniors, respectively. Each extra team map beyond the first is an additional $2. Individuals or teams desiring to compete on a second course can do so for a reduced fee of $2/map.

Important Notes

At the event, we can only accept payment in cash or check; online, you may use a credit card or PayPal account.
You may become a member at the event or by joining online via this webpage (which also explains the member benefits). Membership is completely optional.
Most of our events use an 'epunch' timing chip for electronic timing. Individuals or groups without their own epunch pay a higher entry fee (see above), which includes the loan of an epunch for that event. Loaned epunches that are lost incur a $40 replacement fee. Epunches (also known as SI-cards or finger sticks) are usually available for sale at each event as described here.
Compasses are available at no charge, but if lost incur a $15 replacement fee.
Please provide collateral (driver's license or car keys) when borrowing a compass or epunch.
For additional safety, whistles are available for sale at $1/each.
Free beginner instruction is always available - just ask at the registration table.