Patapsco McKeldin

Printer-friendly version

Send by email

PDF version
ShareThis
January 18
Sunday
Update! Yes, this event is on (and we have received the permit), so plan on some fine orienteering this Sunday ...
Welcome 2015 in (a second time, for those who went to Combat Village) with some orienteering! We fully expect that winter weather will be on full display for a meet in mid-January, and we'll certainly have some warm post-event goodies. We hope to see lots of folks out to experience McKeldin's hilly terrain and the challenging courses thanks to course designer Jon Torrance. Preliminary course details are posted below, and event timing will be standard (register any time between 10:45 - 1:15, start any time between 11 - 1:30, and finish and download no later than 3pm).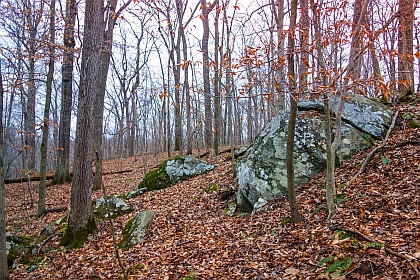 Any youth or large groups attending, please contact the Event Director so that we can coordinate pre-registration for your group; the group registration and waiver form is part of the information on our Group Leaders page.
E-punching will be in use, and course details and the course setter's comments are be posted below. If you are considering trying a harder level course than usual, you might want to consider it carefully since McKeldin is known for its rather steep terrain. Note: there is a park entrance fee that will be collected ($2 per vehicle for MD residents, $4 per vehicle for others) actually, the posted entrance fee for weekends and holidays is $3 per MD resident and $5 per out of state visitor. There may be someone there to collect it or it may be on the honor system with envelopes and a slot in a secure box to slip them through. If it's the latter, please do be honorable - clear evidence that orienteers didn't pay up might compromise our ability to keep orienteering in state parks.
Location

Patapsco Valley State Park, McKeldin Area, Shelter 501, Marriottsville, MD (Classic)

Registration
No advance registration required. Just show up and have fun!
Start Times
You may start your course at any time between 11 - 1:30.
Schedule
Sunday, January 18

| | |
| --- | --- |
| 10:45 am - 1:15 pm | Classic: Registration window |
| 11:00 am - 1:30 pm | Classic: Start window |
| 3:00 pm | Classic: All courses close - please report to the finish and download no later than 3pm |

Volunteers
Location Details

Classic, Classic, Classic
Patapsco Valley State Park
McKeldin Area, Shelter 501
Marriottsville, MD
Google Map

From I-695/I-70 West take I-70 to Marriottsville Rd. (Exit 83). Go North on Marriottsville Rd. for 4 miles to the park entrance on the right. After paying park entrance fees, follow O-signs to shelter #501.

From I-70 East take Rt. 40 (Exit 82, Balt. Natl. Pike) to Marriottsville Rd. Turn left. Park entrance is 5 miles on the right. After paying park entrance fees, follow O-signs to shelter #501.

Course Details
Classic

| | | | |
| --- | --- | --- | --- |
| Course Name | Length (km) | Climb (m) | No. Controls |
| White | 2.8 | 95 | 8 |
| Yellow | 3.5 | 170 | 8 |
| Orange | 4.5 | 255 | 11 |
| Brown | 4 | 205 | 12 |
| Green | 5.5 | 280 | 17 |
| Red | 7.2 | 365 | 22 |
| Blue | 8.8 | 460 | 23 |

Course Notes
Classic

Course stats are posted above. The map is in generally good shape, with lots of rock features, isolated and clustered together, to bring joy to the heart of an orienteer. However, two classes of features you should be wary of relying on are rootstocks and small open or semi-open areas in the woods. Rootstocks could use a map-wide update - some have decayed while new ones have popped up. Two decayed rootstocks inside control circles were removed from the map but there wasn't time during the course design effort to update rootstocks beyond that. As to small clear and semi-open areas surrounded by woods, they're there but perhaps not as apparent and distinct-edged in the terrain as they appear on the map.

The woods are mostly very similar to those we ran in at Granite in December - fast and open, with high visibility, except in the westernmost quarter, approximately, of the park, where there is a fair bit of undermapped low vegetation and deadfall, with occasional thorns, that will slow you down and is worth scanning ahead for and going somewhat out of your way to avoid. This should, of course, only be a factor for the orange and advanced courses when they leave the trails - white and yellow course participants should be safe. That aside, the only things slowing you down should be the steepness of much of the terrain and confusion over which way to go.

Given the very good visibility, controls are generally hung pretty low to the ground. The sole exception is control 134 on the Green, Red and Blue courses, which is hung beside a rootstock which appears to me to be a little higher - probably ~ 1 contour - in real life than it is shown on the map. With course setting on relatively short notice and being out of town for the holidays, time was lacking to fix the map to show the rootstock in precisely the right location, hence the chest-high hang for this control - it should be unmissable if you get anywhere nearby and keep your eyes open.

One other map note for all of Brown, Green, Red and Blue - there is what strikes me as being another fairly low but mappable cliff inside the circle for control 125, a few meters southest of the control feature. I hope this won't throw anyone off - the control feature is accurately positioned on the map in relation to the other larger rock features within the circle.

Entry Fees
Individual Entries

Note: juniors = under 21

| | | | | |
| --- | --- | --- | --- | --- |
| | Club Member, adult | Club Member, junior | Non-Member, adult | Non-Member, junior |
| Epunch Owner | $5 | $5 | $10 | $5 |
| Epunch Borrower | $10 | $5 | $15 | $10 |

Team or Group Entries

Participants are welcome to compete together as a single team entry. Teams containing one or more nonmembers are charged the nonmember individual rate. Teams containing one or more adults are charged the adult individual rate. For teams to receive member or junior rates, all members of the team must be members or juniors, respectively. Each extra team map beyond the first is an additional $2. Individuals or teams desiring to compete on a second course can do so for a reduced fee of $2/map.

Important Notes

At the event, we can only accept payment in cash or check; online, you may use a credit card or PayPal account.
You may become a member at the event or by joining online via this webpage (which also explains the member benefits). Membership is completely optional.
Most of our events use an 'epunch' timing chip for electronic timing. Individuals or groups without their own epunch pay a higher entry fee (see above), which includes the loan of an epunch for that event. Loaned epunches that are lost incur a $40 replacement fee. Epunches (also known as SI-cards or finger sticks) are usually available for sale at each event as described here.
Compasses are available at no charge, but if lost incur a $15 replacement fee.
Please provide collateral (driver's license or car keys) when borrowing a compass or epunch.
For additional safety, whistles are available for sale at $1/each.
Free beginner instruction is always available - just ask at the registration table.