Lake Needwood

Printer-friendly version

Send by email

PDF version
ShareThis
September 15
Sunday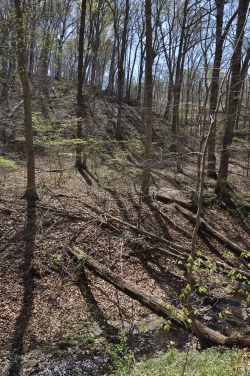 Welcome to the first event of the regular QOC 2013-2014 season! This will also be only third event at Lake Needwood, and it will feature a full slate of beginner through advanced courses designed by Peggy Dickison.
As with all QOC events, we will have free newcomer instruction at this event. A QOC member will show you how to read a map, teach you how to use a compass with your map and give you hints on how to navigate your choice of course. Besides that, just wear a smile and the clothes you would for a hike or run in a local park. Bring a compass, if you have one, or borrow one at the event. And dogs (on leash) are welcome at Lake Needwood too. Driving directions are below; we will be in Shelter A. Map scales are 1:7500 for beginner (white and yellow) courses and 1:10000 for all others; for other course details, see the stats below, as well as the course setter notes.
Note: Registration fees have been adjusted to speed and simplify registration, starting with this event, as detailed below. Due to insurance requirements, starting with this event QOC is also required to collect signatures from all adult participants (so for a group, not just the group leader's signature) and guardians.
Any youth or large groups attending, please contact the Event Director so that we can coordinate pre-registration for your group; the group registration and waiver form is part of the information on our Group Leaders page.
Nearby attractions include:
Boating on Lake Needwood - great for adults, kids and even dogs, click here for info, and for a panoramic photo by mapper Nadim Ahmed of part of the lake, click here
Park map - a Rock Creek Regional Park trail map with plenty of amenities can be found here, and a brochure here
A Go Ape treetop adventure course is also just nearby.
Location

Lake Needwood, Circle Parking Area, Derwood, MD (Classic Orienteering)

Registration
No advance registration required. Just show up between 10:45am - 1:15pm to register and have fun!
Start Times
You may start your course at any time between 11am - 1:30pm [making sure to be back no later than 3pm.]
Schedule
Sunday, September 15

| | |
| --- | --- |
| 11:00 am - 3:00 pm | Classic Orienteering: |
| 3:00 pm | Classic Orienteering: Courses close: All participants must be back out of the woods. |

Volunteers
Location Details

Classic Orienteering, Classic Orienteering
Lake Needwood
Circle Parking Area
Derwood, MD
Google Map

Get to Avery Rd from either Norbeck Rd (Rt 28) or Muncaster Mill Rd (Rt 115). From Avery Rd, turn onto Needwood Lake Dr, go 0.3 miles, then turn left on Beach Dr. The first right then leads to Needwood Lake Circle, and by continuing to follow QOC signs you should be led to the pavilion/shelter in use for the event, most likely towards the S end of the lake.

Course Details
Classic Orienteering

| | | | |
| --- | --- | --- | --- |
| Course Name | Length (km) | Climb (m) | No. Controls |
| White | 1.9 | 50 | 7 |
| Yellow | 3.2 | 75 | 13 |
| Orange | 4.4 | 110 | 13 |
| Brown | 3.5 | 100 | 9 |
| Green | 4.6 | 180 | 13 |
| Red | 6.8 | 215 | 15 |
| Blue | 9.5 | 250 | 19 |

Course Notes
Classic Orienteering

Lake Needwood is an interesting place for orienteering, with lots of trails, some intricate areas of vegetation, the lake, developed areas for picnicking, zip lining, and hiking, and some lovely open woods. Major bordering areas are a county golf course, a landfill, and housing.

The park is split into two unequal halves by the lake and Rock Creek. All courses from Orange up cross the creek, and while it's not deep or wide, you'll likely get wet. There are a few spots where there are some convenient rocks to get you across without getting wet, but they're not marked on the map and they're probably not worth going out of your way for. The water can be swift and knock you off balance if you aren't careful.

The woods, like so many in our area, are slowly being taken over by invasive plants—in particular, Japanese stiltgrass. While this plant has no thorns and is benign to us orienteers, in places it can grow a few feet tall, and wherever it grows it's hard to see what's under it. The courses avoid the worst areas of vegetation-gone-crazy, but you'll still have some patches to go through. Stiltgrass likes lower and wetter areas and open areas (along trails and fields). There is a powerline cut on the western side of the map; all the courses will go along and will cross parts of it. The vegetation here can be high but, again, is mostly non-flesh-ripping. The Yellow course has a streamered route to get through and across the powerline where there is no trail. This route is mandatory. It goes next to the golf course for part of the route; please stay off the greens. All courses must stay off the golf course grass, please.

Yellow and White have another streamered route that goes across a small stream. It is a mandatory route. There is no trail in this area.

Mapped features can be quite small. Do not navigate by rootstocks; some newer ones are not on the map, and some that are mapped are fairly small. When they're on the map, they are there, as are other mapped point features.

This park is popular and gets a lot of visitors, especially in the picnic areas and on the paved bike trail but also on the main trail on the west side of the lake. Please watch out for them, and take care if you are running on or across a road (this mostly applies to Red and Blue). Blue has to cross a main road twice; please check for speeding cars before crossing.

Entry Fees
Individual Entries

Note: juniors = under 21

| | | | | |
| --- | --- | --- | --- | --- |
| | Club Member, adult | Club Member, junior | Non-Member, adult | Non-Member, junior |
| Epunch Owner | $5 | $5 | $10 | $5 |
| Epunch Borrower | $10 | $5 | $15 | $10 |

Team or Group Entries

Participants are welcome to compete together as a single team entry. Teams containing one or more nonmembers are charged the nonmember individual rate. Teams containing one or more adults are charged the adult individual rate. For teams to receive member or junior rates, all members of the team must be members or juniors, respectively. Each extra team map beyond the first is an additional $2. Individuals or teams desiring to compete on a second course can do so for a reduced fee of $2/map.

Important Notes

At the event, we can only accept payment in cash or check; online, you may use a credit card or PayPal account.
You may become a member at the event or by joining online via this webpage (which also explains the member benefits). Membership is completely optional.
Most of our events use an 'epunch' timing chip for electronic timing. Individuals or groups without their own epunch pay a higher entry fee (see above), which includes the loan of an epunch for that event. Loaned epunches that are lost incur a $40 replacement fee. Epunches (also known as SI-cards or finger sticks) are usually available for sale at the electronic timing station at each event or via SportIdent.us.
Compasses are available at no charge, but if lost incur a $15 replacement fee.
Please provide collateral (driver's license or car keys) when borrowing a compass or epunch.
For additional safety, whistles are available for sale at $1/each.
Free beginner instruction is always available - just ask at the registration table.