Morven Park Night-O

Printer-friendly version

Send by email

PDF version
ShareThis
May 4
Saturday
This is a first: the first use of a new venue, for a night-orienteering adventure!
It may be hard to appreciate this area in the dark, but this Night-Orienteering event is designed to whet your appetite for future (day) orienteering events in this 1,200 acre private (yet nonprofit) park. A National Register Historic Property, Morven Park was for 40 years the home of Virginia Gov. Westmoreland Davis. While more than 100,000 people visit Morven Park each year these days, up until now it hasn't been for orienteering - it's been for it's equestrian center and courses, museums, historic gardens, sports fields or festivals (like this one). Time to expand the list!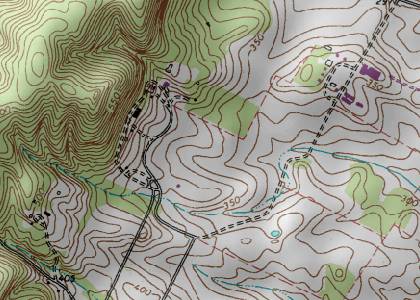 Please take into account the following:
There will not be an entrance fee.
Pre-registration is now open closed (see link below) and is strongly encouraged.
New: we will be using the southern entrance to Morven Park (directions below).
As shown by this adjacent section of a USGS topo map, the terrain is divided between relatively open, relatively flat fields with interspersed buildings and vegetation, and, a steep wooded area that could almost be considered an escarpment.
The beginner course will remain primarily in the open area(s); both advanced courses will head up into the hills.
Map scale is 1:7500 for the beginner course, and 1:10000 for all other courses. Map size is letter for all but the long advanced, which is on legal size paper.
Night orienteering is not recommended for those seeking to experience orienteering for the very first time.
Sorry, because this is a night event, no pets are allowed.
Large and/or youth groups must contact us in advance if interested in attending.
Maryland residents using the White's Ferry crossing: note that the ferry stops running at 11pm.
Please make sure you are entering Morven Park using the South entrance described below, and not using the north entrance on Tutt Lane.

Location

Morven Park, Southern Parking Area, Leesburg, VA (Night Orienteering)

Registration
Pre-Registration Is Now Open Closed: Click here and scroll down to this event ("QOC's Morven Park Night-O") to see who pre-registered. Registration at the event will also be possible.
Start Times
You may start your course at any time during the start window listed below for your event.
Schedule
Saturday, May 4

| | |
| --- | --- |
| 7:30 pm - 10:30 pm | Night Orienteering: |
| 8:00 pm - 9:00 pm | Night Orienteering: Registration Open |
| 8:30 pm - 9:15 pm | Night Orienteering: Start anytime during this window - but allow yourself enough time to be back by 10:15pm! |
| 10:15 pm | Night Orienteering: Courses Close: Everyone Must Be Back |

Volunteers
Location Details

Night Orienteering, Night Orienteering, Night Orienteering, Night Orienteering
Morven Park
Southern Parking Area
Leesburg, VA
Google Map

From the south via the Dulles VA-267 Toll Road: at the end of the toll road, take exit 1A on the left to merge onto US-15 South/VA-7 W towards Leesburg/Warrenton. In 2.7 miles, take the VA-7 Business exit towards Leesburg. Turn right onto Market St. Turn left onto Fairview St NW. Turn left onto Old Waterford Rd/State Route 698. In just 0.3 miles, turn right into Morven Park on Southern Planter Ln and follow the road in to the parking/registration area. Please note this lane is two-way.

Course Details
Night Orienteering

| | | | |
| --- | --- | --- | --- |
| Course Name | Length (km) | Climb (m) | No. Controls |
| Beginner | 2.8 | 45 | 8 |
| Intermediate | 4.4 | 75 | 12 |
| Medium Advanced | 5.2 | 160 | 11 |
| Long Advanced | 6.9 | 195 | 14 |

Course Notes
Night Orienteering

This unusual terrain has both scenic (even at night) components as well as certain unusual hazards. Especially given that this is night orienteering, please keep the following in mind:


Even the gentlest looking fields may have ankle-wrenching uneven bumps, gopher holes and the like.
Many fields have man-made objects depicted as a black X - particularly horse jumps - that you wouldn't want to jump off of.
Wire fences are typically found just inside the woods near field/woods boundaries; almost all are marked on the maps, but given low visibility both of the map and of the fences, be especially careful when transitioning between forests and fields.
Ticks are just as active at night, even if harder to see; check yourself post-event.

Entry Fees
Individual Entries

Non-Member: $10/adult, $6/junior (under 21 years old)

Member: $6/adult, $4/junior (under 21 years old)

Team or Group Entries

Participants are welcome to compete together as a single team entry. Teams containing one or more nonmembers are charged the nonmember individual rate. Teams containing one or more adults are charged the adult individual rate. For teams to receive member or junior rates, all members of the team must be members or juniors, respectively. Each extra team map beyond the first is an additional $2. Individuals or teams desiring to compete on a second course can do so for a reduced fee of $2/map.

Important Notes

At the event, we can only accept payment in cash or check; online, you may use a credit card or PayPal account.
Most of our events use electronic timing. We will provide you with an electronic timing chip (aka e-stick, finger dibber, or SI-card) for free if you don't own one. Loaned e-sticks that are lost incur a $40 replacement fee.
Compasses are available at no charge, but if lost incur a $15 replacement fee.
Please provide collateral (driver's license or car keys) when borrowing a compass or e-punch.
For additional safety, whistles are available for sale at $1/each.
Free beginner instruction is always available - just ask at the registration table.