Cabin John

Printer-friendly version

Send by email

PDF version
ShareThis
April 7
Sunday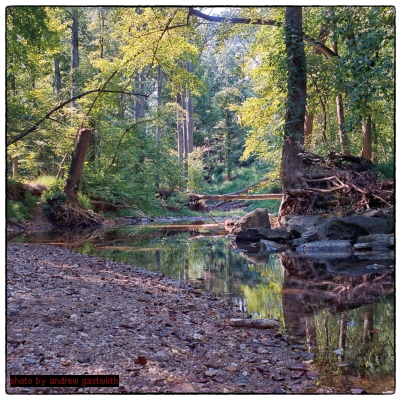 Welcome to one of our family-friendliest orienteering venues - and one that still has plenty of navigational challenges for all levels. We will be offering a full range of courses (2 beginner, 1 intermediate, and 4 advanced), thanks to US National Team veteran course setter Peggy Dickison. Detailed course setter notes are posted below; note that Red and Blue courses will have 4 road crossing controls for which time is not counted.
Yes - We will have compasses!. We will have plenty of regular ("baseplate") compasses available to loan out. A message some of you might have seen about a lack of compasses did not refer to these type of compasses - it referred only to the specialized type of compass known as a thumb compass.
Day-of registration will be available. Advance registration for individuals and (small) groups is now open closed though (see Registration section, below). Event timing will be standard for this event: register at the event anytime between 10:45am - 1:15, start anytime between 11 - 1:30, and make sure to finish and check back no later than 3pm. Electronic timing will be used, so make sure to return borrowed timing chips at the download/finish station.
As usual, youth groups and other large groups planning to attend this event should contact the Event Director well in advance so that we can coordinate pre-registration for your group; the group registration and waiver form is part of the information on our Group Leaders page.
Additional information:
Watch out for the Train! Yes, given dry enough weather we expect that the quite popular miniature train ride will be running, and although you can run faster than it goes, and you might even be able to leap over it, it's still poor form to scare kids by rushing out of the woods at them as they ride the train. On the other hands, if you're bringing young kids, read up about this ride on this page.
White and yellow maps are at 1:5000 scale; all other maps are 1:10,000.
Carpooling is encouraged as a courtesy to other park users.
Dogs on leash are welcome.
GPS watch loaner program continues, for anyone interested in trying one out. See Jon Torrance at the event.
Feel free to use our Contact Us form if you have any questions!

Post-Race MeetUp Special! The nearby - literally about 1 minute away - California Tortilla is offering orienteers after our event a free side of chips & queso with any purchase (use top secret code "race"). Located in the Cabin John Shopping Center (Tuckerman & Seven Locks Rds) just west of our venue, CalTort's Wall of Flame and it's spunky attitude make it a QOC favorite.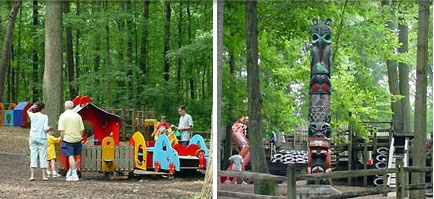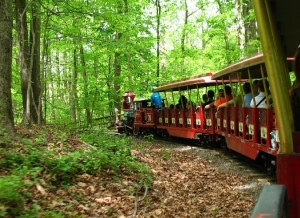 Location

Cabin John Regional Park, Playground Parking Area, Bethesda, MD (Classic Orienteering)

Registration
Day-Of Registration Will Be Offered ... but ... Pre-Registration Is Now Open Closed: Click here and scroll down to this event (Cabin John - *not* Combat Village) to see who is pre-registered. Registration closed Friday April 5 at midnight. Pre-registered participants are guaranteed a map and are far less likely to experience excessive waiting in lines, however we will be offering day-of registration at the event as well.
Start Times
You may start your course at any time during the start window listed below for your event.
Schedule
Sunday, April 7

| | |
| --- | --- |
| 10:45 am - 1:15 pm | Classic Orienteering: Registration window |
| 11:00 am - 1:30 pm | Classic Orienteering: Start window |
| 3:00 pm | Classic Orienteering: Courses close |

Volunteers
Location Details

Classic Orienteering, Classic Orienteering, Classic Orienteering
Cabin John Regional Park
Playground Parking Area
Bethesda, MD
Google Map

From the East: Take I-270 North from the I-495 Beltway, exit at Old Georgetown Rd (going north), and then immediately work your way left on Old Georgetown to turn left on Tuckerman. Turn left into the park after the underpass. From the South: Take I-270 North from the I-495 Beltway, exit at Democracy Blvd, going west. Turn right on Westlake (at the Exxon/Shell station), then eventually left on Tuckerman. Turn left into the park very soon after the left turn onto Tuckerman. From the North: Going south on I-270, exit at Montrose Rd (west). Turn left to go south on Seven Locks, then eventually left (east) on Tuckerman. Turn right into the park before the second traffic light (and before the underpass).

Course Details
Classic Orienteering

| | | | |
| --- | --- | --- | --- |
| Course Name | Length (km) | Climb (m) | No. Controls |
| White | 1.8 | 35 | 7 |
| Yellow | 2.3 | 40 | 8 |
| Orange | 4.7 | 130 | 11 |
| Brown | 3.7 | 145 | 8 |
| Green | 5.6 | 170 | 14 |
| Red | 7 | 240 | 17 |
| Blue | 9.5 | 300 | 24 |

Course Notes
Classic Orienteering

If you love Wheaton, you're going to love Cabin John. There are lots of similarities: both have a train, an indoor ice rink, large ballfields, a nature center, indoor tennis courts, a big playground and picnic area, and thick areas. Cabin John has an active group campground; Wheaton used to. But there are some differences as well. Where Wheaton is a roughly square hunk of woods with only a few incursions into it, Cabin John is essentially a wide stream valley park, with many apartments/condos/townhouses jutting into it. The park is bisected by a busy road, Tuckerman Lane. The northern portion is where the campground is, and most of the nicest woods. Both north and south have many trails, and you may find these to be your best option for getting around.

All the advanced courses will cross Cabin John Creek at least twice. In most places it's not very deep, and if you look around you may find a place to cross where you can stay dry, but it's likely your feet will get wet. Plan accordingly by bringing dry socks and shoes. One other feature Cabin John has that Wheaton doesn't have is the large powerline running through the center.

Throw into the mix some short, steep hills and some areas of unpleasant vegetation, and what you end up with is a well-used suburban park with lots of constraints to course setting. I tried to err on the side of more vs. less fun, and if that means a longish trail run instead of bashing up a green hill, that's what I aimed for. Most courses have a lot of controls, mostly to keep them from becoming too much of a trail run. This isn't a navigationally difficult park (it may be a good time to move up a course).

The woods were affected by last summer's derecho, with new rootstocks and thick areas. Mapper Nadim completed the fieldwork before the storm, but he did go out recently and make corrections in several places. Still, you may find a rootstock or some tree debris that is not reflected on the map. The green areas tend to be saplings with some thorns in the flatter areas; on the steeper hillsides, they tend to be mountain laurel. Most point features are on the small side.

Please be very careful going through the parking lots (most courses will have that as an option). Cars are not necessarily watching for you!

Please keep out of all the private property (the park boundary is marked with a gray line) – all the townhouse, apartment, and condo communities. The roads along the edges of the park are out of bounds as route choices.

Red and Blue courses: You will cross Tuckerman Lane twice. For both crossings, there are controls at/within sight of the road. Your time between these two controls WILL NOT COUNT toward your final time (the software will exclude it). This is to give you a chance to safely cross the road. Traffic can be busy but you should be able to get across within two minutes or so. Running along Tuckerman is not a good route choice and is discouraged.

Entry Fees
Individual Entries

Non-Member: $10/adult, $6/junior (under 21 years old)

Member: $6/adult, $4/junior (under 21 years old)

Team or Group Entries

Participants are welcome to compete together as a single team entry. Teams containing one or more nonmembers are charged the nonmember individual rate. Teams containing one or more adults are charged the adult individual rate. For teams to receive member or junior rates, all members of the team must be members or juniors, respectively. Each extra team map beyond the first is an additional $2. Individuals or teams desiring to compete on a second course can do so for a reduced fee of $2/map.

Important Notes

At the event, we can only accept payment in cash or check; online, you may use a credit card or PayPal account.
Most of our events use electronic timing. We will provide you with an electronic timing chip (aka e-stick, finger dibber, or SI-card) for free if you don't own one. Loaned e-sticks that are lost incur a $40 replacement fee.
Compasses are available at no charge, but if lost incur a $15 replacement fee.
Please provide collateral (driver's license or car keys) when borrowing a compass or e-punch.
For additional safety, whistles are available for sale at $1/each.
Free beginner instruction is always available - just ask at the registration table.