Oregon Ridge

Printer-friendly version

Send by email

PDF version
ShareThis
October 6
Sunday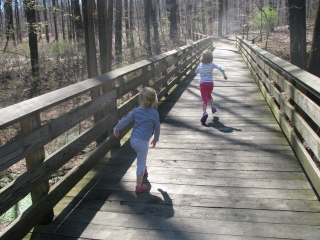 Oregon Ridge is one of our favorite parks - the woods are great for both on- and off-trail running, and there are plenty of amenities nearby including a very family-friendly Nature Center.
For beginner and intermediate orienteers, this years event is a classic event. Orienteers choosing either the beginner (white and yellow), intermediate (orange) course or brown/advanced course can start anytime during the regular start window from "just after 11am" (in this case, due to the mass start) to 1:30pm. Hint: it's likely to be a lot less hectic after 11:30 than before!
This year, our event also include the Susquehanna Stumble race for advanced orienteers and adventure runners. The Stumble, an annual event now in it's 15th year, is a long mass start orienteering event with the twist of score-O sections embedded in the point-to-point course. QOC last hosted the Stumble in 2010 when it was run on the terrain from the 2009 Ran-it-Granite A-meet. As usual, there will be Long (~10 mile) and Short (~10K) Stumbles as well as a brown course (~4km), all doing a mass start at 11:00am. Pre-registration is now open closed. on OUSA's Event Register; scroll to and click on Susquehanna Stumble XV) and will close Thursday evening (Oct. 3). Save $5 and be guaranteed a spot by pre-registering!
Any youth or large groups attending, please contact the Event Director so that we can coordinate pre-registration for your group; the group registration and waiver form is part of the information on our Group Leaders page.
While Oregon Ridge Park hosts a fine Nature Center a bit away from this year's registration area, we will have the use of the nearby lodge restroom facilities. Of additional note: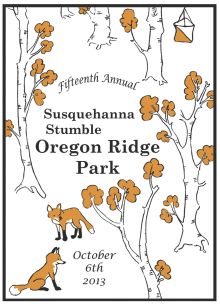 Note the Long March! Mass start participants will start the walk to their rather remote start at 10:40am. You will be on the clock starting at 11am, ready or not. Everyone must check in back at the finish by 3pm.
The complete Stumble "Welcome" Event & Course notes are now available here. Want to see who's running one of the Stumble courses? Click here.
Orienteers choosing the Long Stumble will be given an SI-card capable of holding more than 30 controls worth of splits if they don't already have one. SI-8 cards do not have sufficient capacity; please just make sure to enter your current SI-card/epunch # on the pre-registration form so we can plan ahead.
Mass start participants are only guaranteed a map if they pre-register. Walk up registration for the mass start courses will be allowed only if there are sufficient maps.
The always popular Commemorative Towels (this year's design shown on right) will be awarded to the first 20 finishers and the first 5 female finishers on the Long Stumble, and to the first 15 finishers and first 5 female finishers on the Short Stumble.
The park has a large playground near our registration area.
Dogs are welcome in the park, but must be on a leash at all times.
Geocachers take note - several favored caches are in this park.
QOC Member Discount cards can be used for day-of registration for white through brown courses, but can't be used for Stumble pre-registration or walk-up registration.
Free beginner instruction is available as always - just ask at registration.
Post-Event Socializing: There's a huge 'Market Cafe' in the Wegman's just 5 minutes (2 miles) east of Oregon Ridge on Shawan Road, just east of I-83 exit 20, with many food selections and plenty of sit-wherever-you-like seating on the second floor (store & market cafe map here). It's a fine place to meet up and compare maps, whether you're having just a coffee or soda or a full meal, and it's suitable for both kids and adults. Yelp review of this store with over 20 photos here.
Any Questions? Just use our handy Contact Us form and ask!
Location

Oregon Ridge Park - Ski Hill, Ski hill parking area, Cockeysville, MD (Susquehanna Stumble and Classic Orienteering)

Registration

No advance registration required for the white, yellow and orange courses. No registration is required for the brown course if done during the regular start window.

Pre-registration for the mass start (Stumble) courses is now CLOSED. There may be some extra maps on hand for walk-ups. Pre-register on OUSA's Event Register for those all mass start courses (both Stumbles and Brown course runners doing the mass start). Pre-registration closes Thursday evening (Oct. 3).
Start Times
The Stumble courses and brown course will do a mass start at 11am. White, yellow and orange course participants may start course at any time between 11am - 1:30pm [making sure to be back no later than 3pm.]
Schedule
Sunday, October 6

| | |
| --- | --- |
| 11:00 am - 3:00 pm | Susquehanna Stumble and Classic Orienteering: |

Volunteers
Location Details

Susquehanna Stumble and Classic Orienteering
Oregon Ridge Park - Ski Hill
Ski hill parking area
Cockeysville, MD
Google Map

From Baltimore: Take I-695 to I-83 North to Exit 20B (Shawan Road West). Follow Shawan Road to the first light, Beaver Dam Road, and turn left. Immediately after making the left onto Beaver Dam Road, there will be a fork in the road. Take the left fork to continue on Beaver Dam Road for half a mile to the park entrance. Turn right into the park. The event will be held out of the picnic shelter on the other side of the lodge building from the parking lot.

Course Details
Susquehanna Stumble and Classic Orienteering

| | | | |
| --- | --- | --- | --- |
| Course Name | Length (km) | Climb (m) | No. Controls |
| White | 2.5 | 50 | 10 |
| Yellow | 2.7 | 65 | 9 |
| Orange | 3.6 | 120 | 12 |
| Short | 10.2 | 350 | 24 |
| Brown | 4 | 115 | 14 |
| Long | 16.2 | 600 | 31 |

Course Notes
Susquehanna Stumble and Classic Orienteering

The woods are beautiful; the courses will be fast and fun!

Update: Map sizes: 8.5x11 for white, yellow, orange, brown; 11x17 inches for both Stumbles, and they will be inside plastic map cases when handed out. Map scales: 1:7500 for white and yellow, 1:10000 for all other courses. Contour interval: 5m for all maps.

The map is about five years old, is in remarkably good shape and will present us with a pleasant day in the woods. Unlike many maps on which we have orienteered recently, the terrain is mostly wide open with only a very light scatter of foot wrenching debris and rocks. What debris that does exist is visible, and the terrain is very fast. Vegetation scourges such as stiltgrass and ferns have arrived but are not the rule and exist only in very small quantities.

The main changes are related to aging. Deadfall related features on the map have often fallen below mappable status or have disappeared in the terrain. Similar features in the terrain that are bright are not on the map. This includes items that would appear in green as well as in yellow on the map. Fortunately, these are sparse and should not confuse anyone. Another change is the variance of mowing patterns (open vs. rough open). They are roughly similar but are not so precise.

Because leaves will be on, most of the medium green on the map will be much more difficult to traverse than in winter and should be respected. This is where most of what little greenbrier that is in the terrain exists and may not be particularly visible. Although the green areas on the map represent a very small minority of the map, all courses will encounter them. The green will be useful as a navigating feature in addition to being used to complicate route choice decisions. The mapped individual hollies are effectively invisible in the terrain and will not be very useful.

There are areas of the map that are marked out of bounds. Unless you are engaged in a really big mistake, these will not be an issue. Very little is posted, but they are mostly quite obvious in the terrain. Nevertheless, please respect them.

Entry Fees
Individual Entries

Stumble Pricing: Short $15 if pre-registered, $20 if not; Long $22 if pre-registered, $27 if not; Brown $10 if pre-registered, $15 if not. Non-mass start courses pay regular QOC entry fees.

Team or Group Entries

Participants are welcome to compete together as a single team entry at this event for the regular courses only. [All individuals must register independently for the mass start courses.] Teams containing one or more nonmembers are charged the nonmember individual rate. Teams containing one or more adults are charged the adult individual rate. For teams to receive member or junior rates, all members of the team must be members or juniors, respectively. Each extra team map beyond the first is an additional $2. Individuals or teams desiring to compete on a second course can do so for a reduced fee of $2/map.

Important Notes

At the event, we can only accept payment in cash or check; online, you may use a credit card or PayPal account.
Most of our events use electronic timing. We will provide you with an electronic timing chip (aka e-stick, finger dibber, or SI-card) for free if you don't own one. Loaned e-sticks that are lost incur a $40 replacement fee. Epunch sales at events are described here.
Compasses are available at no charge, but if lost incur a $15 replacement fee.
Please provide collateral (driver's license or car keys) when borrowing a compass or e-punch.
For additional safety, whistles are available for sale at $1/each.
Free beginner instruction is always available - just ask at the registration table.