Lake Needwood

Printer-friendly version

Send by email

PDF version
ShareThis
September 23
Sunday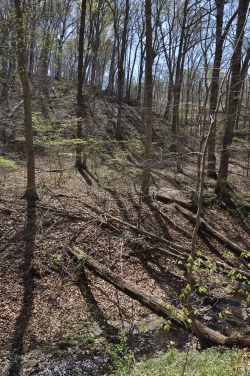 Welcome to the second event of the QOC season! This will also be only our second event at Lake Needwood, and it will feature a full slate of beginner through advanced courses on our almost-brand-new map that now includes post-derecho updates courtesy of course setter (and mapper) Nadim Ahmed.
As with all QOC events, we will have free newcomer instruction at this event. A QOC member will show you how to read a map, teach you how to use a compass with your map and give you hints on how to navigate your choice of course. Besides that, just wear a smile and the clothes you would for a hike or run in a local park. Bring a compass, if you have one, or borrow one at the event. And dogs (on leash) are welcome at Lake Needwood too. Driving directions are below; the specific shelter we will be using this year is Shelter C. Map scales will be 1:5000 for beginner (white, yellow) courses, 1:7500 for intermediate (orange) and brown, and 1:10000 for green through blue courses.
Any youth or large groups attending, please contact the Event Director so that we can coordinate pre-registration for your group; the group registration and waiver form is part of the information on our Group Leaders page.
Nearby attractions include:
Boating on Lake Needwood - great for adults, kids and even dogs, click here for info, and for a panoramic photo by Nadim of part of the lake, click here
Park map - a Rock Creek Regional Park trail map with plenty of amenities can be found here, and a brochure here
See below for information about the Go Ape treetop adventure course!
NEW ! Anyone attending our orienteering event can receive a 10% discount on the nearby Go Ape treetop adventure course, located a very short walk away from our registration area. The course is made up of numerous rope ladders, 34 crossings including the Giants Leap and Cacapon Crossing, 2 tarzan swings and 5 zip lines. Check participant requirements and fees on the Go Ape! website. Reservations are highly recommended since Go Ape cannot guarantee space for walk-ins; use promo code "QOCLUB" when booking at www.goape.com or by calling (800) 971-8271.
One of many online videos about Go Ape posted by past fun-seekers is shown below.
Location

Lake Needwood, Circle Parking Area, Derwood, MD (Classic Orienteering)

Registration
No advance registration required. Just show up and have fun!
Start Times
You may start your course at any time during the start window listed below for your event.
Schedule
Sunday, September 23

| | |
| --- | --- |
| 10:45 am - 1:15 pm | Classic Orienteering: Registration window |
| 11:00 am - 1:30 pm | Classic Orienteering: Start window |
| 3:00 pm | Classic Orienteering: Course closure |

Volunteers
Location Details

Classic Orienteering, Classic Orienteering, Classic Orienteering
Lake Needwood
Circle Parking Area
Derwood, MD
Google Map

Get to Avery Rd from either Norbeck Rd (Rt 28) or Muncaster Mill Rd (Rt 115). From Avery Rd, turn onto Needwood Lake Dr, go 0.3 miles, then turn left on Beach Dr. The first right then leads to Needwood Lake Circle, and by continuing to follow QOC signs you should be led to the pavilion/shelter in use for the event, most likely towards the S end of the lake.

Course Details
Classic Orienteering

| | | | |
| --- | --- | --- | --- |
| Course Name | Length (km) | Climb (m) | No. Controls |
| White | 2.7 | 45 | 8 |
| Yellow | 2.8 | 60 | 12 |
| Orange | 5.8 | 135 | 18 |
| Brown | 3.8 | 140 | 13 |
| Green | 5.7 | 230 | 19 |
| Red | 7.9 | 290 | 21 |
| Blue | 9.2 | 295 | 28 |

Course Notes
Classic Orienteering

Course Notes:

· The Montgomery County Parks authority recommends avoiding contact with the water in Lake Needwood and flowing out from it since a biological micro toxin produced by an algae has been detected in the water and could cause severe illness if ingested. None of the beginner courses cross water flowing from the lake but they do involve travel on trails along the shores. Water flowing out of the lake is the main source for Rock Creek. All courses have mandatory crossing points and course legs involving these have been drawn accordingly. White, Yellow and Orange course legs are bent to go around the lake shore and make the courses appear longer than when normally measured in straight lines for orienteering. The runners on the Orange and Brown courses should cross the lake exit waters on grass along a fence immediately below the dam and above the exit pipes,. Advanced courses do cross Rock Creek south of the lake dam however these crossings are arranged to utilize mandatory auto or foot bridges. Advanced and Intermediate courses do cross some tributaries to Rock Creek but this water does not flow from the lake where the algae is growing. There has not been a lot of rain as of the writing of these notes so streams and marshes may be dryer than mapped.

· Running in the forest is generally fast but the hills can be steep and tall with few reentrants. Due to the length and steepness, it is not recommended that runners move up to a higher/longer course at this event. The Green course is the steepest at just over 4%.

· Advanced and Intermediate courses pass near a golf course and a land fill. Beginner courses pass near an archery area. The park service has signs for the archery areas but there are no signs for the landfill or the golf course. All 3 of these areas are out of bounds and are mapped accordingly.

· The Lake Needwood and Lake Frank stream valley areas contain some nice open forests and broad ridges. However, the derecho storm in June knocked down a lot of branches and trees. Uncounted map updates have been made for this but it is possible that one will encounter unmapped rootstocks or other deadfall. Single, sometimes large fallen branches are not mapped but fallen trunks generally are. The deadfall has fairly distinct edges. Fallen trees still stand often 3m high thus obstructing view and adding to the navigation challenge. Patches of deadfall tend to be arranged in lines parallel to the direction that the winds blew. One can usually pass between these quite quickly. If you associate the deadfall patches correctly, they may aid your navigation.

· There are some areas of invasive grasses in the forest. Much of this is shown on the map with the low vegetation symbol but the growth may be beyond what has been mapped. These grasses are hardly visible in the winter but this event is occurring just past the end of Summer so the grasses do hide fallen branches and some other features. Invasive grasses tend to pervade forested lowlands where there is enough water but the courses are mostly above them.

· Areas mapped with the rough open symbol are generally high and slow at this time of the year.

· For the Blue and Green courses, controls 6 and 9 are fairly close together. Dyslexics and anyone holding the map in an orientation other than north edge furthest from the eye beware.

· For the Red and Blue courses, a previously unpaved trail near Lake Frank has been paved within the last year. The map reflects this correctly however some unmapped temporary orange flexible plastic fencing bordering parts of it may still impede travel. If you find this obstacle in your route choice, look for gaps that exist.

· Advanced courses may encounter some new but unmapped metal fence posts in the forest. So far, no fencing has been attached to them.

· All courses cross roads or involve routes along them; even White and Yellow. As in other parks for orienteering, the roads are not closed so participants should stay on shoulders or yield when crossing. Extra caution should be taken if in the parking lot near the start and finish. Note that there is bicycle traffic on the main paved Rock Creek Trail which begins just south of the start/finish parking lot.

· It is coincidental and highly unusual for QOC local meets, yet none of the courses beginner through advanced, use reentrants as a control feature. In fact, most controls are point features.

Entry Fees
Individual Entries

Non-Member: $10/adult, $6/junior (under 21 years old)

Member: $6/adult, $4/junior (under 21 years old)

Team or Group Entries

Participants are welcome to compete together as a single team entry. Teams containing one or more nonmembers are charged the nonmember individual rate. Teams containing one or more adults are charged the adult individual rate. For teams to receive member or junior rates, all members of the team must be members or juniors, respectively. Each extra team map beyond the first is an additional $2. Individuals or teams desiring to compete on a second course can do so for a reduced fee of $2/map.

Important Notes

At the event, we can only accept payment in cash or check; online, you may use a credit card or PayPal account.
Most of our events use electronic timing. We will provide you with an electronic timing chip (aka e-stick, finger dibber, or SI-card) for free if you don't own one. Loaned e-sticks that are lost incur a $40 replacement fee.
Compasses are available at no charge, but if lost incur a $15 replacement fee.
Please provide collateral (driver's license or car keys) when borrowing a compass or e-punch.
For additional safety, whistles are available for sale at $1/each.
Free beginner instruction is always available - just ask at the registration table.