Little Bennett Night-O

Printer-friendly version

Send by email

PDF version
ShareThis
March 24
Saturday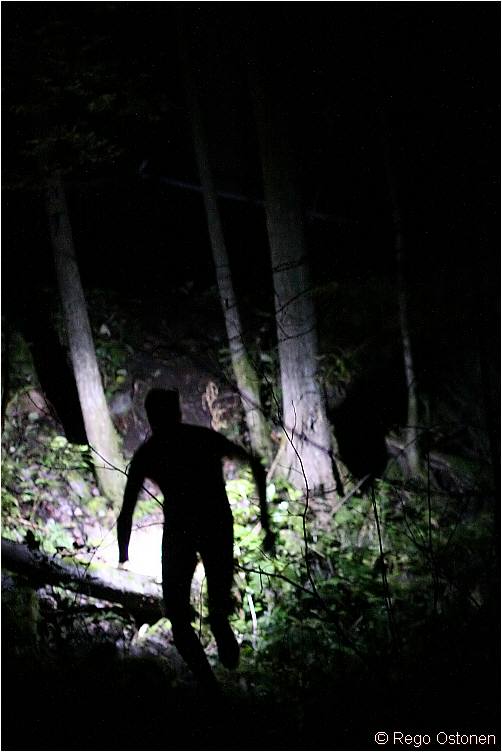 Breaking News: As of 4pm Saturday, although the conditions are obviously quite damp the National Weather Service has zero active watches, warnings or advisories for Montgomery County; click the link to check for updates. While we will update this paragraph if there are significant changes, we expect the Night-O event to be held as planned, and it should be just as much fun as ever. The Event Director may delay some starts if significant thunderstorms appear in the area. In general, it is up to each participant to use their common sense and judge the conditions at the time. Plenty of orienteers relish the extra adventure that challenging weather can add, while others don't - do what feels right for you.
Time to check your night vision! Join us for our annual romp in the dark, and as usual, it's nowhere near full moon - in fact, quite the opposite - so when it gets dark it will indeed be dark.
This year, parking and registration for both Sat. and Sunday Little Bennett events will be near the Nature Center. The night-O registration will be from 7:30 - 8:30pm, and you can start anytime between 7:45 - 9:00pm. Everyone must be out of the woods by 10:30pm. Please bring a watch to ensure you are back by then.
Optional advance registration is now closed available HERE until Friday at 4pm via our pop-up form for this event. Check the course details and course notes posted below to help you decide which course to run. Families with younger children may want to run earlier in the evening when it's not quite so dark (at first), while those seeking the true night orienteering experience should probably start after 8:15pm.
Any youth or large groups attending, please contact the Event Director so that we can coordinate pre-registration for your group; the group registration and waiver form is part of the information on our Group Leaders page.
Please note that while there is some sharing of controls between the Intermediate and Short Advanced courses of the Night-O and Sunday's Orange and Brown courses, they are still quite different courses. All the advanced courses (Green thru Blue) share controls with the Night-O courses only at the very end of their course. Therefore, you will get a chance to run two completely different courses this weekend if you run in both the Night-O as well as the Day-O.
Some additional information:
Please do not take dogs (leashed or not) out on this night course.
All maps are 8.5x11 in size; the Beginner course is at a scale of 1:5000, while all other courses are at 1:10,000.
For some tips on orienteering at night, see this Attackpoint thread.
Feel free to use our Contact Us form if you have any questions!
Registration
Optional pre-registration is now closed available HERE. Receipt of payment confirms that you are pre-registered. Otherwise just show up and have fun!
Start Times
You may start your course anytime between 7:45pm - 9:00pm.
Schedule
Saturday, March 24

| | |
| --- | --- |
| 7:30 pm - 10:30 pm | Night Orienteering: |

Volunteers
Course Details
Night Orienteering

| | | | |
| --- | --- | --- | --- |
| Course Name | Length (km) | Climb (m) | No. Controls |
| Beginner | 1.8 | 25 | 10 |
| Intermediate | 3.6 | 140 | 12 |
| Short Advanced | 5.6 | 190 | 14 |
| Long Advanced | 7.5 | 250 | 19 |

Course Notes
Night Orienteering

Note: The park has used assigned locations for their managed hunts. Small reflective dots have been used in some cases to lead folks to these assigned locations. Do not be misled by these reflective dots. For our event, you are looking for rectangular reflectors attached to PVC piping attached to standard O-bag controls.

For the Night-O, the Beginner course is entirely along trails, roads or in open fields of the park. But, it will cross the entrance road three times. Participants need to be careful to watch for cars.

The Intermediate course will have a mix of simple legs along trails or streams and some short more advanced legs (i.e. that may require compass bearings). There will be route choice options that allow the participant to use the park road and campground areas as landmarks, if they feel uncomfortable with attempting a route choice through a wooded area.

The Short and Long Advanced are just that, more controls, more travel through wooded areas. Both courses will cross the entrance road, so be careful and watch for cars.

Entry Fees
Individual Entries

Non-Member: $10/adult, $6/junior (under 21 years old)

Member: $6/adult, $4/junior (under 21 years old)

Team or Group Entries

Participants are welcome to compete together as a single team entry. Teams containing one or more nonmembers are charged the nonmember individual rate. Teams containing one or more adults are charged the adult individual rate. For teams to receive member or junior rates, all members of the team must be members or juniors, respectively. Each extra team map beyond the first is an additional $4. Individuals or teams desiring to compete on a second course can do so for a reduced fee of $4/map.

Important Notes

At the event, we can only accept payment in cash or check; online, you may use a credit card or PayPal account.
Most of our events use electronic timing. We will provide you with an electronic timing chip (aka e-stick, finger dibber, or SI-card) for free if you don't own one. Loaned e-sticks that are lost incur a $40 replacement fee.
Compasses are available at no charge, but if lost incur a $15 replacement fee.
Please provide collateral (driver's license or car keys) when borrowing a compass or e-punch.
For additional safety, whistles are available for sale at $1/each.
Free beginner instruction is always available - just ask at the registration table.