ShareThis
April 30
Saturday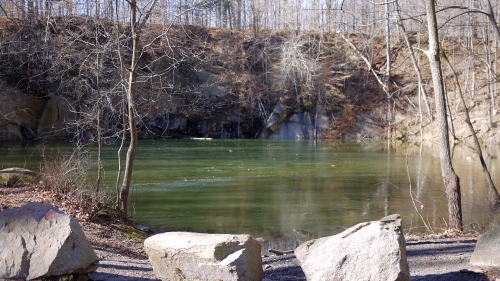 Saturday April 30 UPDATE/CONFIRMATION: It hasn't rained, and this event - and the cleanup - is a go!
Welcome back to Patapsco Granite! This event marks our first event here since 2018 and will offer classic beginner, intermediate, and advanced courses (White to Blue).
The Granite map provides a good opportunity to practice navigation in a rocky terrain, which is rare for the D.C. area. Course details and course setter comments are now posted below. Note this is a Saturday event.
ARDF Radio Orienteering Course: We will also be offering a ten-control "Fox-O" radio-direction-finding (ARDF) orienteering course designed by Mike Kholodov, a perfect complement to your classic course for those who would like to try a new orienteering experience. Click here [2] for more details.
Important Note: Patapsco Valley State Park has a strict rain policy, which will force us to postpone or cancel the event in case of more than 1/4" of rain within the 24 hours preceding the event. Please check this webpage for possible cancellation notices before traveling to the meet if rain has been falling in the preceding 24+ hours as forecast.
COVID Risk Reduction Protocols:
As with all 2021-2022 QOC events, this event requires pre-registration via the link below. QOC's COVID risk reduction protocols, as also enumerated somewhat here [3], are in effect. Please read these guidelines carefully. Key points:
PROPERLY WORN MASKS AND SOCIAL DISTANCING ARE REQUIRED at all times when near registration, epunch and any other areas or queues where volunteers and/or participants are congregating.
No water will be provided. Provide for your own hydration needs before, during, and after the event.
There is no planned, on-site beginner instruction, but beginners are encouraged to watch relevant videos such as this one created by QOC's instructional guru David Onkst.
Additional information:
Any large groups planning to attend the event or anyone with questions please contact the Event Director .
There are no pavilions or park shelters at this registration/parking area.
The size of start teams (groups of individuals orienteering together with one e-punch) on a course must be no more than four (4) individuals (juniors and adults combined).
Port-a-johns will be located at the parking area.
Pets are permitted in the park but must be leashed at all times.
You're Invited! QOC veteran Sidney Sachs will host a Zoom meeting on Tuesday, May 3 at 8pm to review selected course legs and analyze the routes various orienteers took. Please contact Sidney Sachs for the invite link.
SPECIAL VOLUNTEER REQUEST ON THE DAY OF THE MEET:
The managers of the Patapsco Valley State Park require groups like QOC to put in volunteer hours doing trail maintenance or cleanup at the various park locations. Since our club uses a number of areas in the Patapsco State Park (Hilton, Avalon, Orange Grove, Granite and McKeldin), and our participants are roaming through many sections of the park that may not be accessed normally, we would like to try some trash removal and cleanup on the day of our event in order to meet our volunteer obligation. So, after you have completed your course on Saturday, please consider giving the club and the park a half hour of your time to pick up trash and debris in the area.
We will have trash bags available for your use at the parking area. We would ask that you take collected trash for disposal in your usual trash disposal venue. This is our way of giving back to the parks and woodlands from which we derive so much pleasure. If this pilot initiative works, we may try doing some invasive plant removal as part of this effort in the future. Thanks for considering the support.
Location

Patapsco Valley State Park, Granite Area, Woodstock, MD (Classic)

Registration
Registration for this Saturday event opens at 6pm on Monday April 25 via this link . Advance registration is required. Registration will close at noon on Friday April 29 (the day before the event).
Who's registered? Check by clicking here . Sorting by column is possible too - just click on the column name.
Start Times
Start times will be by windows (to be defined for this event before registration opens).
Schedule
Saturday, April 30

| | |
| --- | --- |
| 10:00 am - 3:00 pm | Classic: |

Volunteers
Location Details

Classic
Patapsco Valley State Park
Granite Area
Woodstock, MD
Google Map [10]

Park in the large parking lot to the south of St. Alphonsus Rodriguez Church on Old Court Rd. From the Marriottsville Rd exit of I-70, go north on Marriottsville just 0.8 miles and then turn right on Old Frederick Rd (Rt 99). Go east 0.8 miles, then turn left (north) on Woodstock Rd. In 2 miles the church will be on your left, after Woodstock Rd has changed its name to Old Court Rd.

Course Details
Classic

| | | | |
| --- | --- | --- | --- |
| Course Name | Length (km) | Climb (m) | No. Controls |
| White | 1.7 | 60 | 6 |
| Yellow | 2.7 | 105 | 7 |
| Orange | 4.3 | 160 | 8 |
| Brown | 4.4 | 190 | 11 |
| Green | 5.6 | 205 | 10 |
| Red | 7.4 | 290 | 12 |
| Blue | 8.3 | 400 | 14 |

Course Notes
Classic

This map is one of our rockiest maps, especially in the southeast. I tried to take advantage of some of the fun rock features on the courses. There have been some minor updates made to the trails and vegetation in the southeast portion of the map, but that section still has a whole lot more green than you'd expect. This event is definitely not one you want to run in shorts or without any leg protection as primarily in the southeast there are large bushes of thorns everywhere that are very difficult to avoid. Also, I would not really advise moving up a course. On the white course the leg 4 to 5 will be streamered, so follow the orange streamers there to get to the next control.
UPDATE: please be careful on the rocks. The vegetation boundaries (between white and yellow on the map) are very accurate, but other than that, green is not accurate at all. Consider the area to the east of the old quarry medium green to dark green. On the large, northernmost field, some of the prominent trees (especially around the control) are missing, but the control is still in the correct spot and on a tree. The map in the forest is fairly accurate, but on fields and trails, take it with a grain of salt. North of the field strip there are some large trails on the map that are either not as prominent, fade out, or aren't there in real life, so keep proper contact with the map.

Entry Fees
Individual Entries

Note: juniors = under 21

| | | | | |
| --- | --- | --- | --- | --- |
| | Club Member, adult | Club Member, junior | Non-Member, adult | Non-Member, junior |
| | $10 | $5 | $20 | $5 |

Group Entries

Participants are welcome to orienteer together as a group (up to the maximum for that event; usually 4). Each member of a group is charged their individual rate as shown above, up to a group total of $30 (maximum), and each receives a map. A group receives one epunch. Individuals or groups desiring to compete on a second course after completing their first can do so for a reduced fee of $2/map subject to approval at the event by the Event Director.

Important Notes

If you wish to become a QOC member you should join online in advance via this webpage (which also explains the member benefits). Membership is completely optional.
Most of our events use an 'epunch' timing chip for electronic timing. Individuals or groups without their own epunch will be loaned one for that event. Loaned epunches that are lost incur a $40 replacement fee. Epunches (also known as SI-cards or finger sticks) can be purchased from online vendors as described here .
Former QOC members who have let their membership lapse pay non-member fees.
Compasses are available at no charge, but if lost incur a $15 replacement fee.
Please provide collateral (such as car keys) when borrowing a compass or epunch.
There is no planned, on-site beginner instruction, but beginners are encouraged to watch relevant videos such as this one created by QOC's instructional guru David Onkst