ShareThis
April 10
Sunday
Updated Course Comments are available below.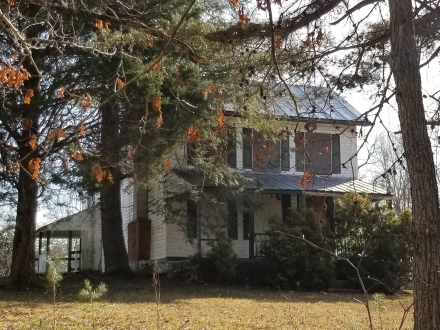 For this event we will be returning to the popular Fountainhead West (FHW) area, with the start and finish at the Kegley House. Aaron Linville has designed a full set of courses using this fantastic terrain (course stats and comments are below). The parking for the Fountainhead West meet is at the parking area near the Bull Run Marina on Old Yates Ford Road; a map link is here [2] and also below (in the Location Details section). We will shuttle participants both ways between the registration site and the start/finish/e-punch/download location, situated at the Kegley House (pictured), which sits at the end of Wolf Run Shoals Road - about a 10 minute bus ride away. Please keep this in mind when registering for your start window. Also, if starting later in the day, please be sure to be back to the finish prior to 3pm to take the shuttle back to the parking area. We successfully used buses at another event this season and the staggered start windows relieved pressure faced in prior years.
SPECIAL NOTICE ABOUT $5 SURCHARGE FOR SHUTTLE SERVICE
In order to access some of the best orienteering terrain in the park, as outlined above, we will be hiring buses and shuttling participants to the remote start area. To help cover the added cost of running the shuttle service, a $5 extra surcharge will be added per person to the regular meet fee for participants on all courses.
Other points:
Porta-johns will be located at the Kegley House.
While leashed dogs are permitted in the park, they will not be allowed on the shuttle buses.
The size of start teams (groups of individuals orienteering together with one e-punch) on a course must be no more than four (4) individuals (juniors and adults combined). Unregistered "tag-alongs" are not allowed (other than babies or toddlers). Any youth or large groups attending, although you will be pre-registering online, please contact one of the Event Directors (below) to let them know of your plans and numbers for their awareness.
There is no planned, on-site beginner instruction, but beginners are encouraged to watch relevant videos such as this one created by QOC's instructional guru David Onkst.
COVID Risk Reduction Protocols:
As with all 2021-2022 QOC events, this event requires pre-registration via the link below. QOC's COVID risk reduction protocols, as also enumerated somewhat here [4], are in effect. Please read these guidelines carefully. Key points:
PROPERLY WORN MASKS AND SOCIAL DISTANCING ARE REQUIRED at all times when near registration, epunch and any other areas or queues where volunteers and/or participants are congregating.
No water will be provided. Provide for your own hydration needs before, during, and after the event.
Location

Fountainhead Regional Park, Bull Run Marina, Clifton, VA (Classic)

Registration
Registration for this Sunday event opens at 6pm on Monday April 4 via this link . Advance registration is required.
Registration will close at noon on Saturday April 9.
Who's registered? Check by clicking here . Sorting by column is possible too - just click on the column name.
Start Times
Start times will be by windows (to be defined for this event before registration opens).
Schedule
Sunday, April 10

| | |
| --- | --- |
| 10:00 am - 3:00 pm | Classic: |

Volunteers
Location Details

Classic
Fountainhead Regional Park
Bull Run Marina
Clifton, VA
Google Map [2]

From the Fairfax County Parkway, take Burke Lake Rd (Rt 645) west for 4.3 miles. Turn left on Maple Branch Rd, and go 0.8 miles then turn left onto VA 612/643. In 0.6 miles go slightly right to stay on VA 612. In less than 1 mile and before either the marina or the bridge over the Occoquan, turn left into the parking area on the south side of Old Yates Ford Rd.

Course Details
Classic

| | | | |
| --- | --- | --- | --- |
| Course Name | Length (km) | Climb (m) | No. Controls |
| White | 1.5 | 80 | 6 |
| Yellow | 2 | 85 | 6 |
| Orange | 4 | 180 | 10 |
| Brown | 3.9 | 160 | 8 |
| Green | 6.7 | 240 | 12 |
| Red | 8.7 | 290 | 12 |
| Blue | 9.8 | 300 | 14 |

Course Notes
Classic

All runners will use shuttles to and from the parking area at Bull Run Marina. If the shuttle is unable to turnaround at Kegley House, runners may have a short 400m walk from an earlier turn-around to registration.

Intermediate and Advanced courses will cross the Wolf Run creek. Course legs crossing the creek are set to take advantage of the marked bridge. Trails intersecting smaller streams will typically have a small footbridge, runners taking more adventurous routes will encounter a generally dry park with low water levels (pending any large storms before the event).

Fountainhead West offers classic QOC spur and reentrant terrain. During streamer-ing the woods were open (and covered with an inch of late winter snow) but spring is quickly coming. Expect sight lines to start being reduced. Runners on advanced courses will encounter unmarked deadfall from this winter's storms. The blue-blazed Bull Run/Occoquan trail is heavily traveled and maintained but mapped indistinct trails and rides may be extremely subtle and difficult to follow due to downed trees or vegetation.

Update as of 10pm 9April:
Runners may encounter red and blue streamers leftover from the Bull Run 50 Mile Race, these streamers will likely be cleaned up by Sunday but on the off-chance runners encounter any, they may be disregarded.

Sight lines in the mapped open woods remain quite good with little to no spring vegetation growth (other than wild flowers and grass).

Even with rain throughout the week, the water levels remain low. All courses will cross a small creek shortly after starting and near the finish. There will be numerous opportunities to cross and keep your feet (mostly) dry.

On the Yellow course between controls 5 and 6, runners will follow a short, 100m section, of a partially indistinct vehicle track. This has been streamer-ed with orange streamers to assist runners.

Entry Fees

This event has an additional $5/pp surcharge as explained above (in addition to the usual rates as shown below).

Individual Entries

Note: juniors = under 21

| | | | | |
| --- | --- | --- | --- | --- |
| | Club Member, adult | Club Member, junior | Non-Member, adult | Non-Member, junior |
| | $10 | $5 | $20 | $5 |

Group Entries

Participants are welcome to orienteer together as a group (up to the maximum for that event; usually 4). Each member of a group is charged their individual rate as shown above, up to a group total of $30 (maximum), and each receives a map. A group receives one epunch. Individuals or groups desiring to compete on a second course after completing their first can do so for a reduced fee of $2/map subject to approval at the event by the Event Director.

Important Notes

If you wish to become a QOC member you should join online in advance via this webpage (which also explains the member benefits). Membership is completely optional.
Most of our events use an 'epunch' timing chip for electronic timing. Individuals or groups without their own epunch will be loaned one for that event. Loaned epunches that are lost incur a $40 replacement fee. Epunches (also known as SI-cards or finger sticks) can be purchased from online vendors as described here .
Former QOC members who have let their membership lapse pay non-member fees.
Compasses are available at no charge, but if lost incur a $15 replacement fee.
Please provide collateral (such as car keys) when borrowing a compass or epunch.
There is no planned, on-site beginner instruction, but beginners are encouraged to watch relevant videos such as this one created by QOC's instructional guru David Onkst