ShareThis
March 6
Sunday
Pre-registration for this Sunday event is required, opening Monday Feb. 28 at 6pm and closing Saturday Mar. 5 at 12 noon; there will not be day-of registration.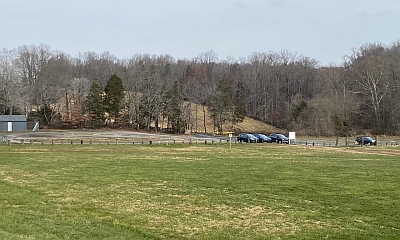 For our Hemlock event this season, parking and check-in will be at Kincheloe Rd Soccer Park adjacent to the southern end of Hemlock Overlook Regional Park, same as last year. (Click here [2] for a printable graphic overview.) Orienteers will again be able to enjoy a different perspective on Hemlock as well as the large and easily accessible parking area at Kincheloe, which was a big hit last season when we used in for the first time. Note, however, that the graveled lot is in need of regrading, and driving through it is a little bumpy. Use minimal speed inside the gate.
For this event, the dynamic duo of Mark Thomsen and Paul Morris have once more collaborated to prepare a full set of classic courses; course stats and course setter comments are below.
As usual, everyone must be out of the woods and back at the registration/finish area by 3:00pm when we will begin picking up the controls. See the course notes (to be posted below) about the remote start/finish, and allow yourself time to get back to the registration area and download regardless of whether or not you finished.
Update on the status of Hemlock Overlook Regional Park: For those interested, the main entrance at the northern end of the park continues to be closed and locked. NOVA Parks is still deciding how to manage the park in the wake of the closure of Adventure Links, the outdoor activity organization that had been contracted to manage the park, so we will continue to use Kincheloe Rd Soccer Park until such time as we can alternate events between the north and south ends of the park.
COVID Risk Reduction Protocols:
As with all 2021-2022 QOC events, this event requires pre-registration via the link below. QOC's COVID risk reduction protocols, as also enumerated somewhat here [3], are in effect. Please read these guidelines carefully. Key points:
PROPERLY WORN MASKS AND SOCIAL DISTANCING ARE REQUIRED at all times when near registration, epunch and any other areas or queues where volunteers and/or participants are congregating.
No water will be provided. Provide for your own hydration needs before, during, and after the event.
There is no planned, on-site beginner instruction, but beginners are encouraged to watch relevant videos such as this one created by QOC's instructional guru David Onkst.
There will be eight 15 minute check-in windows followed by two 45min windows (as for most QOC events this season).
Other points:
Any large groups planning to attend the event or anyone with questions please contact the Event Directors .
There are no pavilions or park shelters at this registration/parking. Bring appropriate clothing for winter conditions.
The size of start teams (groups of individuals orienteering together with one e-punch) on a course must be no more than four (4) individuals (juniors and adults combined).
Port-a-johns will be located next to the parking area.
Pets are permitted in the park but must be leashed at all times.
You're Invited! QOC veteran Sidney Sachs will host a Zoom meeting on Tuesday, March 8 at 8pm to review selected course legs and analyze the routes various orienteers took. Please contact Sid Sachs for the invite link.
Location

Hemlock Overlook Regional Park, Kincheloe Soccer Parking, Clifton, VA (Classic)

Registration
Registration for this Sunday event opens at 6pm on Monday, Feb. 28 via this link . Registration will close at noon on Saturday March 5.
Who's registered? Check by clicking here . Sorting by column is possible too - just click on the column name.
Start Times
Start times will be by windows (to be defined for this event before registration opens).
Schedule
Sunday, March 6

| | |
| --- | --- |
| 10:00 am - 3:00 pm | Classic: |

Volunteers
Location Details

Classic
Hemlock Overlook Regional Park
Kincheloe Soccer Parking
Clifton, VA
Google Map [11]

From Clifton VA, take Main Street (route 641) south for 1 mile. Then GO STRAIGHT and continue on this road (now called Kincheloe Rd) for another 1.2 miles. The soccer parking area will be on your right.
A printable graphic overview is available here .

Course Details
Classic

| | | | |
| --- | --- | --- | --- |
| Course Name | Length (km) | Climb (m) | No. Controls |
| White | 2.1 | 20 | 13 |
| Yellow | 3.4 | 70 | 10 |
| Orange | 5.3 | 195 | 12 |
| Brown | 4.2 | 165 | 10 |
| Green | 6.1 | 215 | 11 |
| Red | 6.9 | 320 | 11 |
| Blue | 8.5 | 375 | 14 |

Course Notes
Classic

Hemlock Overlook is a classic park in QOC's repertoire but similar to last year, we've moved the start to Kinchloe Field and navigators will be attacking the main section of the park from the south east. Advanced runners will get a warm-up heading west along the Bull Run Occoquan Trail (BROT) from the Kincheloe Soccer Parking. The advanced start and finish will be a slightly remote location, whereas, White/Yellow/Orange runners will be on newly mapped sections around the soccer fields. Overall, visibility in the park is exceptional this time of year, but please note that fallen leaves are quite slick and this park is exceptionally hilly. We recommend footwear that provides increased traction for the intermediate and advanced courses.

Generally, the vegetation boundaries marked on the map are not as discernible on the ground as you would be led to believe. We did not place controls on vegetation boundaries that are not obvious.

As is common with parks in the region, there are more rootstocks present on the ground than what are mapped and several of the rootstocks have degraded a bit and it's possible that more prominent rootstocks are now more visible and not specifically mapped. All rootstocks that are used as control locations are obvious on the ground and are mapped appropriately. Also, the vegetation boundaries are not reliable for navigation. Please note that any control placements accounts for the difficulty in the vegetation.

The forest in this part of the park is generally open, with mature trees and little deadfall or undergrowth, and will afford fast running. There are only a few trails in this area, which are well traveled and visible and numerous closely spaced ridges and valleys, which add to the physical difficulty of the advanced courses in particular.

We hope that you love running these courses as much as we loved designing them and would welcome any feedback on how to improve your experience as a participant & thanks again for supporting QOC and coming out to Hemlock Overlook Park!

Entry Fees
Individual Entries

Note: juniors = under 21

| | | | | |
| --- | --- | --- | --- | --- |
| | Club Member, adult | Club Member, junior | Non-Member, adult | Non-Member, junior |
| | $10 | $5 | $20 | $5 |

Group Entries

Participants are welcome to orienteer together as a group (up to the maximum for that event; usually 4). Each member of a group is charged their individual rate as shown above, up to a group total of $30 (maximum), and each receives a map. A group receives one epunch. Individuals or groups desiring to compete on a second course after completing their first can do so for a reduced fee of $2/map subject to approval at the event by the Event Director.

Important Notes

If you wish to become a QOC member you should join online in advance via this webpage (which also explains the member benefits). Membership is completely optional.
Most of our events use an 'epunch' timing chip for electronic timing. Individuals or groups without their own epunch will be loaned one for that event. Loaned epunches that are lost incur a $40 replacement fee. Epunches (also known as SI-cards or finger sticks) can be purchased from online vendors as described here .
Former QOC members who have let their membership lapse pay non-member fees.
Compasses are available at no charge, but if lost incur a $15 replacement fee.
Please provide collateral (such as car keys) when borrowing a compass or epunch.
There is no planned, on-site beginner instruction, but beginners are encouraged to watch relevant videos such as this one created by QOC's instructional guru David Onkst