ShareThis
April 20
Saturday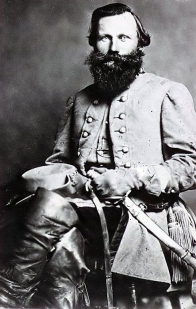 QOC invites you to the historic Stuart's Hill section of Manassas National Battlefield Park once again! Stuart's Hill terrain is more open, with large fields rare for our venues but also with woods of all degrees of runnability. Event timing is our standard, except online pre-registration (via this link [2])will be required. Registered participants should plan to check-in any time between 10:45am - 1:15pm, start any time between 11 - 1:30, and be back before 3pm.
Course lengths are now posted below along with course comments. For those of you thinking of moving up a level, this is probably a good event to go for it, since the park is fairly flat and constrained, so you may enjoy running on a course that is a bit longer than your usual.
Youth groups or other large groups planning to attend this event: make sure to let the Event Director [3] know in advance about your group so that we can coordinate pre-registration for your group; the group registration and waiver form [4] is part of the information on our Group Leaders [5] page.
Nearby Attraction: The park's Henry Hill Visitor Center, located at 6511 Sudley Road, Manassas, VA, will be open from 8:30am - 5pm, and it's free. This museum has both static and dynamic displays [6], plus a 45 minute movie ('Manassas: End of Innocence') focusing on the Civil War battles that took place here, including over the terrain covered by our orienteering courses.
Please note the following about this park:
Good news! This national park no longer charges any entrance fee.
Please note that this is a *Saturday* event.
Climbing on cannons and monuments is not allowed.
Pets must be kept on a leash.
Hunting for relics is strictly forbidden.
EventRegister now fails in some browsers to show the course selection; please switch browsers if you can't choose a course with the first browser you try.
Location

Manassas National Battlefield Park, Stuart's Hill, Manassas, VA (Classic)

Registration
Pre-registration is now open this link . It is required for this event. Note: Some browsers may not allow the course selection to be made; if you can't choose a course, please use a different browser.
Start Times
Start any time between the specified times (usually 11am - 1:30pm).
Schedule
Saturday, April 20

| | |
| --- | --- |
| 11:00 am - 3:00 pm | Classic: |

Volunteers
Location Details

Classic
Manassas National Battlefield Park
Stuart's Hill
Manassas, VA
Google Map [10]

Take I-66 to Exit 47 in Manassas. Go South on Sudley Road (route 234). After a short distance, turn right onto Balls Ford Road (route 621). Proceed ~2 miles, then turn right onto Groveton Road (route 622). Go North ~1 mile to the picnic area entrance on the left.

Course Details
Classic

| | | | |
| --- | --- | --- | --- |
| Course Name | Length (km) | Climb (m) | No. Controls |
| White | 2.6 | 35 | 8 |
| Yellow | 3.4 | 40 | 10 |
| Orange | 5.1 | 60 | 15 |
| Beige | 3.7 | 55 | 11 |
| Brown | 4.6 | 70 | 13 |
| Green | 6.2 | 80 | 17 |
| Red | 7.8 | 80 | 19 |
| Blue | 9.2 | 105 | 23 |

Course Notes
Classic

Eight courses will be offered, each with minimal climb as the park is relatively flat. Efforts were made to create some interesting new legs and control locations from previous years; however, many will still be familiar as the park only presents so many options, especially for longer advanced courses, and restrictions keep us out of some protected wetlands.

Conditions as of 4/11 were as follows:

Wet: the park has dried up nicely since February – but runners should expect to get wet on intermediate and advanced courses from marshlands and numerous areas of standing water. Youngs branch is easily crossed (required by all courses except white) by frequent narrow banks and some shallow areas.
Deadfall: is quite heavy in the park and not always mapped. Older deadfall can now often be traversed without much difficulty, and usually corresponds to the lighter shades mapped, but not always. A few legs will require advanced runners to plan carefully how to circumnavigate (or cross) the deadfall.
Open fields: some have been recently mowed and will be more easily crossed than anticipated in February.
Rootstocks: continue to evolve (both new, unmapped ones and mapped, decayed ones) and are seldom used as control features and are not recommended as navigation points.
Junk: there is a lot of junk in the park – some significant pieces are not mapped. All runners should be very careful of broken glass, metal, barbed wire etc. Likewise, be careful around ruined fences.
Out of bounds: A few of the park's access gates may be open on Saturday, but runners must avoid Lee Highway (Rt 29) to the north of the park for safety reasons.

Entry Fees
Individual Entries

Note: juniors = under 21

| | | | | |
| --- | --- | --- | --- | --- |
| | Club Member, adult | Club Member, junior | Non-Member, adult | Non-Member, junior |
| Epunch Owner | $5 | $5 | $10 | $5 |
| Epunch Borrower | $10 | $5 | $15 | $10 |

Team or Group Entries

Participants are welcome to compete together as a single team entry. Teams containing one or more nonmembers are charged the nonmember individual rate. Teams containing one or more adults are charged the adult individual rate. For teams to receive member or junior rates, all members of the team must be members or juniors, respectively. Each extra team map beyond the first is an additional $2. Individuals or teams desiring to compete on a second course can do so for a reduced fee of $2/map.

Important Notes

If you wish to become a QOC member you should join online in advance via this webpage (which also explains the member benefits). Membership is completely optional.
Most of our events use an 'epunch' timing chip for electronic timing. Individuals or groups without their own epunch pay a higher entry fee (see above), which includes the loan of an epunch for that event. Loaned epunches that are lost incur a $40 replacement fee. Epunches (also known as SI-cards or finger sticks) can be purchased from online vendors as described here .
Former QOC members who have let their membership lapse pay non-member fees.
Compasses are available at no charge, but if lost incur a $15 replacement fee.
Please provide collateral (driver's license or car keys) when borrowing a compass or epunch.
For additional safety, whistles are available for sale at $1/each.
Free beginner instruction is always available - just ask at the registration table.