Advanced orienteers seeking to improve are encouraged to seek individual coaching, either through our club, Orienteering USA [1] or independently. For the club, QOC member Ted Good hosts advanced training sessions at selected local events. This advanced level training is geared for those already successfully doing advanced courses who want to take their orienteering to the next level. The training won't make you an elite competitor but it will expose you to the same skills they routinely use.
Ted holds these informal training sessions at most events that he attends. Pre-registration is not needed, and training starts at 10:30 and runs for 15-30 minutes, so there's still plenty of time to run a course. At each session he covers a few specific topics and also recommends certain things to try at that particular event. Depending on his schedule he may also be available to talk specific training issues you have before/after the course. Check the QOC event webpages for the events that will have advanced training and the specific topics that will be covered. For your first training session there is a training questionnaire to fill out that will make you think about your orienteering strengths and weaknesses.
Beyond such training, additional recommendations that just about all skilled orienteers can agree upon include:
Practice! In addition to orienteering locally, travel nationally and internationally to experience different terrains and to meet (and compete against) fellow orienteers;
Train - improving your physical fitness (including aerobic capacity, strength, flexibility, and of course running speed) is obviously a key goal;
Study - Check out resources in the QOC Library , online materials*, magazines like O/NA, O'zine and O'sport, and of course as many maps (perhaps through the RouteGadget sites of other clubs as well as QOC's) as possible;
Share - in forums (Attackpoint), on or helping regional or national teams, talking over strategies and training with a buddy, making maps, picking up controls, and setting courses are just some ways.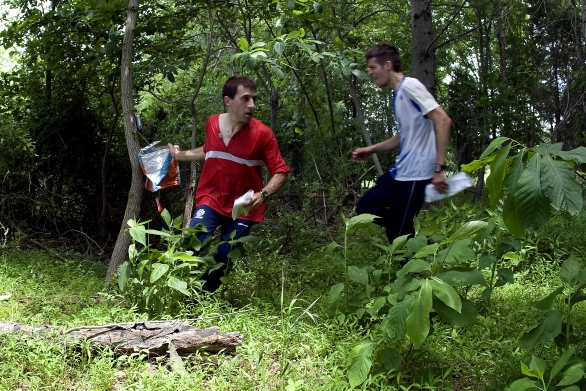 And then of course you can always see if you can add to this thread [3] ...




* Some online materials that might be of interest:
An Orienteering System [4] - a summary of a presentation by Ted de St. Croix
Klas Karlsson's Systematic Orienteering [5] - Mike Eglinski's translation of a Swedish article on orienteering systematically (scroll down to the August 16th blog entry).
O-training.net [6] - a relatively new site from Jan Kocbach, with route choice analyses, training tips and articles, and links to other online orienteering training and technique resources.
ShareThis