ShareThis
May 22
Sunday
Welcome back to Balls Bluff Battlefield Park, a park near Leesburg VA which is the site of the first Civil War battle in Loudoun County (1861). The park is undergoing restoration to more accurately reflect its 1861 condition, and you are encouraged to tour the area and its National Cemetery near the Potomac River.
NOTE: Stacking of logged trees in the already none-too-big parking area within the park means that parking is even more limited than usual, so later arrivals will have to park at the cul-de-sac and the residential streets located just prior to the park's entrance, and take a short (0.25 mile) walk from the cul-de-sac to the registration area. Carpool if possible, and please DO NOT BLOCK THE EGRESS AND INGRESS FOR VEHICLES TRAVELING ON THE GRAVEL ENTRANCE ROAD!
Any youth or large groups attending, please contact the Event Director [2] so that we can coordinate pre-registration for your group; the group registration and waiver form [3] is part of the information on our Group Leaders [4] page.
The Courses & Map: This is a standard "cross country" event with a beginner's course (white), advanced beginner's (yellow), intermediate (orange), short expert (green), and longer expert (red); details are below. The courses are printed on the maps as are the control descriptions ("clues"). The white and yellow course maps will be handed out at the registration table, while the orange through red maps will be passed out at the start. E-punching will be used for all courses. The map scale for intermediate and advanced courses is 1:10,000 with a 3 meter contour interval; the scale for the two beginner courses is 1:5,000. Since there are a lot of controls out in the woods and some are quite close together, make sure to check control codes before punching!
The Terrain: It's hilly (lots of spurs and reentrants), generally very runnable (open) with few thick (green) areas. An extensive trail network exists which can be a navigation asset, but can also cause confusion! The Potomac River borders the east side of the map (beware of steep rocky cliffs in some areas near the river), the west side of the map is residential, and farm land borders the north and south ends.
Layout of the Meet: Registration & download will be at the east end of the parking lot. The start is at a trail jct. 150m north of the parking lot and the finish is at the SE end of the parking lot.
Nearby Event of Note: The Loudoun County Spring Farm Tour [5] takes place 10am - 4pm May 21 and May 22. See their website for details about all the farms (and vineyards) open for visiting, many relatively close to our orienteering event.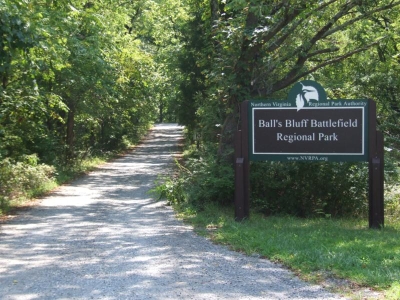 Location

Balls Bluff Regional Park, Main (but small) Parking Area, Leesburg, VA (Classic Courses)

Registration
No pre-registration needed - just show up and have fun!
Start Times
You may start your course at any time during the start window listed below for your event.
Schedule
Sunday, May 22

| | |
| --- | --- |
| 12:00 pm - 2:00 pm | Classic Courses: Start Window |

Volunteers
Location Details

Classic Courses
Balls Bluff Regional Park
Main (but small) Parking Area
Leesburg, VA
Google Map [8]

To reach Ball's Bluff Battlefield Regional Park, take Route 7 west toward Leesburg, then Route 15 Bypass north. Turn right on Battlefield Parkway and left on Ball's Bluff Road. The park is located at the end of the street.

Course Details
Classic Courses

| | | | |
| --- | --- | --- | --- |
| Course Name | Length (km) | Climb (m) | No. Controls |
| White | 2.3 | 70 | 9 |
| Yellow | 2.3 | 100 | 11 |
| Orange | 3.7 | 200 | 15 |
| Green | 5 | 280 | 15 |
| Red | 7.1 | 390 | 17 |

Entry Fees
Individual Entries

Non-Member: $10/adult, $6/junior (under 21 years old)

Member: $6/adult, $4/junior (under 21 years old)

Team or Group Entries

Participants are welcome to compete together as a single team entry. Teams containing one or more nonmembers are charged the nonmember individual rate. Teams containing one or more adults are charged the adult individual rate. For teams to receive member or junior rates, all members of the team must be members or juniors, respectively. Each extra team map beyond the first is an additional $4. Individuals or teams desiring to compete on a second course can do so for a reduced fee of $4/map.

Important Notes

At the event, we can only accept payment in cash or check; online, you may use a credit card or PayPal account.
Most of our events use electronic timing. We will provide you with an electronic timing chip (aka e-stick, finger dibber, or SI-card) for free if you don't own one. Loaned e-sticks that are lost incur a $40 replacement fee.
Compasses are available at no charge, but if lost incur a $15 replacement fee.
Please provide collateral (driver's license or car keys) when borrowing a compass or e-punch.
For additional safety, whistles are available for sale at $1/each.
Free beginner instruction is always available - just ask at the registration table.